2008 WSOP Event #5, $1,000 NLHE w/ Rebuys, Day 2: Michael Banducci Leads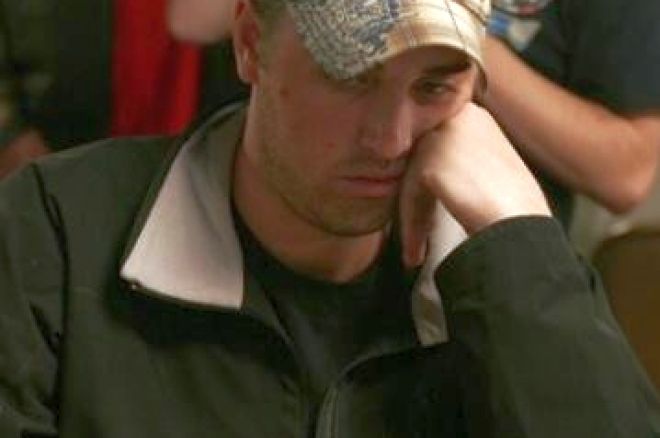 Day 2 of Event #5, $1,000 No-Limit Hold'em w/ Rebuys, started with the remaining 106 players filing back into the Amazon Room, almost exactly twelve hours from when they closed up shop in the wee hours this morning. When the field reached 72, those left would be in the money, with the 72nd-place finisher taking home $8,103 and be closer to tomorrow's goal, where the eventual winner will take home the top prize of $636,736 and the coveted bracelet that goes with a WSOP win.
Going into Day 2, the overall top ten chip leaders were as follows:
Phil Ivey 175,500
Amit Makhija 161,100
Jeff Williams 145,700
Marco Johnson 132,600
Jesse Chinni 129,000
John Hoang 125,400
Zachary Clark 122,000
Scott Dorin 117,300
Alan Sass 111,800
Anirudh Seth 103,400
A surprising early elimination was that of the starting chip leader, Phil Ivey. After taking two early hits to his chip stack, the first against Romuald Pycior and the second at the hands of Marco Johnson, Ivey's luck went from bad to worse. Ivey was on the ropes when he saw his pocket queens fall to Jon Van Fleet's A-J when an ace came on the turn. Then Van Fleet landed the knockout punch on their next hand. Ivey raised to 7,500 under the gun and Van Fleet popped it to 19,500. Ivey called and they saw a flop of
. Ivey checked and when Van Fleet bet 20,000, Ivey moved all in. Van Fleet called and turned over
, crushing Ivey's
and sending him home much sooner than expected.
Only an hour and a half into today's play the Harrah's tournament floor staff announced that, following the rapid elimination of 34 players, the money had been reached. Jason Gray was today's unlucky bubble boy; quite unlucky, in fact, as he was ahead preflop with pocket nines over Luke Staudenmaier's K-3 offsuit, survived the flop, only to get hit on the turn when a king fell. The river was a blank and Gray was out in 73rd place. No word on the karmic implications of one of Gray's friend's premature utterance, "That's a good flop."
The rapid pace of yesterday continued and, by the dinner break, there were only 30 players left. Pros sent to the rail after the bubble, but before the break, included Matthew LaGarde (in 72nd place), Sorel Mizzi (68th), Mark Vos (55th), Steven Merrifield (53rd), Marco Johnson (52nd), Lee Watkinson (51st), Chad Brown (34th), and Alex Jacob (31st). Jonathan Aguiar was responsible for knocking out the 36th- and 37th-place finishers in one hand when his A-K bested the pocket tens of Jeff Madsen and Vachagan Zakarian's pocket sevens.
Lyric Duveyoung entered the post-break period as the chip leader with 745,000 and other well known, if not as unique, names were still alive, including Clonie Gowen, Daniel Negreanu, Nam Le, Michael Binger, John Juanda, and bringing up the rear, Event #1 winner Nenad Medic. It seemed to some as if Jason Gray had arisen from the bubble-y poker grave, but it was instead his twin brother Craig Gray sitting on a nice-sized stack as play resumed. But brother Craig soon took a huge hit to his stack when his A-J went up against Jamie Rosen's A-7 and his good preflop odds disappeared as the 9-6-10-6 board rivered an eight to make Rosen a straight.
After the break, Juanda went from "still alive" to out in 27th place while Nenad Medic went from "bringing up the rear" to pushing daisies (26th). Juanda's departure was courtesy of a
which failed to improve against the pocket tens of Peter Gould, while Medic's Q-9 was crushed by the pocket kings of Adam "Roothlus" Levy, ending his quest for a second final table in less than a week.
By 11:00 local time, the field had been pared down to two tables of nine players, Lyric Duveyoung was still in the chip lead, and a few more were about to hit the rail. First was the one-two punch delivered by Alan Jaffray against Craig Gray and Chris Moore. Gray had opened for 22,000 and Moore moved all in for 48,000. Alan Jaffrey then moved all in himself and Gray made the call. He held
, Moore had
and Jaffray had
. The
gave Jaffray a set, a flush draw for Gray and pretty much shut the door on Moore. But the
on the turn and the
river didn't help Gray both he and Moore were eliminated.
Nam Le (16th) and Clonie Gowen (15th) were the next two to be sent packing. Le was felted when his A-K proved no match for Phi Nguyen's pocket aces. Gowen was sent home at almost the same time, when she was unable to improve her Q-J off suit against Jamie Rosen's suited A-K. Ray Coburn (14th) was run over by the Alan Jaffray express when his pocket kings were crushed by the suited A-8 of Jaffray after a board of 9-6-7-9-5 gave Jaffray a straight.
Lyric Duveyoung dispatched Alan Sass when his pocket sevens hit a set on the flop, rendering Sass' pocket kings worthless. Andy "Roothlus" Levy similarly went from first to worst in his hand against Michael Banducci. Preflop, Levy's A-K dominated Banducci's K-Q, but the queen was a heart and there were four more on the board giving Banducci the flush and all of Levy's remaining chips.
There were two more players to go before play would stop for the day, setting up for tomorrow's final nine. Randy Haddox went out in 11th place when Michael Banducci's pocket kings held up, then Phi Nguyen decided to take on Banducci as well. With a raise in front of him, Nguyen re-raised to 117,000. Michael Banducci doubled Nguyen's raise and the original folder mucked. Nguyen said "call" and started to turn over his hand, but Williams stopped him, saying that the raise hadn't been enough to set Nguyen all in. The flop came
and Nguyen tossed in his last 85,000. Banducci made the call with
which led Nguyen's A-K. The turn and river were blanks and, with Nguyen busted out in 10th place, we had our final table.
Here's a look at the final nine who will compete for the bracelet Thursday, with Banducci leading the way:
Michael Banducci 1,655,000
Alan Jaffray 1,222,000
Gould Peter 702,000
Jeff Williams 683,000
Lyric Duveyoung 659,000
Jamie Rosen 475,000
Jonathan Aguiar 361,000
Michael Binger 186,000
Steve Gross 112,000
Join the Live Reporting Team here at PokerNews.com starting at 3:00 pm PDT for all the excitement of this final table.