2008 WSOP Event #7 $2,000 NLHE Day 2: Theo Tran Holds Lead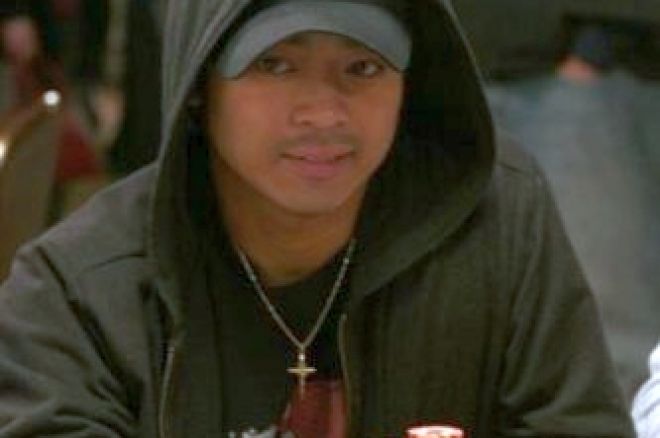 Theo Tran started Day 2 as Event #7's chip leader, which is just where he'll start the final table. This will be Tran's second final-table appearance in the 2008 WSOP, which has been underway for just one week. 1,592 players started this $2,000 no-limit hold'em event, which made it down to 152 in the first day of fast and furious play.
Event #7's Day 2 picked up the frenetic pace, reaching its final-table goal at 12:30 am. The nine returning players are guaranteed at least $50,705, with the winner's purse set at $550,601. Event #7's final table:
Seat 1: Matt Keikoan 1,011,000
Seat 2: Theo Tran 1,884,000
Seat 3: Shannon Shorr 627,000
Seat 4: Carter Gill 652,000
Seat 5: Mihai Manole 1,020,000
Seat 6: Chris Bjorin 205,000
Seat 7: Mike Lisanti 358,000
Seat 8: J.C. Tran 273,000
Seat 9: Alex Bolotin 345,000
Day 2 was marked by the continued swift elimination pace set in Day One – and the Trans. Throughout the day Theo Tran, JC Tran, and Thong "Jimmy" Tran all hovered at the top of the leader board while the rest of the field was whittled down at breakneck speed. The field would shed close to 30% of its starting players in the first 90 minutes of play.
Leif Force, 11th-place finisher in the 2006 WSOP Championship event, was one of the first eliminations of the day when his
was surprisingly no match for his opponent's
. Force made a Broadway straight on the river, only to see his opponent complete a flush. Aaron Kanter, 2005 WSOP Championship final tablist, was also an early casualty when his short-stacked play with A-5 couldn't overcome Candido Pondo's A-J. And Sabyl (Cohen) Landrum, the top woman finisher in the 2006 WSOP Championship event, had to settle for 96th place when her A-Q ran into pocket aces.
Fred Goldberg, 10th-place finisher in the 2006 WSOP Championship event, was eliminated by John Phan in 48th place. Goldberg's A-Q looked good against Phan's K-J until a king showed up on the river. The last woman standing in Event #7, Nancy Todd Tyner, was eliminated in 24th place when her A-8 couldn't beat Yan Chen's pocket kings. And John Phan's run ended in 22nd place at the hands of Alex Bolotin. Phan's K-J eventually made two pair, but so did Bolotin's A-J.
Dustin "Neverwin" Woolf was eliminated in 15th place. Although his Q-J caught the lead against Chris Bjorin's pocket tens when a queen flopped, the board would eventually host four diamonds, giving Bjorin a winning flush.
And hopes of a "triple-Tran" final table were dashed when Thong "Jimmy" Tran was eliminated in 12th place. Tran may have assumed he had two live cards when he called Matt Keikoan's reraise. But instead, Tran's K-9 had to face off against Keikoan's pocket nines and couldn't overcome the odds. And Manny Minaya suffered a heartbreaker to become the final table bubble boy, finishing in 10th place. He had to like his odds when he saw his pocket kings were up against Theo Tran's A-K, but an ace hit the board and the final table was set.
This should be an outstanding final table. It not only features some of the game's highest caliber players, but each of these players has shown a propensity to play hard and fast as they climbed through Event #7's ranks. Check back with the PokerNews Live Reporting Team for all the final-table action.