2008 WSOP Event #7, $2,000 NLHE Final Table: Matt Keikoan Wins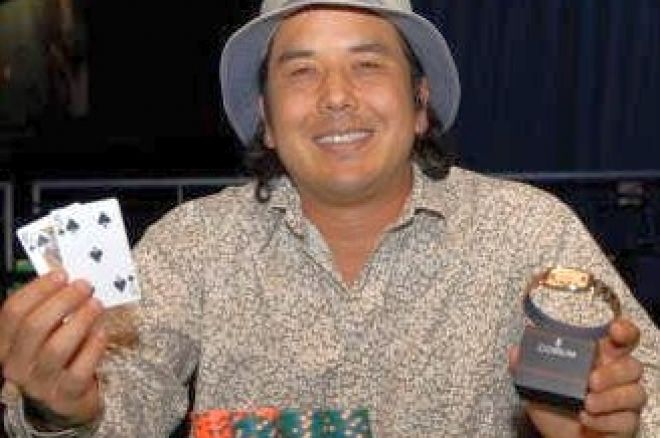 Heading into Event #7's final table, Theo Tran was looking for a wire-to-wire win, having been the chip leader for the majority of this fast-paced $2,000 NLHE event. But after 161 hands of play, 68 of them heads-up, Matt Keikoan would finish in first place, winning $550,601. Matt Keikoan had five previous WSOP money finishes, but this was his first WSOP final table appearance, and, logically, his first bracelet. The final table began with the following players:
Seat 1: Matt Keikoan — 1,011,000
Seat 2: Theo Tran — 1,884,000
Seat 3: Shannon Shorr — 627,000
Seat 4: Carter Gill —652,000
Seat 5: Mihai Manole — 1,020,000
Seat 6: Chris Bjorin — 205,000
Seat 7: Mike Lisanti — 358,000
Seat 8: J.C. Tran — 273,000
Seat 9: Alex Bolotin — 345,000
Jeff Lisanti was the first elimination of the final table when he reraised all in with A-K. Matt Keikoan called and flipped over pocket kings. The board failed to help the 47-year-old Canadian marketer and Lisanti finished in ninth place for $50,705. Two hands later, Alex Bolotin would depart in eighth place when his pocket nines faced off against Theo Tran's A-J. An ace fell on the flop and it never got better for Bolotin, who collected $73,463.
J.C. Tran's fourth trip to a WSOP final table was curtailed when he took his pocket tens up against Carter Gill's pocket kings. J.C. finished in seventh place for $94,166. Two-time WSOP bracelet winner Chris Bjorin started the final table as the short stack, but was able to parlay it to a sixth-place finish. Bjorin pushed his final 61,000 chips in under the gun and was called by both Carter Gill and Mihai Manole. Bjorin had K-9 and hit a pair on the turn, but Gill's 6-7 make a straight on the river. Bjorin adds $123,141 to his career winnings.
Next, preflop betting escalated between Theo Tran and Mihai Manole until Manole was all in. Manole was at a slight disadvantage with A-8 against Tran's pocket fives. The disadvantage widened when Manole hit an eight on the flop while Tran made his set. The few outs that could have possibly saved Manole never came and he was out in fifth place with $155,013.
Shannon Shorr had been relatively quiet, but once the final table was down to four, Shorr got busy. Shortly after Manole's exit, Shorr scored a big pot off of Theo Tran. Tran raised 70,000 pre-flop and Shorr called. Both players checked the K-7-4 flop. Tran bet out 105,000 when a three came on the turn and Shorr reraised to 275,000 and was called by Tran. Tran checked the jack on the river, and Shorr pushed all in for 920,000 chips. Tran called and Shorr showed pocket sevens for the set. Tran mucked his hand.
A few hands later, Theo Tran was eliminated when his own pocket sevens failed to overtake Carter Gill's pocket jacks. Tran finished in fourth place with $191,231. This was Tran's second WSOP final-table finish this week. A few hands later, Gill found himself with pocket jacks again, squaring off against Matt Keikoan and Shorr. Keikoan bet out on a flop of 3-6-9 and Gill came over the top, while Shorr got out of the way. Keikoan reraised and Gill went all in. When Keikoan called, Gill saw the bad news; Keikoan had pocket sixes for the set. The rest of the board was immaterial and Gill was crippled. Gill would go out three hands later to finish in third place with $228,897.
When heads-up play began, Matt Keikoan had 3,800,000 to Shannon Shorr's 2,600,000. Event #7 was an incredibly fast-paced event, but when it came to heads-up play, it became a game of inches, not miles. There was no real pivotal hand or moment, just 68 hands where Keikoan gradually generally increased his advantage. The final hand, Shorr was down to under 450,000 and pushed all in with T-6. Keikoan called with K-5, which would improve to a full house by the time the board played out. Shorr finished in second place for $349,141, while Keikoan collected the bracelet and the $550,601 winner's prize.