2008 WSOP Event #8 $10,000 Mixed Games Final: Rivera Wins Prestigious Event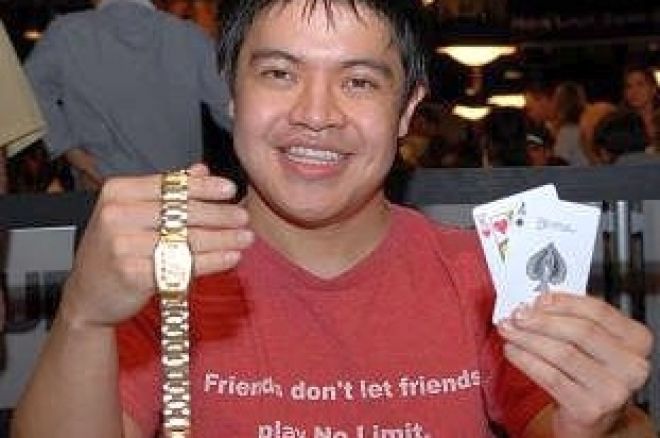 The debut of Event #8, $10,000 Mixed Games, drew a star-studded field and resulted in a final table where WSOP bracelet winners occupied half the seats. But it would be a 22-year-old cash-game player with only two prior tournament cashes that would take down arguably one of the toughest fields and formats in the WSOP line-up. Anthony Rivera claimed the bracelet and $483,688 in Event #8. Our final table began with:
Seat 1: James Mackey (Columbia, Missouri) 742,000
Seat 2: Matt Glantz (Philadelphia, Pennsylvania) 1,150,000
Seat 3: Sam Farha (Houston, Texas) 374,500
Seat 4: Mike DeMichele (Las Vegas, Nevada) 434,000
Seat 5: Tom Dwan (Edison, New Jersey) 642,000
Seat 6: Eli Elezra (Henderson, Nevada) 76,000
Seat 7: Anthony Rivera (Henderson, Nevada) 274,000
Seat 8: Jeff Madsen (Los Angeles, California) 149,000
Anthony Rivera came to the final table as one of the shorter stacks, but he doubled up on the very first hand of the day against Tom "durrrr" Dwan. In pot-limit Omaha, all the money went in on a flop of Q-5-2. Rivera's flopped set with A-Q-Q-6 continued to prevail against Dwan's K-K-J-9 as the rest of the board fell. In the next two hands Dwan would also oblige the shortest stack, Eli Elezra, with back-to-back double ups.
Dwan would eventually take a pot against Jeff Madsen, crippling the two-time bracelet winner in a hand of limit hold'em. Sammy Farha would complete the job, sending Madsen to the rail in eighth place with $54,144. Dwan's day was not going to improve, however, as he was out only a few hands later. While Matt Glantz took the majority of Dwan's dwindled stack, Rivera took the last of it. Dwan held pocket deuces for his last hand, only to get bested by Rivera's 2-3 when a three hit the board. Dwan finished in seventh place for $67,680.
Sammy Farha's demise came during the razz round. Farha started with a 4-5-6 but bricked with faces on the rest of the streets. In the same hand, James Mackey also couldn't catch a break, starting with A-2-5-4 and ending up with trip aces. Eli Elezra captured the hand with an 8-low, sending Farha out in sixth place and $85,728. But Elezra's upswing was only temporary. In stud-8, Elezra called Michael DeMichele's reraise to put himself all in with kings in the hole. But DeMichele had rolled up threes, which improved to a boat on seventh street. Elezra finished in fifth place for $108,288.
Michael DeMichele lost a heartbreaker in 2-7 triple draw when his 8-7-5-4-3 was edged out by Rivera's 8-7-5-3-2. Crippled after the hand, DeMichele would last only one more when he could only catch a 10-low against Rivera's 8-low. DeMichele finished in fourth place for $139,872.
Matt Glantz had maintained his chip lead throughout the final table, but Rivera pulled ahead on a 2-7 triple-draw hand. Glantz lost the hand and the chip lead by one pip when Rivera's 9-7-6-5-3 beat Glantz's 9-7-6-5-4. Glantz was on a rollercoaster ride after that, alternating between slipping and chipping, until he had the misfortune of doubling up James Mackey. Mackey would use those very same chips to eliminate Glantz in third place. In an NLHE hand, all the money went in of the flop of 7-6-3. Mackey had flopped top pair with J-7 while Glantz had caught middle pair and a gutshot draw with 5-6, but the rest of the board wouldn't improve Glantz's fate and he finished in third place with $184,992.
Mackey and Rivera wasted no time putting all their chips in the middle. Heads-up play lasted exactly five minutes and ended with Rivera's A-K dominating Mackey's A-9. The board preserved Rivera's advantage and Mackey finished in second place with $297,792, while Rivera's first-time bracelet win brought home the $483,688 winner's check.