2008 WSOP Event #9 $1,500 No-Limit Hold'em / Six-Handed, Day 2: Final Table Set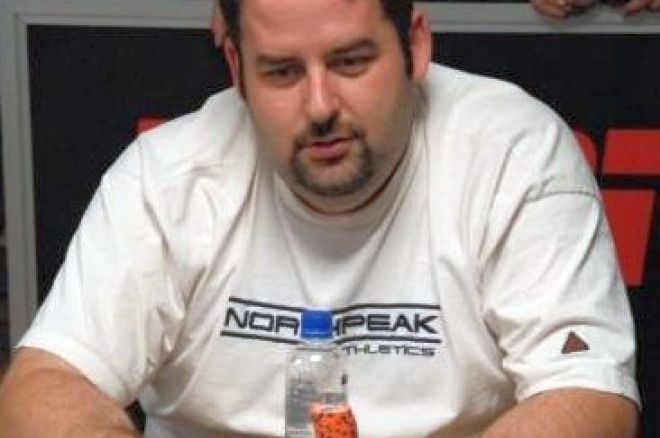 One major action flop was about all it took to set the final table in Event #9 No Limit Hold'em Six-Handed at the World Series of Poker at the Rio.
The final six vying for the bracelet in the $1,500 buy-in event will be John Conkright, Michiel Brummelhuis, Ralph "Rep" Porter, Nathan Templeton, Anatoly Shilyuk and Devin Porter. The winner will take home $372,843. Here are the seat assignments and chip counts for the final table:
Seat 1: Devin Porter — 357,000
Seat 2: John Conkright — 997,000
Seat 3: Rep Porter — 732,000
Seat 4: Michiel Brummelhuis — 883,000
Seat 5: Anthony Shilyuk — 310,000
Seat 6: Nathan Templeton — 449,000
The finalists were set after a major hand in which Conkright, who was involved in a couple of critical pots toward the end of Day 2, was entangled in the biggest one of all when he was involved in a multi-way pot with Dave Zand; the flop produced one of those classic textures in which there was no way either player could get away from his hand.
Four players including Nathan Templeton, who put in the initial raise, and Devin Porter, who called from the small blind, took a flop of
-10. Porter, who later said he folded A-J, checked to Conkright, who made a nearly pot-size bet of 100,000. Templeton folded from the cutoff seat and Zand, on the button, raised it to 325,000.
Porter, who likely intended to check-raise, now faced a dilemma in the face of a bet and a raise in front of him. After deliberating for some time, he mucked and Conkright wasted little time shoving the rest of his stack to the middle. Zand, who barely had his opponent covered, made the call, and both players showed down powerful hands: Conkright tabled
for trips, while Zand's
gave him a monster straight-flush draw.
The jack on the turn filled up Conkright, but Zand's draw was still alive to two outs. However, the
that fell on the end wasn't enough to overtake Conkright's full house.
Zand was left crippled and moved the last of chips in a few hands later from the big blind with Q-10, but Devin Porter's A-10 held up, eliminating Zand in seventh place with a $36,442 payday and setting the stage for the final table.
By reaching the final table, chip-leader Conkright is guaranteed of eclipsing his career tournament winnings in one fell swoop. He has $30,977 in tournament winnings, with a 62nd-place finish in last year's PokerStars Caribbean Adventure his most notable finish.
Conkright was on the right side of another key confrontation on Day 2 when his pocket queens held up against Kevin MacPhee's pocket eights and eliminated MacPhee in eighth place. Cardrunners.com intern Andrew Fegan, playing in first WSOP event, made a nice showing with a ninth-place finish. His run ended when he flopped top pair holding A-5, but was out-kicked by Rep Porter's A-9. Day 1 leader Matt Matros exited in 43rd place for $4,892.
Although the Porters are not related – at least that was the conclusion they reached after a thorough discussion of their family trees at the table – they do share a common trait of excellent poker results. Devin Porter is an up-and-coming young player who reached the final table in each of the first two World Poker Tour events he played. He also finished fourth in a WSOP no-limit hold'em event last year.
Rep Porter has several notable finishes on his poker resume, including a 39th-place showing in last year's Main Event that netted him a payday of $237,865, and a runner-up finish in a 2006 WSOP Circuit event in Atlantic City for $192,060.
Templeton, from Chattanooga, Tenn., will be making his second WSOP final table appearance. He took fifth in a no-limit WSOP event in 2006 for a $149,240 payday, while Brummelhuis, a pro from the Netherlands, and Shilyuk will make their WSOP final-table debuts.