Montel Williams Hosts MS Charity Poker Tournament at Golden Nugget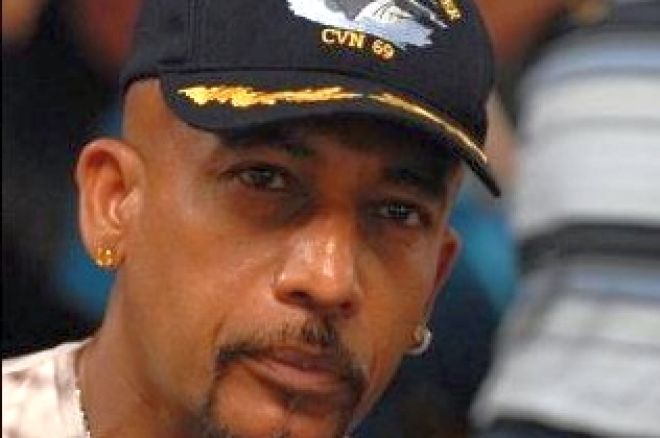 Montel Williams and the Golden Nugget Casino in Las Vegas together hosted a charity poker tournament on Friday for the benefit of the Montel Williams MS Foundation. The event was held in the Golden Nugget's newly renovated pavilion, and was the first event in a series of poker tournaments being played from June 6th through July 6th called the "The Grand", a tie-in to the poker mockumentary of the same name. 60 players donated $1,080 each to play the charity event, including noted professionals Jennifer Tilly, Phil Laak, Jamie Gold, Marsha Waggoner and Robert Williamson III. In a surprise presentation, John Colville, Poker Operations Manager, presented a $25,000 gift to Montel for the MS Foundation representing the poker players. Montel was visibly moved since he has adopted the poker room at the Golden Nugget as his home poker room in Las Vegas and plays there often.
After six hours of play, 29-year-old Matthew May, from London England, took home a first-place prize of $8,400 and one of the coveted gold bracelets that are presented to all winners in the "The Grand" series. Matthew is visiting the United State on holiday for six weeks. He was in the Golden Nugget when he spotted the advertisements for this event and decided to give it a try.
Since going public with MS eight years ago, Montel has been approached by countless people that have been afflicted with the disease. I watched Montel speak with an unidentified woman last night who had just been diagnosed with MS two weeks ago. His genuine concern for this total stranger was both moving and encouraging. As he suggested different medical facilities to her, a bond of sharing and helping surfaced for all to witness. There could never be a more dedicated ambassador for the fight against MS than Mr. Montel Williams.
The Montel Williams MS Foundation directs its research towards new treatments and drugs and ways to make them available to everyone. Montel said, "I'm going to keep on having these fundraisers until a cure is found. Technology is advancing and so are the treatments. One day a cure is going to happen!" Additional information about the foundation can be found at www.montelms.org.