2008 Borgata Poker Open Announced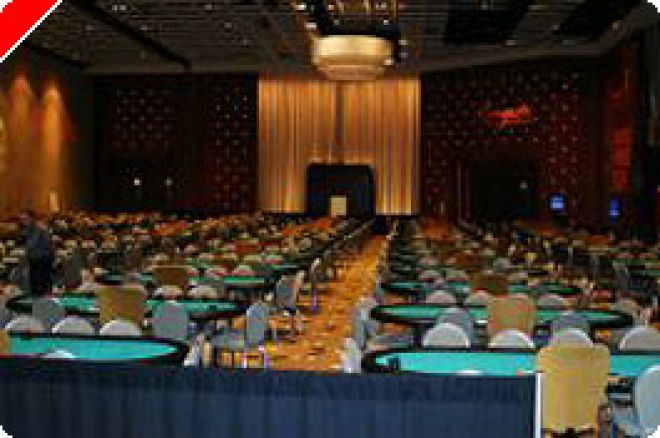 The 2008 Borgata Poker Open, one of East Coast's largest poker events, has now been officially scheduled for Sunday, September 3rd through Thursday, September 18th, 2008. The series, held at the Borgata Casino & Spa in Atlantic City, NJ, will this year be comprised of 16 events, including the $10,000 WPT No-Limit Hold'em World Championship.
The $10,000 buy-in tourney (Event #13 of 16 on this year's Borgata Poker Open schedule) has been part of the World Poker Tour's annual series in recent years, and will be part of the WPT's seventh season, assuming the WPT's own success in securing a new broadcast home. The Borgata event has been one of the most popular and important on that series well, and was captured in 2007 by Roy Winston, who collected $1,575,280 in claiming the prestigious title.
The complete 2008 Borgata Poker open schedule:
Event ● Date/Time Description Buy-In
Event #1 ● Sep. 3 11:00 AM – No Limit Hold'em $300+$50
Event #2 ● Sep. 4 11:00 AM - No Limit Hold'em $500+$60
Event #3 ● Sep. 5 11:00 AM - No Limit Hold'em $1,000+$90
Event #4 ● Sep. 6 11:00 AM - No Limit Hold'em $1,500+$100
Event #5 ● Sep. 7 11:00 AM - Ladies No Limit Hold'em $300+$50
Event #6 ● Sep. 7 12:00 PM - No Limit Hold'em $300+$50
Event #7 ● Sep. 8 11:00 AM - No Limit Hold'em $400+$50
Event #8 ● Sep. 8 12:00 PM - 7-Card Stud $300+$50
Event #9 ● Sep. 9 11:00 AM - No Limit Hold'em $500+$60
Event #10 ● Sep. 10 11:00 AM - No Limit Hold'em $2,500+$150
Event #11 ● Sep. 11 11:00 AM - No Limit Hold'em $500+$60
Event #12 ● Sep. 12 11:00 AM - No Limit Hold'em $5,000+$200
(Sep 13 Super Satellite Day – begins at noon)
Event #13 ● Sep. 14 11:00 AM - WPT NLHE Championship — Day 1 $9,600+$400
Event #14 ● Sep. 14 12:00 PM - No Limit Hold'em $1,000+$90
Event #13 ● Sep. 15 11:00 AM - WPT NLHE Championship — Day 2 $9,600+$400
Event #15 ● Sep. 15 12:00 PM - No Limit Hold'em $500+$60
Event #13 ● Sep. 16 11:00 AM - WPT NLHE Championship — Day 3 $9,600+$400
Event #16 ● Sep. 16 12:00 PM - No Limit Hold'em $300+$50
Event #13 ● Sep. 17 11:00 AM - WPT NLHE Championship — Day 4 $9,600+$400
Event #13 ● Sep. 18 – WPT NLHE Championship – Day 5 $9,600+$400