2008 WSOP Event #50 $10,000 PLO Championship: Mizrachi Heads Final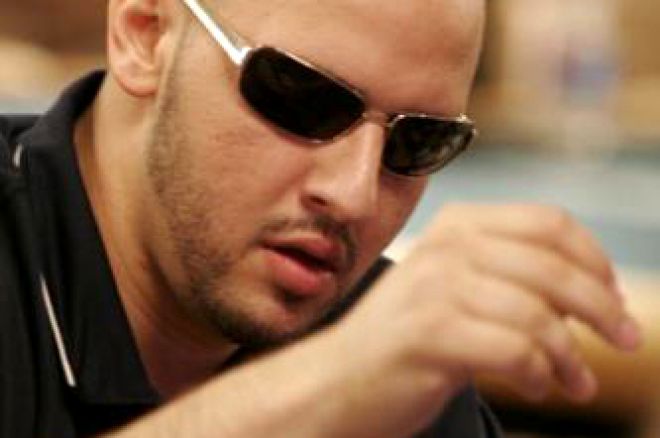 Day 2 of the $10,000 PLO Championship promised to be a long affair, and it delivered on that promise; it would take more than fourteen hours to reach a final table. Michael Mizrachi surged late in the session to take the lead from Brandon Moran heading into the final. This is technically Brandon Moran's first WSOP money finish, although he finished in second place in last year's Ante Up for Africa tournament.
Final Table Chip Counts:
Seat 1: Kido Pham (Dallas, Texas) — 1,080,000
Seat 2: Brandon Moran (Chicago, Illinois) — 1,286,000
Seat 3: Peter Jetten (Toronto, Ontario, Canada) — 492,000
Seat 4: Michael Mizrachi (Las Vegas, Nevada) — 1,767,000
Seat 5: Billy Argyros (Melbourne, Australia) — 729,000
Seat 6: Greg Hurst (Tazewell, Tennessee) — 637,000
Seat 7: Tom Hanlon (Dublin, Ireland) — 192,000
Seat 8: Marty Smyth (Belfast, Ireland) — 1,068,000
Seat 9: [Removed:14] (San Francisco, California) — 372,000
With 87 players left, it was a long way to the money, which started in 36th place. Leif Force was one of the day's earliest casualties, followed up quickly by Robert Williamson III. On a flop of
Williamson got it all in holding
for two pair and the straight draw. Eddy Scharf had
for an overpair and larger straight draw. When the board ran out
, Williamson not only got his straight, but caught a runner-runner flush. Unfortunately for Williamson, Scharf's larger flush took the pot.
Noah Boeken's set of aces went down to [Removed:14]'s straight on the river. And Rafi Amit's flopped set of kings fell to Shawn Buchanan's flopped king-high straight. The board wouldn't pair for Chau Giang's flopped set of queens and he was out on Rob Hollink's flopped nut flush.
Ross Boatman ran his K-K-x-x into Nick Gibson's A-A-x-x. Dario Alioto did his part in the race for the money, taking out both Thayer Rasmussen and Alberto Romero with turned trip nines. Josh Arieh took out Mark Roland with a flopped set of aces over a flopped set of jacks. And a table away from the money, Johnny Chan's A-A-x-x went down to Kido Pham's flopped trip fours.
Someone had to be bubble boy, and that distinction fell to John D'Agostino. D'Agostino was ahead with A-A-8-5 to Magnus Petersson's K-K-Q-7. But the board ran out 7-7-4-2-8, giving trip sevens to Petersson and a payless 37th place to D'Agostino. Eric Cloutier became the first money finisher in 36th place, when he got all his chips in with a flopped flush, to lose to Guillaume Patry's bigger flush.
After the money bubble burst, the pace of the eliminations quickened. David Singer finished in 34th place, eliminated by Stephen Ladowsky's flopped straight. Nikolay Evdakov cashed for the 10th time in this 2008 WSOP when he finished in 28th. Up until this year, the record for cashes in the same WSOP was eight, held in a four-way tie between Humberto Brenes, Phil Hellmuth, Chad Brown, and Michael Binger. Evdakov's A-A-x-x went down to Brandon Moran's Q-Q-x-x when a queen showed up on the board.
David Williams also went down holding A-A-x-x, when Julian Powell made two pair. Williams finished in 26th place. Len Ashby's flopped nut flush eliminated Sigi Stockinger in 25th place. And Magnus Petersson soon followed in 24th place. Josh Arieh's A-A-x-x held up to eliminate Rob Hollink in 22nd place, and Peter Jetten's eight kicker to his aces eliminated Dario Alioto in 19th place when it found two more on the board.
Eddy Scharf made it all the way to the final two tables, but that is where his tournament ended when Shawn Buchanan caught a boat; Scharf finished in 17th place. Jimmy Tran succumbed in 13th place when his flopped pair of jacks couldn't overtake Billy "The Croc" Argyros' overpair of kings. Josh Arieh started Day 2 as chip leader and was able to parlay that to a 12th-place finish. Greg Hurst caught top set on the flop and Arieh couldn't win the uphill battle.
David Benefield became the final-table bubble boy when his A-A-x-x was overcome by Michael Mizrachi's second pair on the turn. Benefield finished in 10th place, setting up the final table.
As the preliminary events start to wind down, this promises to be a great final table. Check back with the PokerNews "Live Reporting" team for all the action on Tuesday.