2008 WSOP Event #50, $10,000 PLO Championship: Marty Smyth Wins Gold
Amy Calistri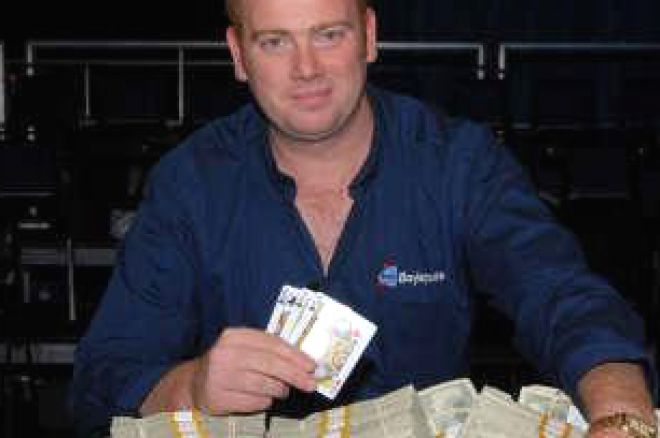 Marty Smyth has plenty of cashes outside of the WSOP, including his 2007 Irish Open and 2008 PartyPoker World Open victories. But going into the final table of the $10,000 Pot-Limit Omaha World Championship, Smyth had only one other WSOP cash, though not surprisingly, it came in this year's $1,500 PLO event. Smyth not only cashed in this event, he won $859,532, the largest PLO prize in poker history. He also took home his first WSOP bracelet, becoming only the fifth Irish national to win one.
Final Table Starting Chip Counts:
Seat 1: Kido Pham (Dallas, Texas) — 1,080,000
Seat 2: Brandon Moran (Chicago, Illinois) — 1,286,000
Seat 3: Peter Jetten (Toronto, Ontario, Canada) — 492,000
Seat 4: Michael Mizrachi (Las Vegas, Nevada) — 1,767,000
Seat 5: Billy Argyros (Melbourne, Australia) — 729,000
Seat 6: Greg Hurst (Tazewell, Tennessee) — 637,000
Seat 7: Tom Hanlon (Dublin, Ireland) — 192,000
Seat 8: Marty Smyth (Belfast, Ireland) — 1,068,000
Seat 9: [Removed:14] (San Francisco, California) — 372,000
This was Greg Hurst's second trip to a final table, and third cash, at this year's WSOP. Hurst apparently likes pot-limit as he finished third in the Pot Limit Hold'em and Omaha event and 66th in the Pot Limit Omaha Hi/Lo event. But Hurst's appearance at this final table would be short, lasting just eight hands. Hurst got all his chips in on a 7-6-3 flop holding A-A-9-8, for the overpair and open-ended straight draw, only to have Michael Mizrachi call him down with A-K-5-4 and a made straight. Hurst couldn't catch his draw and he was eliminated in ninth place for $80,581.
There was a lot of time until the next elimination and Peter Jetten used it wisely, applying post-flop pressure on the table to appreciably chip up. On the other hand, Brandon Moran was finding little traction in the early going. The chip counts after the 35th hand follow:
Michael Mizrachi - 1,845,000
Kido Pham - 1,515,000
Peter Jetten - 1,455,000
Marty Smyth - 805,000
Billy Argyros - 555,000
[Removed:14] - 530,000
Brandon Moran - 525,000
Tom Hanlon - 360,000
Brandon Moran's slide continued as he lost a large pot to [Removed:14] in an always costly flopped set-over-set situation. The rest of the board only helped Harroch, delivering his straight, and taking Moran down to about 135,000 chips. On the very next hand, Moran's flopped set held to double up against Marty Smyth. But just two hands after that, Moran's final-table ride was over.
When Kido Pham called Michael Mizrachi's pre-flop raise, Moran decided to get all his chips in with a reraise. Mizrachi bet out on an A-K-4 flop, losing Pham in the process. Moran was in trouble as Mizrachi had flopped top set with A-A-K-2, leaving Moran's 8-6-5-3 drawing thin. After another four fell on the turn, Moran was drawing dead. Moran finished in eighth place for $107,442.
Tom Hanlon, a professional bridge player, came into the final table as the short stack, but was able to double up on the second hand of the event when his A-A-K-6 improved to a boat against Michael Mizrachi's 10-10-8-8. But Hanlon was still faced with a steep uphill climb, a climb that finally ended in seventh place. Hanlon called the rest of his chips in on a J-7-6 flop with A-K-10-9, to face off against Michael Mizrachi's flopped to pair with J-8-6-2. Hanlon was drawing thin, but got a few more outs when an ace came on the turn. But a three on the river sent Hanlon home with $134,302.
Peter Jetten scored a key double-up against Kido Pham, calling Pham's raise on the river with the board showing J-10-6-3-4. Jetten produced Q-5-4-2 for the six-high straight and Pham mucked his cards. Five hands later, Pham was out. Michael Mizrachi bet to put Pham all in on the turn, with the board showing Q-10-7-6. Pham went into the tank for almost eight minutes before finally making the call. Pham had A-A-K-5 for an overpair and a Broadway gutshot straight draw. Mizrachi held 10-10-K-6 for the flopped set of tens. Pham needed an ace or a jack on the river, but got neither, and finished in sixth place for $170,000.
Shortly before the dinner break, Marty Smyth scored a key double-up against Michael Mizrachi. All his money went in on the turn with a
board. Smyth had two pair and a gutshot straight draw with
, while Mizrachi had a lower two pair and club flush draw holding
. The
on the river changed nothing, and Smyth was in enviable chip position. At the dinner break, the chip counts were:
Marty Smyth - 2,615,000
Michael Mizrachi - 1,535,000
Billy Argyros - 1,230,000
Peter Jetten - 1,160,000
[Removed:14] - 1,045,000
Not long after dinner, [Removed:14] moved all of his chips in on a A-J-4 flop, only to have Marty Smyth insta-call. Harroch's A-Q-10-5 was in trouble against Smyth's flopped bottom set made with 7-6-4-4. Harroch picked up a second pair and a few more outs against Smyth when a five came on the turn. But the case four fell on the river, giving Smyth quads and eliminating Harroch in fifth place for $214,884.
Billy "The Croc" Argyros was in good shape against Michael Mizrachi when all his chips went in pre-flop holding
to Mizrachi's
and it only improved when the flop came
. But two hearts came on the remaining board, delivering a runner-runner flush to Mizrachi. Argyros finished in fourth place for $268,605.
Marty Smyth - 3,295,000
Peter Jetten - 2,210,000
Michael Mizrachi - 2,135,000
Robert Mizrachi won this event last year. When his brother Michael Mizrachi started this year's final table with the chip lead, some wondered if this might become a family tradition. But when Michael Mizrachi got all his chips in on the 103rd hand with A-K-5-3 against Peter Jetten's A-A-Q-8, he was roughly a 2-to-1 underdog. Mizrachi caught a pair on a 9-6-5 flop, but the remaining ten and four couldn't save him. Michael Mizrachi finished in third place for $331,279.
The heads-up battle between Marty Smyth and Peter Jetten would last 30 hands. While Smyth lost ground in the early going, he caught a key hand to double up and gain an almost 2-1 advantage over Jetten. All the money went in on a K-9-6 flop, with neither player having so much as a pair. While Jetten had an ace-high with A-Q-10-4, Smyth had a wrap straight draw holding Q-J-10-7. The ten on the turn made a straight for Smyth, and left Jetten needing a jack to overtake him. The river was a four, giving Smyth the pot and an upper hand in the tournament.
Jetten built back his stack, and momentarily had the lead. But when the final hand came down, Marty Smyth had him covered by a small margin. All the money went in on the
flop. Both players had the nut straight, Jetten with
and Smyth with the
. Later Smyth would confess he didn't realize he had the royal club flush draw when all his money went in, saying "I didn't realize I had clubs. That's the God's honest truth." But he knew it by the time the
came on the river.
Peter "Apathy" Jetten started this final table seventh in chips but battled throughout to turn in a second-place performance for $528,257. Jetten was here at the WSOP with his best friend and fellow Canadian Max Greenwood, who won a WSOP bracelet just two days ago. Apparently it was a good WSOP for the boys from Toronto.
Marty Smyth has been playing poker professionally for almost six years and joked with ESPN's Norm Chad that he was "pretty much unemployable at this point." During his interview, Smyth acknowledged the Irish poker pioneers who preceded his victory in this event. "Padraig Parkinson and Donnacha O'Dea were Irish poker gods to me."