2008 WSOP Event #52, $1,500 No-Limit Hold'em: David Daneshgar Takes Gold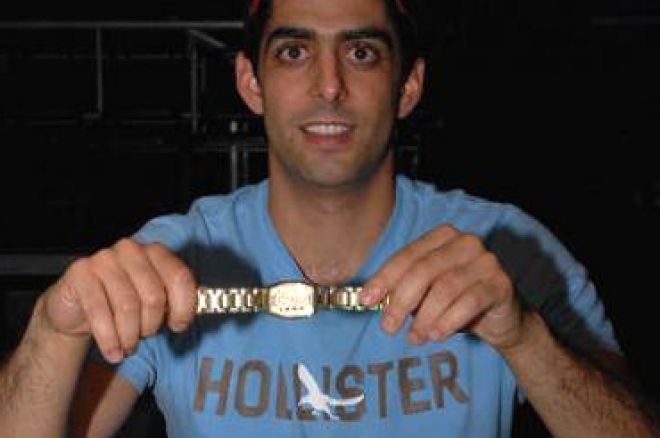 David Daneshgar outlasted a field of 2,693 to win the second-to-last no-limit event of the 2008 World Series of Poker, Event #52, $1,500 No-Limit Hold'em. With lifetime earnings in excess of $1.6 million, over 50 tournament cashes, and five first-place finishes, Daneshgar now has the one significant poker title he was missing – WSOP bracelet winner. He came into the final table in good position and made few missteps along the way to winning the $625,443 prize money. Down to heads-up play, he overcame a chip deficit with a combination of good hands and aggressive play to top second-place finisher Scott Sitron.
Here were the seat assignments, home towns, and chip counts of the final nine players:
Seat 1: Dan Heimiller (Plymouth, Michigan) — 544,000
Seat 2: Matt Matros (Brooklyn, New York) – 1,472,000
Seat 3: Farzad Rouhani (Germantown, Maryland) – 212,000
Seat 4: Andrey Zaichenko (Moscow, Russia) – 521,000
Seat 5: Scott Sitron (Milwaukee, Wisconsin) – 504,000
Seat 6: Voitto Rintala (Helsinki, Finland) – 553,000
Seat 7: Jeff Courtney (Lancaster, Pennsylvania) – 1,443,000
Seat 8: David Daneshgar (Westlake Village, California) – 1,178,000
Seat 9: Corwin Cole (San Diego, California) - 1,668,000
Voitto Rintala's day ended very early. He took pocket eights preflop against Scott Sitron's pocket queens in Hand #3 and when the board blanked, he had doubled Sitron up and was down to less than 50,000. On the next hand, he moved all in and had two callers, Jeff Courtney and Farzad Rouhani. Rouhani and Courtney checked the
flop. Rouhani bet 40,000 on the
turn and Courtney called. When the river fell the
, Rouhani moved all in; Courtney folded. Rouhani turned over
for quad fives. Rintala showed his pair of sixes, and hit the rail in ninth with $57,712.
Jeff Courtney was on a downward slide from the start, giving most of his chips to Farzad Rouhani. In Hand #10, he doubled up Rouhani after they and David Daneshgar took a flop of
. Courtney raised Rouhani all in, Daneshgar folded and Rouhani called. Courtney showed
for top pair, and Rouhani revealed
. The
on the turn gave Courtney trips, but the river was the
giving Rouhani the nut flush. Then, on Hand #31, Courtney and Rouhani were heads up again. After they saw a
flop, Courtney bet and Rouhani moved all in. Courtney called showing
for top pair, and second nut flush draw, but Rouhani had
, an overpair and nut flush draw. The turn was the
and Courtney was drawing dead.
On their third all-in heads up, it was Courtney who was at risk. Rouhani had
and Courtney had
. Rouhani hit top pair on the
flop, and Courtney found no help on the
turn and river ending his day in eighth place for $84,546.
Andrey Zaichenko started as one of the short stacks, but doubled up early through Corwin Cole, when they went heads up, Zaichenko's K-J against Cole's A-10. The board ran out A-5-K-9-K and Zaichenko was up to almost one million. But Zaichenko's day came to an end when he made an untimely attempt to steal the blinds. Zaichenko moved all in for 770,000 from the button, and was called by Scott Sitron who found
in the small blind. Zaichenko was holding just
. The board blanked
, and Zaichenko was eliminated in seventh. Sitron moved up to second in chips behind Cole with the chips.
Early in the day, Dan Heimiller had doubled up at the expense of David Daneshgar when they went heads up, pocket aces versus pocket kings, and the aces held. Daneshgar was then the short stack, but he later doubled up through Corwin Cole when Cole tried to bully while holding just
. Daneshgar called the Cole raise and tabled A-J. He improved to a pair of aces on the flop and trips by the river and was back in contention.
Matt Matros started second in chips, but on Hand #43, he became the short stack after going heads up against Corwin Cole on a flop of
. He held
for the flush and inside straight draw, but Cole had pocket sixes for the set. When an ace fell on the turn, Cole had the full house and Matros was drawing dead. Cole finished him off on Hand #64. Heads up, Matros had the advantage:
to
, but the
flop put Cole ahead with a pair of nines and gave him the nut flush draw as well. With the
on the turn, Cole hit the flush and Matros was drawing dead. The unneededb
fell on the river and Matt Matros was eliminated in sixth place for $148,875.
After six hours of play, and four eliminations, the chip counts were:
Scott Sitron — 2,705,000
David Daneshgar — 1,530,000
Dan Heimiller — 1,450,000
Farzad Rouhani — 1,305,000
Corwin Cole — 1,055,000
In back-to-back hands, the bottom two were eliminated. First, Corwin Cole, the chip leader at the start, moved all in from the cutoff and was looked up by Scott Sitron in the big blind. Cole was in bad shape,
against Sitron's
. The
flop put him farther behind and when the
turn fell, Cole was drawing dead and on his way out in fifth place, with $189,311.
Farzad Rouhani, one of two previous WSOP bracelet winners, was also sent home by Sitron. Rouhani moved all in and Sitron called from the small blind and, again, Sitron was ahead of the all-in player,
to
. Sitron improved to a set on the
flop, and after the
turn gave him a full boat, Rouhani was the fourth-place finisher with $231,584.
Here is where the chips stood when the three went to the dinner break:
Scott Sitron — 3,655,000
David Daneshgar — 2,750,000
Dan Heimiller — 1,690,000
Dan Heimiller won his WSOP bracelet in 2002 in a mixed stud-hold'em event. He was not to repeat here. On the eighth hand after dinner, Scott Sitron opened with a raise to 225,000 from the button. After Daneshgar folded the small blind, Heimiller thought for a moment reraising all in for 1.6 million in total. Sitron called and they turned over their cards; Heimiller's
trailed Sitron's
. With no help on the
board, Heimiller was eliminated in third place, with $275,695 in prize money.
Going into heads-up play, Scott Sitron had the chip advantage, 4,874,000 to 3,265,000. Sitron kept the lead until 40 hands into heads up. Sitron raised to 320,000 from the button and Daneshgar made it 575,000 more to go and Sitron called. They saw a flop of 2-A-6, Daneshgar fired 610,000 and Sitron called. When another six fell on the turn, Daneshgar checked, Sitron bet 800,000 and Daneshgar moved all in. Sitron quickly mucked and now Daneshgar had a 5.6-to-2.4 million chip advantage. Ten hands later, the match was over.
Sitron limped in from the button and Daneshgar raised it 400,000 more from the big blind. Sitron pushed for 2.9 million in total, and Daneshgar instantly called. Sitron showed
and trailed Daneshgar's
. The board, though, ran out
. Sitron's second-place finish was worth $385,974.
David Daneshgar is the winner of Event #52, and will take $625,443 and his first gold bracelet home to Westlake Village, California.