2008 WSOP Event #52, $1,500 No-Limit Hold'em Day 1: Carberry, Zeidenfeld, Feming Chan Lead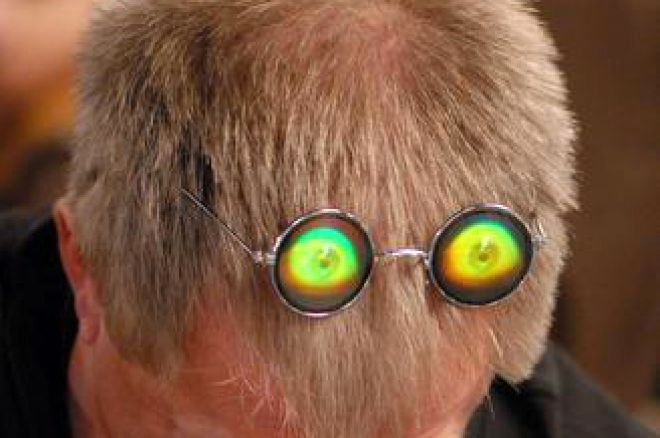 The last $1,500 No-Limit Hold'em tournament of the 2008 World Series of Poker drew 2,693 players, each hoping to grab one of the few bracelets left to be won. After ten rounds of play, the field was slashed to just 228, all well inside the money. They will return on Tuesday to play down to the final nine, who will then compete for the first place prize money of $625,443, and the gold bracelet. Topping the chip counts at the end of Day 1 was Keith Carberry and still in the hunt are such notables as Mimi Tran, Vanessa Rousso, Matt Matros, Farzad Rouhani, Dan Heimiller, and, making his fifth WSOP cash this year, Cody Slaubaugh.
The overnight chip leaders are:
Keith Carberry 203,000
Alvin Zeidenfeld 180,500
Feming Chan 105,400
Anders Fraulund 103,600
Joe Neiman 98,800
Henry Majdik 98,500
Elliot Smith 96,700
Jim Miller 92,400
Satoru Ishii 90,400
Scott Sitron 88,600
The event drew former Main Event winners Chris Ferguson and Chris Moneymaker, 2008 bracelet winners John Phan, Barry Greenstein, Max Pescatori, Erick Lindgren, and David Singer, and top pros Andy Bloch, Erik Seidel, Tom Schneider, Kathy Liebert, Andy Black, Roland de Wolfe and Erica Schoenberg, among many others. Unfortunately for this group, none of them will be back for Day 2.
Andy Black moved all in against the small blind with a board showing
and the small blind instantly called. Black revealed
for the baby straight, but his opponent tabled
for a better straight. The
on the river was meaningless and Black was out.
Roland de Wolfe lost two-thirds of his stack to Richard Kirsch after flopping two pair with
on a
board, besting Kirsch's
. But after the
turned, the
paired the board, counterfeiting de Wolfe's bottom pair and giving Kirsch the pot. Kirsch then took the rest of de Wolfe's chips when he called de Wolfe's all-in holding pocket jacks against de Wolfe's ace-three. When the J-6-9 flop gave Kirsch top set, de Wolfe was drawing dead.
Erica Schoenberg lost a race when her pocket queens failed to hold up against an opponent's Big Slick. Short-stacked, she had a chance to double up when she took A-9 against an opponent's 8-5, but the board ran out 9-8-5-8-J and Schoenberg had run out of luck.
Just past midnight, the tables went to hand-for-hand play as the money bubble approached. The identity of the bubble girl is a mystery, as she declined to share it. What is known is that, down to just 300 in chips, she folded through two hands of hand-for-hand play, losing a black 100 chip with each ante, and was all in blind on the third go-round. Two other players limped in to see a
flop. One of the limpers checked, the other pushed all in, and the first limper folded. Her opponent revealed pocket tens, for a flopped full house. She turned over her cards and saw
. When the
fell on the turn, she had a one-outer, the
for a straight flush, but the river was a
and she was met with applause as she exited in 271st place.
Inside the money, Vanessa Rousso lost a race against one opponent only to bounce back just before the end of the day. In the first hand, an under-the-gun player moved all in and Rousso called from middle position. The two went heads up; Rousso had A-Q, and her opponent had pocket jacks. The board missed her, running out K-7-4-8-2, and she was down to 17,500 chips. After making it past the bubble, Rousso decided to push the rest of her chips in and two players called. Her opponents checked down the A-9-3-9-5 board, and when she turned over her pocket kings, they mucked and she tripled up.
John Esposito saw Farzad Rouhani make his hand after the two called a short stack's all in, then checked down to the river. The board showed 5-5-9-2-J and Rouhani turned over J-10 for a pair of jacks on the river, the all-in player mucked and Esposito showed 9-6 for top pair on the flop. "I play so bad," Esposito moaned. With that pot, Rouhani was up to 53,000 in chips.
Alvin Zeidenfeld was already going to be at or near the top of the overnight chip count when he took down a big pot late in the session. He called a preflop raise against one other opponent and they saw a
flop. The raiser bet both the flop and the
turn; Zeidenfeld called each time. When the raiser bet on the
river, Zeidenfeld came over the top, moving all in. His opponent called, only to see Zeidenfeld turn over the
for the flush. When his opponent mucked, Zeidenfeld's stack rocketed up to 157,000. He finished the session in second spot.
Join PokerNews.com for live reporting of Day 2 of this event, beginning at 2pm Pacific Time, as the field narrows to the final table.