2008 WSOP Event #52, $1,500 No-Limit Hold'em: Corwin Cole Heads Final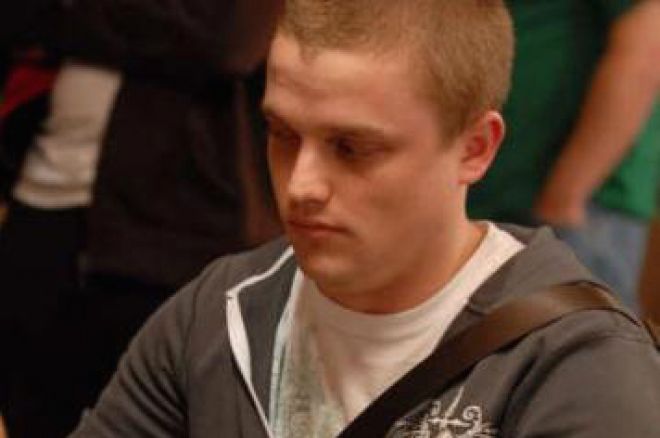 The 228 players who started Day 2 of Event #52, $1,500 No-Limit Hold'em, were already in the money, so their focus was on making the final table in one of the last tournaments of the 2008 World Series of Poker. The chip leader going into the finals is Corwin Cole, a 23-year-old who has already cashed twice this Series. The pro-heavy final table, including previous WSOP bracelet winners Dan Heimiller and Farzad Rouhani, will compete on Wednesday for the $625,443 payout and the winner's bracelet.
Here are the finalists, with hometowns and chip counts:
Corwin Cole (San Diego, California) — 1,668,000
Matt Matros (Brooklyn, New York) — 1,472,000
Jeff Courtney (Lancaster, Pennsylvania) — 1,443,000
David Daneshgar (Westlake Village, California) — 1,178,000
Voitto Rintala (Helsinki, Finland) — 553,000
Dan Heimiller (Plymouth, Michigan) — 544,000
Andrey Zaichenko (Moscow, Russia) — 521,000
Scott Sitron (Milwaukee, Wisconsin) — 504,000
Farzad Rouhani (Germantown, Maryland) — 212,000
Jim Miller came into Day 2 as one of the chip leaders, but was eliminated early after first losing most of his chips in a big pot against Matt Matros and the rest against Nath Pizzolatto. Miller called Pizzolatto's 4,800 raise preflop and they saw a
flop. Miller check-called Pizzolatto again, this time for 7,200. After the
turn, Miller checked, Pizzolatto bet 13,000, and Miller raised all in for 58,500. Pizzolatto tanked for a while, but eventually called, turning over pocket nines. Miller was in trouble with just pocket sevens and when a six fell on the river, he was out in 169th place and Pizzolatto was up over 150,000.
Pizzolatto later ended up giving most of his chips away to two of the eventual finalists. In one hand, he called Farzad Rouhani's preflop all-in with
against Rouhani's
. The flop came
, but the turn and river came
and Pizzolatto doubled up Rouhani. Later he shipped another big stack of chips over to Matt Matros when his pocket deuces couldn't improve over Matros' pocket sevens. Pizzolatto exited in 82nd place when he pushed with A-3 and was looked up by Gary Biggar, holding A-Q, and no help came.
David Daneshgar had a big stack that took a small hit when he went up against Stefan Martin in back-to-back hands. He doubled up Martin when he took 5-4 against Martin's pocket threes and the board bricked. The next hand, Martin again moved all in, and Daneshgar again called. This time Daneshgar had A-9, but Martin had pocket nines. The nines held up and Martin doubled up again. Daneshgar joked, "I'm like your ATM machine." Martin was up to 75,000, Daneshgar down to 200,000. Martin, though, was later knocked out in 57th place when his A-K lost a coin flip against Scott Sitron's pocket sixes.
Vanessa Rousso seemed to be on a roll early, doubling up once when her Q-10 hit a pair on the flop and her opponent's K-J never improved, then doubling up again when her pocket queens held up against Josh Paeth's A-Q. She was up to 125,000 after winning a big pot against two other players when she rivered a straight with 8-9. But her day came to an end against Anders Fraulund. On a flop of
, Fraulund moved all in and Rousso called. Her
was up against Fraulund's
. Her hand held up on the
turn, but Fraulund caught the
on the river to make his flush and eliminate Rousso in 44th place, with $10,660.
Mimi Tran also went deep, hitting a timely double-up against Ray Henson when her A-J rivered a Broadway straight on a 4-K-9-Q-10 board, beating his set of tens. She grabbed more chips when her pocket queens held up against Donald Blakely's K-Q, sending him to the rail. But her stack took a big hit when she lost a race against Lars Sundberg, A-Q to his pocket eights, and then her day was over when her K-Q was dominated by the A-Q of Gary Biggar and she found no help on the 10-4-4-6-4 board. Tran was out in 25th place with $17,276.
Cody "thugmoneymkr" Slaubaugh had already secured his fifh cash of the 2008 Series, but he was unsuccessful in his quest for his first bracelet. He survived an all-in against Brock Mishler, pocket jacks against A-K, when the board ran out Q-Q-4-8-Q. But he lost most of his chips later on another coin flip when his A-K fell to the pocket queens of Farzad Rouhani on a 4-6-9-10-J board. Down to just a handful of chips, Slaubaugh moved in with
and was called by Scott Sitron, holding
. Slaubaugh failed to improve and was out in 15th place with $29,039.
Gary Biggar had two run-ins with David Daneshgar that cost him his tournament life. In the first hand, Biggar called Daneshgar's all-in after a flop of
. Biggar had flopped a set with
, but Daneshgar hit a flush with
and the board blanked, doubling up Daneshgar. Then Daneshgar knocked out Biggar just shy of the final table when he called Biggar's all-in with
. Biggar was ahead with
until the flop came
giving Daneshgar another flopped flush. Only runner-runner for a full house would save him, but Biggar was drawing dead as soon as the
hit the turn. Biggar pocketed $36,391 for his 10th-place finish.
Join PokerNews.com for live reporting of the final table of this event, beginning Wednesday at 2pm. Pacific Time.