2008 WSOP, $10,000 NLHE Main Event Day 1A: Mark Garner Early Leader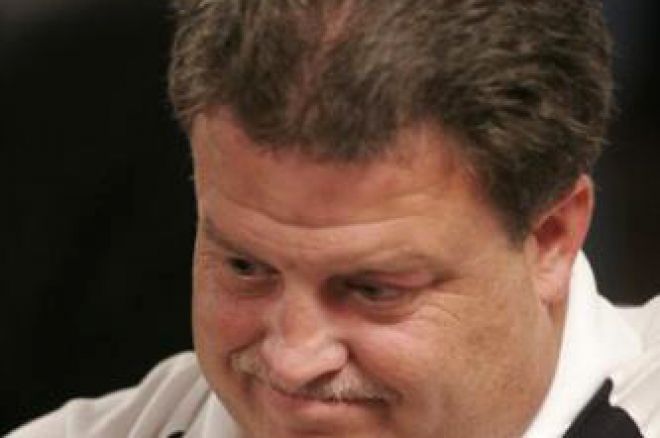 The first day of the WSOP Championship is always a double-edged sword. For as many players that walk through the doors of the Amazon Room, about half as many leave before the day is done. But at the end of Day 1A, Mark Garner didn't have to worry about that. Garner, who finished 25th in the Main Event last year, ended play as the Day 1A chip leader, getting a leg up for his second day.
It used to be said that the worst day of the year for any poker player was the day he or she was eliminated from the WSOP Championship Event. Years ago, there were far fewer tournaments and none that boasted a $10,000 buy-in. Waiting another year to play "the big one" seemed an eternity.
But even with the expansion of the tournament schedule, with another $10,000 event around every corner, elimination from the WSOP Main Event carries its own special pain. Whether one is a recreational player or a seasoned pro, the anticipation of bringing home the title immortalized by the legends of the game - Moss, Unger, Brunson, and Chan – takes on a life of its own. And the moment one is forced to the rail doesn't merely represent the end of a tournament, as it does an end to a dream. And so it began.
Day 1A kicked off with the fanfare of Wayne Newton offering the customary "Shuffle up and deal!" while the UNLV marching band played "Viva Las Vegas." The first flight of Day 1 players totaled 1,297 and was expected to be the smallest of the four flights. Many players chose the coming days of the long holiday weekend as their start date and mega-satellites are still in play. The total number of starting players and prize pool won't be known until after the fourth flight takes the field on Sunday.
Day 1A drew former WSOP Champions Dan Harrington, Berry Johnston, Bobby Baldwin and Scotty Nguyen. Professional staples including Freddy Deeb, Chau Giang, Barry Greenstein, Ben Roberts and Billy Baxter were there. And 2008 WSOP preliminary event bracelet winners Max Greenwood, Vanessa Selbst, Svetlana Gromenkova, Rep Porter, Marty Smyth, Blair Hinkle, David Benyamine, Phil "OMGClayAiken" Galfond, and Dan LaCourse also took the field. While the celebrity factor was a little light, actors Ray Ramono, Jason Alexander, and Mekhi Phifer were all Day 1A players.
The first player hit the rail within 20 minutes, when Barry Clancy's pocket aces were rivered by pocket jacks. Clancy's elimination became a symbol of the long and challenging path ahead for the remaining players. Andrew Prock already had two cashes in this WSOP, including a final-table appearance in the last preliminary event. But Prock lost his bid to cash in the main event when his A-K couldn't improve against an opponent's pocket jacks. Elsewhere, Johnny Gale reraised all his chips on the turn holding A-Q with an A-J-2-J board. Svetlana Gronemkova called in a heartbeat with pocket twos for the boat, and Gale's day was over.
Tom "durrrr" Dwan's day was rocky and short. In one of the first hands of the day, Dwan's aces were cracked by Dale Pinchot's A-8. There was action all the way to the river with a board of 8-J-5-8-Q, and Dwan ended up losing half his stack. Up and down from there, Dwan finally succumbed when his top two pair made on the turn, then lost out to Jean Claude Moussa's top pair and a flush draw when a flush materialized on the river.
David Benyamine's A-J on a board of 3-8-J-A-8 looked good, but Avdo Djokovic's pocket aces looked better and Benyamine was done. David "Devilfish" Ulliott and author Michael Craig tangled in the early going, with Craig ending up the better for it. But it would be Suhail Falchouri's pocket queens that would eliminate Ulliott and his pocket nines. James Mackey knew his flopped top set of jacks might be vulnerable to a flush draw so he pushed all of his 17,000 chips in. Undaunted, Joe Sebok called and got his flush on the river.
By late afternoon, the elimination pace began to pick up. A short-stacked Freddy Deeb got it in with pocket sevens, but unfortunately ran into Grayson Physioc's pocket queens. In the blink of an eye, Maureen Feduniak's aces were cracked by Ryan Jones' pocket fives. Manny Minaya's pocket kings hit a set on the turn, but lost to Claus Vallo's pocket aces that found their set on the river. Eli Elezra, Allyn Jaffrey Shulman, Vanessa Selbst, Luis Velador, 2007 WSOP Championship final tablist Raymond Rahme, and Lyle Berman all failed to make it into early evening play.
Jason Alexander's pocket aces were cracked by an opponent's A-2 that turned a wheel. And Shirley Rosario's pocket aces fared no better when her opponent's pocket sevens hit a set on the flop. Taylor 'Green Plastic' Caby, Katja Thater, Gavin Smith, Bob Feduniak, Roy Winston, Dan Harrington, Davidson Matthew, Ralph Perry, Abe Mosseri, Shawn Rice, Eric Froehlich, and 2007 WSOP Championship runner-up Tuan Lam were all eliminated before the dinner break.
While there are always bad beats aplenty in a field this size, Motoyuki "Moto" Mabuchi had to feel unrivaled as he left the Amazon Room. With action all the way, Mabuchi raised all in on the river with the board showing
. Mabuchi confidently flipped over pocket aces for quad aces. His opponent, however, turned over
for the royal flush.
Joe Sebok's run was over when his pocket jacks faced off against an opponent's pocket queens. Two more queens fell on the board to add insult to Sebok's injury. The evening also saw the departure of J.J. Liu, Josh Arieh, Kevin "BeL0WaB0Ve" Saul, Erica Schoenberg, Jonathan Little, Alan Smurfit, and "Miami" John Cernuto.
The final hour of play would also claim its fair share of victims. Luca Pagano was railed when his flopped bottom set went down to Wayne Brown's flopped top set. Actor Mekhi Phifer got all his chips in with top pair and a flush draw, but couldn't overcome Maurice Hawkins' flopped set. Steve Sung got his money in on a rag flop with an overpair of eights, only to watch his opponent catch a gutshot for the wheel on the turn, and a nut flush on the river. Berry Johnston's A-10 went up against an opponent's pocket queens; the queen on the flop pretty much sealed the deal. And in one of the last eliminations of the day, Andrew Wiggins' A-K couldn't improve against Jeff Frerichs' pocket eights.
By the end of the day, more than half the field was gone, leaving 636 players to advance. 23 players were able to crack the 100,000-chip mark, which should give them a healthy start going into their second day of play. But they'll have to wait for three more flights of Day Ones to play out before they hear their next "Shuffle up and Deal."
Day 1A Chip Leaders:
Mark Garner — 194,900
Brandon Adams — 176,450
Kellen Hunter --155,200
Stefan Mattsson — 154,275
Patrick Fortin — 145,275
Jeff Frerichs — 138,025
Soren Peterson — 135,475
Adam Hudson — 127,750
Wayne Brown — 124,575
Todd Rebello — 123,925