2008 WSOP $10,000 NLHE Championship, Day 3: Cash Reached, Jeremy Joseph Leads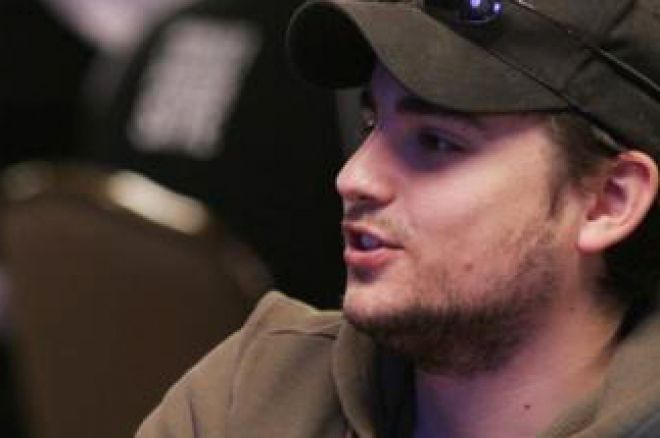 For the first time since the WSOP Championship began on July 3rd, the $64-million-plus prize pool was in sight. The combined field for Day 3 of the WSOP Championship started with 1,307 players, and with payouts starting for 666th place, it was going to be "money day." It would take more than 11 hours, including an hour and a half of hand-for-hand play, to reach the money. But the field finally cashed when Steve Chung became the "bubble boy," finishing in 667th place. Chung didn't go home empty handed, however, as Milwaukee's Best Light already has reserved a seat for him in next year's Main Event.
Jeremy Joseph moneyed in this event last year, finishing in 603rd place. He would beat that this year, not only surviving through Day 3, but ending up as its chip leader with 1,458,000 chips. But it was also a cruel day for the many that played two long days of the Championship event, only to come up short in their third.
Poker's popularity was spurred when Chris Moneymaker started this event in 2003 as a relative unknown and played his way to the championship bracelet. Moneymaker had survived two days of this 2008 event, but was short-stacked at the beginning of Day 3 play. Moneymaker had the advantage when he pushed his chips, with his A-J up against Dragoslav Timarac' 10-9. But a ten fell on the board and Moneymaker became one of the first casualties of Day 3.
Patrik Antonius was behind when he went all in with K-J against Jim Dalessandro's suited A-10. Antonius hit a lucky king on the flop, only to see Dalessandro overtake him with a runner-runner flush. Antonious was just one player out of the 100 to be eliminated in the first 45 minutes of play. By the first break, almost 300 players had left the field, including Jennifer Harman, Tony Hachem, Scott Clements and Barny Boatman.
Shortly before the first break, reporters were drawn to a table where all nine players could barely play for laughing. They found Mike Matusow with two flipped-up aces. "They raise my blind 25 times in a row... then I get a walk and have two aces," said Matusow before he paused to look around for any cameras. "It's a f*ck*n conspiracy!" he said to a new round of laughter. The rest of the day would be kinder to "The Mouth," as he chipped up from his starting stack of 97,000 to end the day at 438,500.
Three more tables worth of players fell within the first 20 minutes of the second level with Tony Cousineau among them when his pocket eights couldn't overcome an opponent's pocket aces. And 2005 WSOP Seniors Champion Paul McKinney was eliminated soon after, when his pocket sixes ran into an opponent's pocket kings.
"God. They ought to make convicts play this game for punishment." That outburst got Bill Blanda a warning from the floor. Blanda's pocket aces had just been cracked when a resulting board delivered a Broadway straight to his opponent holding an A-J. Blanda survived the hands with chips, and apparently was able to overcome his damaged psyche; Blanda ended the day with 347,000.
Matt Glantz made two final tables at this year's WSOP, but became one more player to leave the Main Event without a cash. Phil Gordon has made many WSOP final tables throughout his career, including a fourth-place finish in the 2001 WSOP Championship, but he also came up empty on Day 3. And John D'Agostino's last hand was pocket jacks against pocket nines; a nine on the board sent D'Agostino to the rail.
Just before the dinner break, Mickey Appleman's pocket tens fell to pocket jacks. Matt Graham's pocket queens ran into John Gordon's pocket kings. And Joseph Grue's pocket kings had an unfortunate meeting with an opponent's pocket aces. 733 players went to dinner, knowing that 67 players among them still would not cash.
Minh Nguyen was among those 67 when his pocket kings couldn't overcome Sarkis Akopyan's pocket aces. And Nenad Medic and Sigurd Eskeland got all their chips in on an A-J-9 flop. Medic's A-K had the edge on Eskeland's A-Q, but a queen on the river sent Medic to the rail just short of the money. The hand boosted Eskeland's stack to a chip leading 950,000. Eskeland didn't hold the lead long, as Jeremiah Smith became the first player to hit the million-chip mark soon after. Smith would hold on to his chips and finish with 1,079,500, in second place as the day ended.
The money bubble finally burst and the field applauded and let out a collective sigh of relief; Table #7 ordered shots of tequila for the entire table on the news. But as predicted, a post-bubble tsunami of eliminations ensued. Men Nguyen moved in over the top of Frank Russo; it was Nguyen's pocket tens to Russo's 3-5 offsuit. "I caught you with your pants down," Nguyen said. Russo retorted, "I'm 11-for-11." When the board brought two threes, Russo was 12-for-12 and Men Nguyen finished in 651st.
Vanessa Rousso had two hard luck hands. In the first, her pocket sevens went down to an A-6 when the board gave her opponent a six-high straight. In the second hand, her last, Rousso's A-J fell to the same opponent's Q-4 when a queen came on the board. Rousso finished in 625th place. Brandon Adams had the best of it going in, with his pocket eights up against pocket sevens and an A-10. The board fell big with an ace and Adams finished in 618th place.
Thor Hansen got his money in with an overpair of pocket nines on a 6-4-2 flop, but an opponent's overpair of aces eliminated Hansen in 600th place. The Day 1C chip leader Henning Granstad finished in 553rd. And Andreas Torbergsen finished in 551st place when his pocket fives fell to Andrew Rosskamm's pocket jacks.
Chau Giang pushed a short stack with a suited K-6 against an opponent's pocket aces. When the flop came A-3-3, Giang had almost no outs. Chau Giang finished in 518th place. Chris Gregorian would bust out minutes later in 517th. And in one of the last hands of Day 3, Markus Gosler became the 477th-place finisher.
When Day 3 came to a close, 474 players remained with two former WSOP Champions among them: Phil Hellmuth and Johnny Chan. Along with the chip leaders, listed below, Day 3 survivors included Matt Matros, Mike Matusow, Hoyt Corkins, Jon Friedberg, Chip Jett, Gus Hansen, Jeff Madsen, Brandon Cantu, Evelyn Ng, Allen Cunningham, Carmel Petresco, Bertrand Grospellier, Hevad Khan, Frankie O'Dell, Magnus Petersson, Robert Mizrachi, Jon Turner, Devon Porter, Matt Lessinger, David Colclough, Hasan Habib, Shawn Sheikhan, Maya Geller-Antonius, Victor Ramdin and Mark Vos.
The top ten players following Day 3 action:
Jeremy Joseph — 1,458,000
Jeremiah Smith — 1,079,500
Mark Ketteringham — 950,000
Kyle Carlston — 932,500
Dag Martin Mikkelsen — 931,000
Alan Jaffray — 908,500
Owen Crowe — 900,000
Alexander Kostritsyn — 887,000
James McManus — 875,000
Chris Barrile — 873,500