2008 WSOP $10,000 NLHE Championship Day 4: Jeremy Joseph Maintains Slim Lead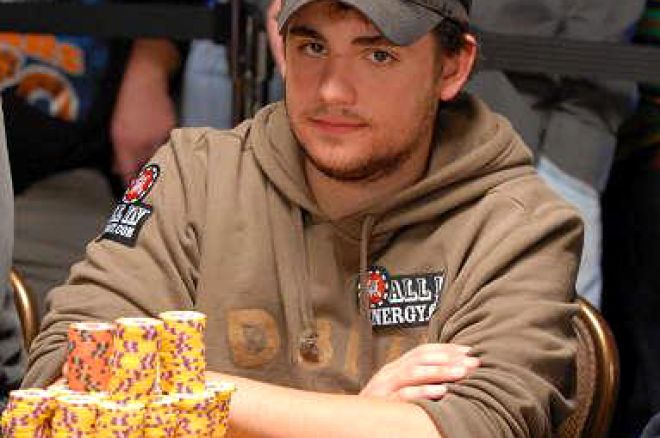 Day 4 of the WSOP Championship began with 474 players and play was suspended with just 189 players left, or less than three percent of the starting field of 6,844. Jeremy Joseph started the Day 4 as the chip leader, and ended it the same way with 2,187,000 in chips. But Joseph has some company near the 2 million chip mark; four other players, from four different countries, all have stacks topping 1.9 million.
The championship field had made the money in Day 3, and all the starting Day 4 players were insured of a $27,020 payday. But with the bubble safely behind them, few players thought about the guarantee. When the WSOP's Dealer of the Year, Jenna Phillips, said "Shuffle up and deal," the race for the bracelet and $9,110,517 began in earnest. Many of the remaining players had been to the championship table before, most notably former WSOP Champions Johnny Chan and Phil Hellmuth. Other final tablists present included Allen Cunninham, Mike Matusow, Hevad Khan, and Glenn Cozen.
The day started quickly as short stacks wielded what little power they had in a bid to double up. In the first hour, the field players at a rate of one per minute. Robert Mizrachi was an early victim when all his chips went in on a J-9-4 flop. Mizrachi had the best of it with K-J to William Soffin's Q-J, but a queen fell on the river and Mizrachi finished in 458th place. Brian Schaedlich ended the Day 2 flights as chip leader, but Day 3 took its toll, and Schaedlich started Day 4 with a relatively short stack. In the early going, Schaedlich made his stand with A-9 against Darren Grant's Q-4. A queen on the turn ended Schaedlich's run in 456th place.
Two-time WSOP bracelet winner Chris Bjorin locked in his 42nd lifetime money finish in the WSOP. Bjorin's A-Q looked good against Shawn Sheikhan's A-6, but the board came J-7-5-8-9 to give Sheikhan a nine-high straight and send Bjorin home in 452nd. Kirill Gerasimov also had the edge when all his chips went in pre-flop; Gerasimov had pocket kings against Danny Mitnick's A-K. But the A-A-10 flop proved insurmountable and Gerasimov finished in 439th place. With four money finishes, including two final table appearances, Gerasimov can't be too disappointed with his 2008 WSOP performance. The first hour of play would also claim Jason Young, Jean-Robert Bellande, Mike Wattel, and David Colclough.
"Are you kidding me?" asked a stunned Adam Schoenfeld. "Unbelievable." Adam Schoenfeld had taken his pocket tens up against Sigurd Eskeland's K-J. With the board reading 6-7-8-9, the only card that could hurt Schoenfeld was a ten – which fell on the river. Adam Schoenfeld finished in 424th place. Tim West was eliminated in 419th place and bracelet winner Frankie O'Dell claimed 418th place.
Phil Hellmuth had a ballistic moment, possibly attributable to a 2002 WSOP Championship flashback. In 2002, Hellmuth was eliminated by a Q-10 wielding Robert Varykonyi. Hellmuth swore he'd shave his head if Varkonyi went on to win the Championship. Varkonyi not only won it, he won it with a final hand of Q-10. Hellmuth didn't welch on his bet, allowing Varkonyi to shave his head for the ESPN cameras. Back to 2008. Hellmuth flipped out, berating his opponent for overplaying his hand and did a lap around the feature table area in disgust. The board read 9-6-J-8-2; Hellmuth's opponent's flipped up cards were Q-10 for the straight. This time, however, Hellmuth still had a stack left. And after collecting himself, Hellmuth got back to work collecting more chips.
Cliff "JohnnyBax" Josephy was crippled holding pocket jacks against Danny Fuhs with J-10. All the money was in on the 9-8-6 flop, with Josephy with the overpair and Fuhs with the open-ended straight draw. Fuhs got his draw when the queen fell on the turn, and Josephy was down to 60,000 chips. Josephy got the rest of his stack in with K-J and was up against Dag Martin Mikkelsen's dominating A-K. When Q-10-2 flopped, Josephy picked up the open-ended straight draw, but the rest of the board failed to cooperate. Josephy finished in 386th place. Bertrand "ElkY" Grospellier finished in 370th place when his pocket kings were outdrawn by Anthony Zinno's A-Q when an ace came on the flop. And Jason Lester was out in 367th place when his pocket queens went down to Hoyt Corkins' A-K when a king hit the board.
Johnny Chan was crippled when he took his pocket fives against Damien Creurer's A-10. Chan was initially delighted to hit a set on the flop, but the ensuing board came up all diamonds and Creurer's
played for the flush. In a subsequent hand, Chan pushed all in with A-7 and Creurer called with pocket eights. The eights held and Johnny Chan finished in 329th place, leaving Phil Hellmuth as the sole former WSOP Main Event champion in the field.
Thayer Rasmussen moved in the last of his chips with pocket aces against Sylvain Coeur's pocket tens. Rasmussen finished in 321st place when the board ran out J-8-3-7-9 to give Coeur a jack-high straight. Pat Poels finished in 310th when his pocket jacks ran into Eric Bamer's pocket kings. Dag Martin Mikkelsen finished in 281st place when his pocket kings fell to Kevin Mason's pocket aces. And Peter Biebel's pocket fours couldn't overtake Steve Billirakis' pocket fives. Biebel's run ended in 273rd place.
Van Nguyen took her pocket eights up against Dale Hoy's K-Q, but Nguyen lost the race when a king hit the board. Van Nguyen finished in 250th place. The field of remaining women continued to dwindle as Tracey Nguyen and Evelyn Ng went out soon after, finishing in 239th and 238th respectively. And Hevad Khan, the last representative from the 2007 WSOP Championship final table, was eliminated in 240th place.
Right before the dinner break, Jon "PearlJammer" Turner flopped a set of aces. Albert Kim berated himself for calling on the flush draw, but the turn delivered his flush and the board never paired, sending Jon Turner to the rail in 225th place. Because Day 3 was over 14 hours long, and play had progressed quickly in Day 4, it was decided to suspend play after just one level after dinner.
Glenn Cozen finished in second place in the 1993 WSOP Championship, behind Jim Bechtel. This year Cozen had to settle for 200th place, when his K-J couldn't overcome the slight disadvantage against Phi Nguyen's A-9. Play definitely slowed down in the last half hour of the day, as players stalled to survive one more day of the Main Event. But a few late night eliminations still trickled in. Steve Billirakis was among them, running his pocket eights up into David "Chino" Rheem's pocket queens. Steve Billirakis finished in 199th place.
When play was called, only four women remained in the field of 189; they are PokerNews video gal Tiffany Michelle, Kara Scott, Karen Manfrede, and Lisa Parsons. Eleven WSOP bracelet winners also advanced to Day 5. Phi Nguyen, Brandon Cantu. Mark Vos, Gus Hansen, Allen Cunningham, Jeff Madsen, Mike Matusow, Thomas Keller, Hoyt Corkins, Jon Friedberg - and of course, Phil Hellmuth – will all be looking to add another to their collection. And Gus Hansen, Alex Outhred, Alexander Kostritsyn, Matt Matros, Chip Jett, Matt Lessinger, and Kido Pham will also return to chase the chip leaders, listed below, on their way to the bracelet.
Jeremy Joseph 2,187,000
Nikolay Losev 2,110,000
Cristian Dragomir 2,065,000
Brandon Cantu 1,981,000
Davor Lanini 1,958,000
David Rheem 1,851,000
Andrew Rosskamm 1,764,000
James McManus 1,761,000
Geoffrey Herzog 1,695,000
Albert Kim 1,688,000