2008 WSOP $10,000 NLHE Championship Day 5: Mark Ketteringham Leads Final 79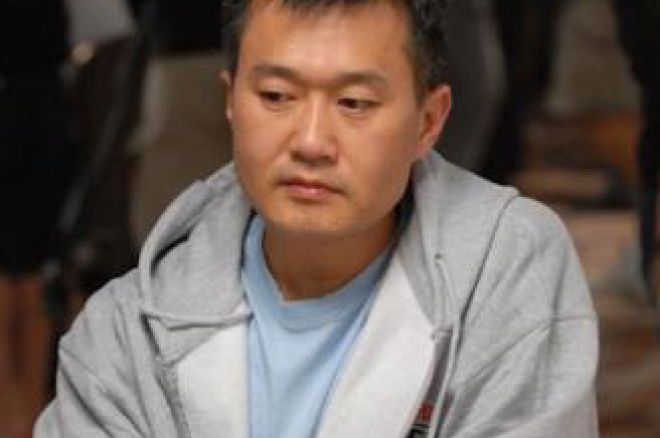 Jeremy Joseph had a slight lead over the field of 189 remaining players going into Day 5 of the WSOP Championship. While Joseph would concede the mantle of chip leader to Mark Ketteringham by the end of the day, Joseph hovered near the top of the leaderboard for the majority of the day and currently sits in ninth place. Russian player Nikolay Losev currently holds the second-place slot. Losev apparently can't get enough poker and took one of his days off from the main event last week to win the Bellagio Cup III $5,000 NLHE event.
Phil Hellmuth was the last remaining WSOP Champion in the field when Johnny Chan was eliminated in 329th place. Hellmuth will not be starting Day 6, but not because he was eliminated on Day 5. Hellmuth survived the day, but racked up a penalty at the end of play for berating fellow player Cristian Dragomir and will be forced to sit out the first orbit.
Day 5 players were guaranteed a $38,600 payday and the average chip count going into day was 760,000. There were, however, many players with a short stack that had to make their moves early. George Ramhe was the first elimination of the day when he shoved with A-5 against Greg Debora's A-Q. A queen on the turn sealed it for Debora and Ramhe finished in 189th place. Peter Traply was also eliminated on the first hand of the day when his pocket queens had the misfortune of running into Darren Grant's pocket kings; Traply finished in 188th place.
Alexander Kostritsyn bought himself some time by eventually folding pocket kings pre-flop and face up. As the betting escalated in a three-way action, Kostritsyn came to the correct conclusion; one of his opponents had pocket aces. Reagan Silber was the opponent with the rockets and Roy Carter, holding A-K, was eliminated on the hand in 182nd place.
The year that Scotty Nguyen won the championship bracelet, UK player Ben Roberts had a birds-eye view; Roberts finished sixth in the 1998 WSOP Championship. Ten years later, Roberts had to settle for 178th place when his pocket kings fell to Scott Montgomery's A-Q after an ace showed up on the board. Lou Esposito was hoping an ace would fall on his board when his A-J tangled with Shawn Sheikhan's pocket queens. But the board failed to cooperate and Esposito was out in 172nd.
Hoyt Corkins locked in his fifth cash of the 2008 WSOP when his pocket queens ran into Ivan Demidov's pocket aces. Corkins finished in 162nd place. Chip Jett and Gus Hansen were right behind him, finishing in 161st and 160th place, respectively. Hansen was crippled on a hand when his flopped open-ended straight draw couldn't connect and Jeremy Joseph's ace-high took the pot. On the next hand, Hansen's Q-9 led with top pair on a 9-7-5 flop against Chris Crilly's A-6 gutshot draw. A three on the turn gave Crilly a double gutshot. And an eight on the river filled Crilly's straight and sent Hansen to the rail.
WSOP bracelet winner Jon Friedberg was eliminated in 148th place when his A-J couldn't overcome Keith Hawkins' A-Q. And player/author Matt Lessinger's run ended in 144th place. In Day 4, a million chips was a nice stack. When Day 5's field had whittled down to 136 players, it became merely average. Tiffany Michele, one of the few remaining women in the field, seemed to have no trouble powering through the averages on Day 5. By this time, Michele had almost doubled her starting stack to 1.7 million. And by the end of the day, Michele would double that total again, finishing fourth in chips with 3.4 million.
Five-time WSOP bracelet winner Allen Cunningham finished in fourth place in the 2006 Championship Event. Cunningham's deep run in 2008, however, came to an end when he ran his Q-J into Tim Loecke's pocket aces. Cunningham finished in 117th place for his fifth cash at this year's Series. And two-time bracelet winner Jeff Madsen also put in a solid performance this year, with four cashes and a 112th-place finish in this Main Event. Madsen's run finally ended when his short stacked play with K-10 was met by Victor Ramdin holding A-K.
Shawn Sheikhan was sporting a good stack for much of the day, but lost almost all of it running his pocket jacks into Jamal Kunbuz' pocket aces. Sheikhan put the last of his chips in on the next hand with 7-5 and again was called by Kunbuz, this time holding A-K. The board changed nothing and Shawn Sheikhan was out in 105th place. Kara Scott called in the last of her chips on an A-K-4 board with K-Q. Phi Nguyen had the advantage with A-10 and held it through the river. Kara Scott was eliminated in 104th place.
At the ESPN feature table, Mike Matusow had been playing tight all day. Matusow caught an early double-up to get to over 700,000 chips but was unable to navigate his way much higher. He played few hands and advertised high pocket pairs when he had them. In the last level of the night, Matusow must have figured his tight image was going to get the laydown when he reraised all in, over the top of Sean Davis. Davis called with A-K and Matusow was forced to flip over his 10-5. The crowd roared when Matusow pulled ahead on the J-7-5 flop. After the remaining 8-6 fell, Matusow had doubled up to over a million chips for the first time in the event. Soon after, Phil Hellmuth joined the ESPN table and quickly took control, taking three of the first six hands he played. Matusow joked that Hellmuth won more hands in the first 20 minutes at the feature table than Matusow had won all day.
Alexander Kostritsyn had dodged pocket aces early in the day, but was still unable to escape elimination in Day 5. Kostritsyn check-raised to put himself all in against Garrett Beckman on a 10-6-4 flop. Beckman went into the tank, but finally called with pocket sevens and was relieved to discover he was ahead of Kostritsyn's A-K. No outs materialized for Kostritsyn and he finished in 84th place. And Mark Vos was also unable to escape elimination, succumbing on the very last hand of the day. Pre-flop betting escalated between Vos and Dennis Phillips until Vos finally shoved all in. Dennis Phillips immediately called with pocket aces and Vos' A-K was drawing thin. The board ran out Q-9-3-10-2 and Vos finished in 80th place.
Along with the Day 5 chip leaders, listed below, Day 6 will play host to Phil Hellmuth, Mike Matusow, Kido Pham, Brandon Cantu, Alex Outhred, Victor Ramdin, Matt Matros, Thomas Keller, Mark Wilds, James McManus, Phi Nguyen, and David Rheem. Payouts for Day 6 will begin at $77,200. If they play down to 27 players, as planned, the last elimination of Day 6 will pay $193,000.
Check back with the PokerNews "Live Reporting" team for all the Day 6 action.
Top Ten:
Mark Ketteringham 5,800,000
Nikolay Losev 4,058,000
Albert Kim 3,734,000
Tiffany Michelle 3,438,000
Dennis Phillips 3,436,000
Aaron Gordon 3,369,000
Jamal Kunbuz 3,327,000
Terry Lade 3,225,000
Jeremy Joseph 3,100,000
Alfredo Fernandez 3,053,000