PokerNews' Tiffany 'Hot Chips' Michelle Eyes WSOP History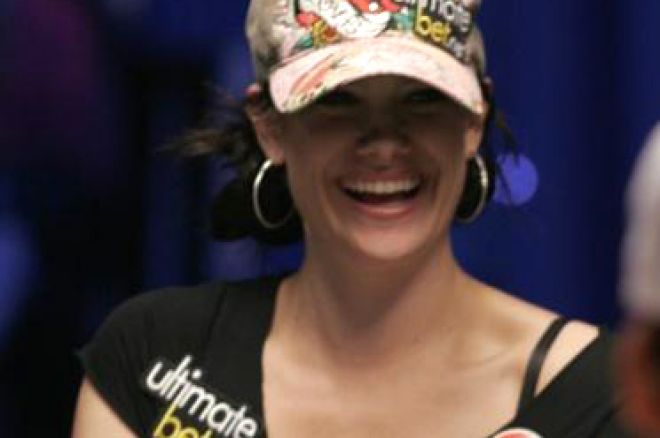 Every year, the World Series of Poker's Main Event creates a handful of new media stars, whose deep run in the world's biggest poker tournament, combined with their personality and affinity for the camera, bring them rather more than the standard fifteen minutes of fame. With 27 players remaining, perhaps no player is poised to make a bigger impact than PokerNews' own video interviewer, Tiffany "Hot Chips" Michelle. While a familiar face in front of the camera for PokerNews readers, Tiffany's success at the table itself has her already guaranteed a big payday (a minimum of $257,334), and has her on the verge of being the second woman ever to make a WSOP Main Event final table –- the first being Barbara Enright in 1995. Not bad for someone making her Main Event debut.
Tiffany's rise through the standings on Day 6 of the Main Event saw her surge to near the top of the board early in the day, then bounce between second and seventh throughout the session as she stayed active at her table and mixed it up in many pots. Along the way, she became the "last woman standing" in the 2008 Main Event, claiming that honor when Lisa Parsons was eliminated early in the day in 76th spot. Tiffany Michelle's run continues into Day 7… and perhaps to a November final table.
Most poker fans remember that the last woman standing in the 2007 Main Event was Mario Ho, like Tiffany a Californian. The two good friends flipped the interviewer/subject formula around once Tiffany claimed the "last woman" title; Maria had been keeping a close eye on Tiffany's progress throughout the last couple of days.
It's new territory for Tiffany, even if she is quite comfortable under the bright lights. Tiffany's actress/musician background made her a natural for the PokerNews video interviewer's post, and along the way she's interviewed virtually every big name in poker. Among the countless interviews she's done, she still remembered a few of her own favorites in a brief chat following Day 6 play, citing interviews with Jennifer Tilly, comedian (and occasional poker player) Norm MacDonald, and Jason Taylor, the handsome defensive star of the NFL's Miami Dolphins as among her most enjoyable.
If Day 7 goes as Day 6 did, Tiffany herself will have to get far more used to being the subject of those same interviews. Perhaps Day 7 will be her greatest challenge in attempting to reach that final table, because in her previous tournament successes elsewhere, she's done well once having reached the final. "I've never not taken first or chopped at the end, having reached the final table," said Tiffany.
So it's on to Day 7 for PokerNews' emerging star. She'll enter the day's play with 9,755,000 in chips, in a solid third place behind overnight leader Dennis Phillips (11,910,000) and second-place Craig Marquis (11,460,000). Marquis and Tiffany begin play at the same table, along with several other formidable players, including Owen 'ocrowe' Crowe and Ylon Schwartz.