Dr. Pauly at the 2008 WSOP: Celebrities at the World Series of Poker
Paul McGuire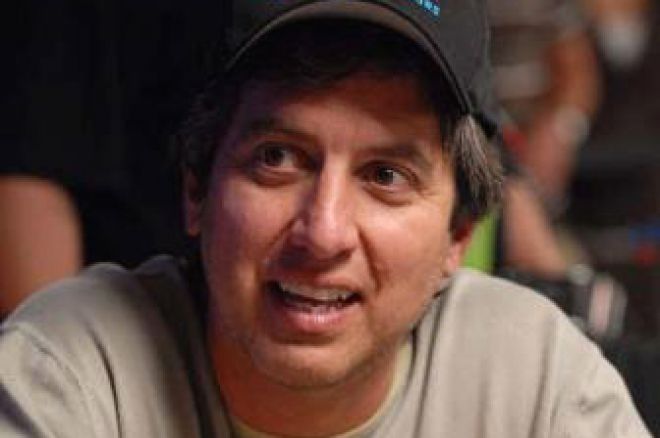 For decades celebrities have been playing in the most prestigious poker tournament in the world. Every year a handful of actors, models, athletes, musicians, and other celebrity types show up in Las Vegas and head to the Rio Hotel & Casino to play in the World Series of Poker Main Event. Some of them play just for fun. Some play to get media attention. And some are straight up poker junkies who can't get enough of the game.
The 2008 WSOP Main Event had an interesting collection of celebrities in the hunt for the $9.1 million first-place prize. The two most notable happened to be ultimate fighting and mixed martial arts fighters. The legendary Chuck Liddell was in the field as a PokerStars-sponsored player. The former world champion was seated at Phil Hellmuth's table. Most of the buzz in the Amazon Room on Day 1D involved Forrest Griffin. Less than 24 hours earlier at a venue down the street, Griffin won the UFC light-heavyweight crown when he beat heavily favorite Quinton "Rampage" Jackson at UFC 86. The battered and bruised Griffin showed up against doctor's orders and played with a swollen face. As much as the UFC fighters are some of the toughest bad asses in the world, they couldn't hold their mud against the world's top poker players. Griffin and Liddell were both eliminated on Day 1D.
Several of the usual celebrity poker suspects were spotted at the 2008 WSOP. That list included Jason Alexander, Shannon Elizabeth, Sam Simon, and Jennifer Tilly. They have all played in the big one over the last couple of years. Way before she was known as the Unabomber's girlfriend, Jen Tilly was married to Sam Simon, the producer of "The Simpsons." He initially got her into poker as they hosted a regular home game in Hollywood that attracted players from all over the entertainment industry. Sadly, both Simon and Tilly failed to advance to Day 2 this year.
Shannon Elizabeth had been dabbling in poker the last couple of years and bounced around between different online poker sites who had bought her into various WSOP, WPT, and Aussie Millions events. Elizabeth was recently seen on the popular reality show "Dancing with the Stars" but she's been spending the majority of her summer in Las Vegas playing preliminary events at the WSOP. She was one of the few celebrities who advanced to Day 2 of this year's main event.
If you are a "Seinfeld" fan, you have to love Jason Alexander's portrayal of the neurotic George Costanza. Out of all the celebrities that have played in the WSOP over the years, Alexander has been one of the most enjoyable to cover. Unfortunately for Alexander, he also busted out on Day 1 when he had his pocket aces snapped off.
Several former Major League Baseball players were in the 2008 WSOP including Orel Hershiser, David Wells, and Jose Canseco. Wells threw a perfect game for the Yankees in 1998 and ten years later, he's playing in his first Main Event.
"I don't get intimated," explained Wells in an interview with PokerNews' Amanda Leatherman. "But I know how frustrating this game can be."
Amanda asked Wells if he'd trade his perfect game for a WSOP main event bracelet.
"Nah! But maybe I'd trade my Toronto ring for a bracelet," he joked.
Although cricket is an obscure sport in America, it is revered around the world. Australian Shane Warne is the equivalent of Michael Jordan in the cricket world. He started getting into poker over the last couple of years and is buddies with WSOP champion Joe Hachem. He frequented various tournaments at the Crown Casino in Melbourne, Australia including the PokerNews Cup and the Aussie Millions. Warne took a shot at the Main Event this year and advanced to Day 2.
Also playing in the 2008 WSOP main event were professional golfer Paul Azinger, and actors Mekhi Phifer and Ray Romano. Azinger and Romano also moved on to Day 2.
Celebrities who played last year but skipped this year's event? Nelly, boxing champion Antonio Tarver, Hank Azaria, Janet Jones, Brad Garrett, Norm MacDonald, Montel Williams, and Swedish pop star Dilba Demirbag.
In case you were wondering, Spiderman was not in the building. In previous years Tobey Maguire played in the WSOP Main Event but he was noticeably absent from this year's field. High Stakes Poker host Gabe Kaplan, most known for his role in the 1970s comedy "Welcome Back, Kotter" also skipped out on the main event, though he did make an appearance in the difficult $50,000 H.O.R.S.E. world championship event.