ESPN Announces 2008 World Series of Poker Broadcast Schedule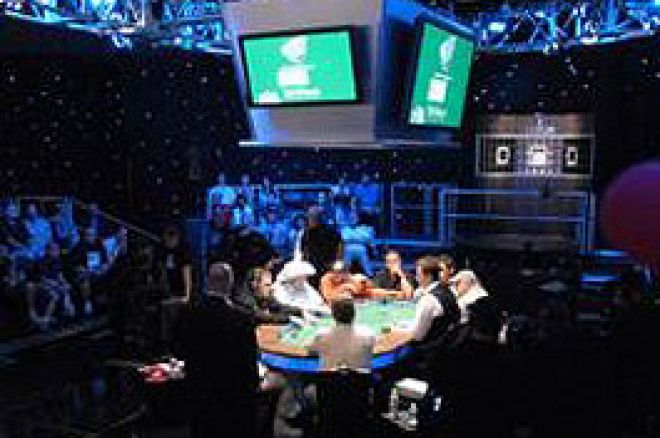 ESPN has announced its broadcast schedule of episodes for the 2008 World Series of Poker. ESPN will air a new two-hour episode on Tuesday nights each week beginning July 22nd and running through November 11th, the date of the "almost live" final table for this year's Main Event.
Preliminary events make up roughly the first third of ESPN's broadcast schedule, which will include 17 total episodes. The first six episodes include important events such as the $50,000 H.O.R.S.E. World Championship (August 19) and the $10,000 Pot-Limit Hold'em World Championship (August 26).
Airing of episodes from the Main Event begins September 2 and runs through the November 11 final table, including a special "preview" episode featuring the nine final-table players that will air November 4. As of the airing of the preview episode, the final results wil have yet to be determined, with the players returning to the Rio on November 9 for two days of play to determine the winner. This year's winner's prize of $9,119,517 will be the second-largest in poker history, trailing only the $12 million that went to the 2006 Main Event winner, Jamie Gold.
The complete ESPN broadcast schedule:
7-22 8:00pm $10,000 Pot-Limit Hold'em World Championship
7-29 8:00pm $1,500 No-Limit Hold'em
8-5 8:00pm $1,500 Pot-Limit Hold'em / $5,000 Mixed Hold'em
8-12 8:00pm $1,000 No-Limit Hold'em w/ Rebuys
8-19 8:00pm $50,000 H.O.R.S.E. World Championship
8-26 8:00pm $10,000 Pot-Limit Omaha World Championship
9-2 8:00pm $10,000 NLHE World Championship (Main Event)
9-9 9:00pm $10,000 NLHE World Championship (Main Event)
9-16 9:00pm $10,000 NLHE World Championship (Main Event)
9-23 9:00pm $10,000 NLHE World Championship (Main Event)
9-30 9:00pm $10,000 NLHE World Championship (Main Event)
10-7 9:00pm $10,000 NLHE World Championship (Main Event)
10-14 9:00pm $10,000 NLHE World Championship (Main Event)
10-21 9:00pm $10,000 NLHE World Championship (Main Event)
10-28 9:00pm $10,000 NLHE World Championship (Main Event)
11-4 8:00pm Main Event – Final Table Preview Show
11-11 9:00pm $10,000 NLHE World Championship (Main Event) – Final Table