Inside the WSOP: Investigating the Curse of the Day 1 Chip Leader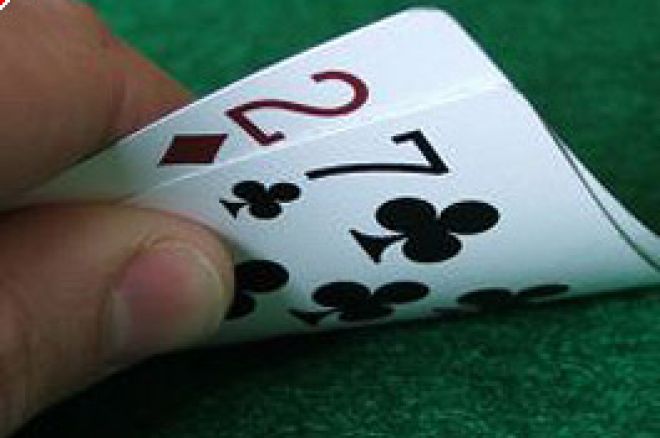 Like the Sports Illustrated cover curse or the Chicago Cubs' 'Curse of the Billy Goat,' poker tournament players often refer to the curse of the Day 1 chip leader, referring to the idea that he or she who has the chip lead after Day 1 tends not to fare well. Although this is probably a case of misattribution, let's look at the numbers to see what this year's chip leaders can expect to encounter.
Last year, the combined top ten players after all four Day 1's had chip counts ranging from 196,000-281,000. All ten players cashed, with a mean cash position of 223rd place for $93,592. The worst finish was by the overall Day 1 chip leader, Jeff Norman (281,000 chips), who finished 500th for $25,101. The highest finish went to Kevin Kim, who ended Day 1 in 10th place (196,000 chips) and busted from the event in 32nd place for $285,678.
Name (Day 1 Chip Count) Place Cash
Jeff Norman (281,300) 500 $25,101
Tinten Olivier (270,500) 223 $51,398
Thomas Barnard (248,900) 259 $45,422
Josh Evans (237,300) 76 $106,382
Dag Martin Mikkelsen (236,000) 42 $237,865
Carl Olson (226,100) 304 $39,445
John Dutchak (209,600) 160 $58,570
Stephen Austin (205,000) 218 $51,398
Michael Tureniec (203,900) 413 $34,664
Kevin Kim (196,100) 32 $285,678
The idea that Day 1 chip leaders flame out disastrously, therefore, seems to be a bit off. While Jeff Norman's finish of 500th was probably a disappointment, all ten players had varying levels of success, especially considering a field size of 6,358.
The theory that Day 1 chip leaders do not fare well probably stems from a belief that players need to play maniacally in order to obtain such massive chips, and this style of play is unsustainable for the length of an entire tournament, especially one as long as the Main Event.
However, in previous years aggressive players have shown that they can do well. Dag Martin Mikkelson told me yesterday that he was raising 40% of his hands throughout the entire tournament last year, and he finished in a very respectable 42nd of 6,358. Jamie Gold, similarly, was far and away the most aggressive player in the tournament as I watched him the last two days of the Main Event in 2006, and he ended up winning the bracelet. The same could be said about Jerry Yang last year or Dario Minieri when he won his first bracelet this year.
While last year, nine players had over 200,000 in chips, this year only Henning Granstad has reached that mark so far at 242,950 in chips. With 6,813 entrants and 136,260,000 chips in play, Granstad has about .18% of the total chips in play. Let's see if he and the rest of this year's chip leaders can top the $93,000 average of last year's top ten and perhaps break the idea of the curse once and for all.