Venetian Hosts National Deaf Poker Tour
Chris Boncek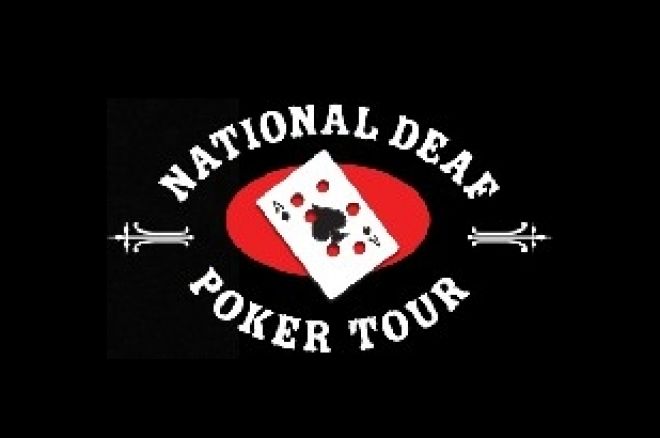 On Friday, July 25th, the National Deaf Poker Tour hit Las Vegas for the fourth and final installment of its 2007-2008 season. The NDPT was created in 2006 by James Rydstrom, Joey Seifner, Nathan Montoya, Jarrod Musano, Alok Doshi, and Andy Foster. The group of six organized the inaugural NDPT tournament at the Trump Taj Mahal in Atlantic City in March of that year. When asked about the creation of the tour, founding member James Rydstrom explained, "We wanted to be able to have a deaf-only tournament to provide us the privilege of playing in a tourney where we can talk to anyone around us. If I was playing in a World Series of Poker Event among non-deaf players, I would not be able to pick up on what's being said around the table. This is our event, where there are no barriers of communication."
Hosted by the Venetian, the NDPT's Las Vegas Stop covered four tournaments over two days. The $200-buyin main event of the weekend drew 136 players, and generated a prize pool totaling $20,672. Jonathan Collins and Matthew Erickson chopped the first- and second-place prize money and collected just shy of $5,800 each. While the schedule included a main event that was open to deaf players only, all other events were open to those who are interpreters or are learning to use sign language. Interpreters are valuable members of the deaf community and often times help with the conducting of NDPT events.
While at every table the chips do the talking, the casinos face special challenges in hosting the NDPT. Communication can be challenging at first for both the floor staff and the dealers. Founding member, Joey Seifner pointed out that are a few different ways to sign actions such as call, raise, and all-in. However, as noted by Seifner, with a consistent action used by all players and clearly explained tournament rules, the tournament itself is not any different. Founding member James Rydstrom adds, "It becomes challenging at first, but after the first tournament they know we are not difficult to accommodate after all."
The NDPT tour aims to bring deaf players from across the country together in a setting that allows them to hone their skills and enjoy their passion for poker together. Many of the players in the weekend's events are from California, Nevada, Arizona, and Washington, but the tour also has a loyal following from the East Coast, where it originated, and represented an estimated 25% of the weekend's fields. As the NDPT has grown over the years, it has become more successful in fulfilling the tour's other goal of promoting deaf players to bigger venues. After this weekend's events the NDPT will send its three top points earners from the 2007-2008 season to WSOP or WPT events of their choice. First, second, and third will receive packages valued at $2,000, $1,500, and $750 respectively. The NDPT continues to grow and is adding events at Foxwoods Casino in Connecticut and Majestic Star Casino in Indiana to their 2008-2009 season schedule. The full schedule and further information is available at nationaldeafpokertour.com.