Online Poker Weekend: PokerStars Tops $1 Million Twice; Erica Schoenberg Final Tables at Full Tilt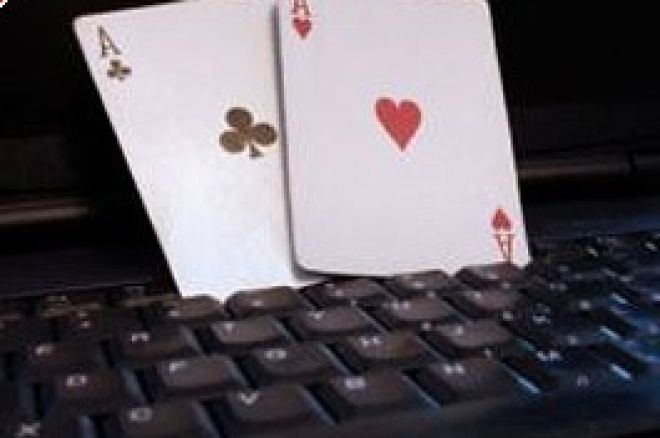 Sunday was a really big day for PokerStars, as the online poker site made its million dollar guarantee for its Sunday Tournament – Twice, actually. The Sunday Million had its usual massive field, with over 8,000 players putting up the money to play, making the prizepool over $1.6 Million. Meanwhile, the Sunday Warm up, thanks to a 'one rebuy' format taking place during PokerStars '2x' promotion also topped the one million dollar mark, thanks to over 1,500 rebuys in that event.
Meanwhile, over at Full Tilt, Erica Schoenberg outlasted over 4,000 players in that event to make the Final table of the Full Tilt $750,000 Guarantee.
PokerStars Sunday Million
The PokerStars Sunday Million boasted a field 8,030 entrants this weekend, with a total prize pool of $1,674,000. Several online all-stars had impressive showings. Among them were James "Mig.com" Mackey (85th place), Stuart "thedonator" Patterson (80th place), Matt "All_in_at420" Stout (23rd place), Justin "WPThero" Rollo (19th place), and TiltHappens (11th place), just missing the final table.
Nearly nine and a half hours after it started, the tournament reached its final nine players. Jimboski30 held the lead with 15,500,000 in chips, but with 83,700,000 chips in play it would by no means be an easy path to 1st place. Three others also started the final table with at least 10,000,000 in chips, so it really was anyone's game to win. Thirty minutes elapsed, and while nine players still remained, tonijeromi was at the top of the leader board, with roughly 14,000,000 in chips.
Eventually the eliminations came. When seven-handed play began, Jimboski30 was back atop the chip count, but ran into some bad luck when his
lost to the
of pokerbrat13. The chips were all in preflop, and the board ran out
. Jimboski30 was eliminated the next hand, taking home $29,295.
Pokerbrat13 rode the good luck train to the 30,000,000 chip mark, leading the pack with four players remaining. At that point, the players looked at the numbers for a chip count chop. When each saw they could be guaranteed a six-figure payday, they quickly agreed. The standard additional $30,000 was then played for.
It didn't take long after that for the tournament to get down to heads-up play, and ultimately to produce a winner. Avkid86 and strahh25 were the 2 left battling it out for the $30,000. Though they only played 12 hands heads up, one was clearly the most crucial. With the blinds at 500,000/1,000,000 and an ante of 100,000, strahhh25 made it 3,000,000 to play, and avkid86 called. The
flop was checked by both players, and the
fell on the turn. Avkid86 led out for 3,000,000, and faced a raise up to 9,000,000 by strahhh25. Avkid86 then went all in for nearly a total of 35,000,000 and strahh25 made the call, only to see that his
had been out-flopped by the
that avkid86 held. The river was the
, and avkid86 now held a commanding lead.
It ended two hands later when strahhh25 pushed all in just over 5,000,000 and avkid86 made the call. Strahhh25 showed
and was behind the
of avkid86. When the board ran out
, it was all over and avkid86 won the Sunday Million.
The final results were:
1. avkid86 – $138,101.00 (after deal + $30,000 set aside for the winner)
2. strahhh25 – $118,193.00 (after deal)
3. pokerbrat13 – $138,077.00 (after deal)
4. Gambooooool – $113,016.00 (after deal)
5. tonijeromi – $58,590.00
6. dapoopta – $41,850.00
7. Jimboski30 – $29,295.00
8. gio_piso – $19,251.00
9. DonC33 – $11,718.00
Full Tilt $750,000 guarantee
The Full Tilt $750,000 guarantee had a field of 4,057 people on Sunday, totaling a prize pool of $811,400. While many Full Tilt 'Red' Pros played the tournament, one was far and away better than the rest. Erica Schoenberg bested over 4,048 players to make the final table. She was 8th in chips at the start, with a stack of 865,374, hoping to rise to the top. Blizair began as the chip leader with 1,900,000 in chips, but with 6th place having 1,300,000, it would be a fight down to the wire.
On the 17th hand of play, the first elimination at the final table occurred, and it was Erica Schoenberg coming up short and winning $10,872.76 for her efforts. With the blinds at 30,000/60,000 and a 7,500 ante, Erica moved all in for nearly 870,000 from middle position. Babooyah, to her left, immediate moved all in over the top isolating the action. When the cards were flipped over, it was a classic race situation. Erica held the
, and was slightly trailing the
of Babooyah. The board came out queen high, and Erica's tournament was over.
That seemed to be the jump start that Babooyah was looking for, amassing a stack of over 6,300,000 with four left. In the end, it wasn't enough, as Babooyah finished in 3rd place. The heads up battle was between govshark2 and syzygy-1-1-1-1, and for the almost 40 hands it lasted, it was a turbulent battle. In the end, it was syzygy-1-1-1-1 emerging as the winner, taking down the 1st place prize of $143,285.13.
The final results were:
1. syzygy-1-1-1-1 – $143,285.13
2. govshark2 – $86,738.66
3. Babooyah – $56,798.00
4. blizair – $44,627.00
5. thekellster89 – $33,510.82
6. Brundaddy – $24,828.84
7. IndianRope – $18,662.20
8. Capax Infiniti – $14,605.20
9. EricaSchoenberg – $10,872.76
Sunday Warm up PokerStars
Still in the midst of its 2x promotion, the Pokerstars Sunday Warm-Up guaranteed $1 million this week. Players eliminated in the first two hours were given the option to rebuy, with 1,567 people doing just that. The prize pool reached a total of $1,123,400.00.
Several notable players had impressive showings, including David "GRinDer444" Redlin and sir_winalot9, finishing in 61st and 22nd place respectively.
The final table was set after eight hours of play. Bozz814 was the chip leader, holding roughly 32% of the chips. The action progressed quickly with three players being eliminated in the first 15 minutes. After winning several key hands, the momentum shifted to Showm4n during six-handed play, taking the overall lead and vaulting his stack to 28,000,000. Bozz814 had gone the opposite direction, finding himself the short-stack at the table and finished 6th.
At four-handed, a chip count chop was discussed but not agreed upon, and play continued until the four again decided to discuss a deal. Again, they could not come to terms. However, three-handed was a different story. Following the elimination of Bumbulbee_G, a chip count chop was quickly agreed upon with the standard additional $20,000 set aside for the winner.
When it got to heads up, Showm4n held a 1.5-to-1 chip lead on richlizard. Yet, 18 hands later it was richlizard who won the tournament. Taking a 2-to-1 chip lead on blinds of 400,000/800,000, Showm4n limped in and richlizard checked his option, bringing out a flop of
. Richlizard check-raised a bet of 1,000,000 to 4,000,000, leading to Showm4n pushing all in for 18 million total, which was quickly called by richlizard.
They revealed:
richlizard: (
) for bottom 2 pair
Showm4n: (
) for K high
Showm4n did not catch up, and richlizard took down the tournament.
The final results were:
1. richlizard – $114,662.37 (after deal + $20,000 set aside for the winner)
2. Showm4n – $120,409.59 (after deal)
3. LION8HART – $78,356.64 (after deal)
4. Bumbulbee_G – $56,170.00
5. nederen_dk – $44,936.00
6. Bozz814 – $33,702.00
7. LukeLasko – $22,468.00
8. hoyd78 – $14,042.50
9. mnkyman – $9,099.54