Team Moneymaker Boot Camp, Hobbs Story Highlight WSOP Experience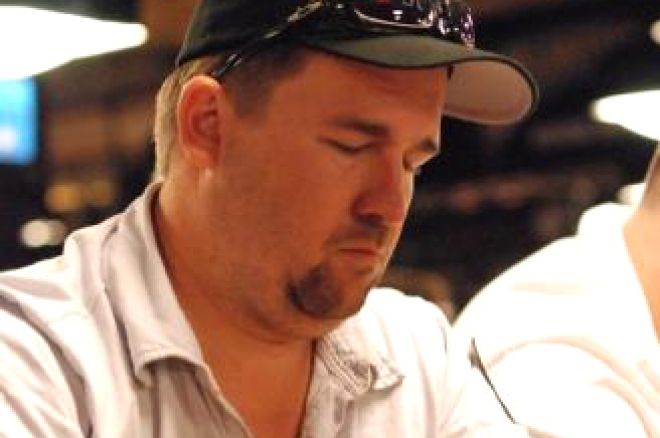 The World Series of Poker is both the playground of the professional poker player and the land of dreams for the everyman, the unknown who hopes for that one moment of glory. Five years ago the dream came true for Tennessee accountant Chris Moneymaker, who parlayed a $39 buy-in in a PokerStars online qualifier into one of the most improbable poker stories in history, winning both a seat into the 2003 Main Event, then capturing the title and its $2,500,000 first prize. Moneymaker's win galvanized the poker world and served as a catalyst for the game's popularity over the following years. "I was hit by a fortunate lightning bolt," said Moneymaker on Friday, about his win.
PokerStars paid tribute to Moneymaker's out-of-nowhere story this year with a fun "Team Moneymaker" promotion, which celebrated the fifth anniversary of his win by creating a similar avenue for a select few others to win their own way into the 2008 WSOP Main Event the same way he did, by taking down a satellite with a $39 entry.
The concept was called Team Moneymaker, and the team's members were invited to be part of a boot camp where Moneymaker and other Stars pros not only welcomed the players to the WSOP, but offered them a few brief pointers on live-tournament play. Players such as Kip Jones, from Baton Rouge, LA, and Russ Spaid, from Pierre, SD, are among those who are part of the Team Moneymaker fun at the WSOP.
Along the way, though, the Team Moneymaker story became entwined with another tale involving the World Series champ. Moneymaker was contacted last year and told about the story of Donald Hobbs, a 24-year-old Kentuckian who had suffered a tragic accident in February of 2007. Hobbs, a hemophiliac (a condition which prevents blood from clotting normally), accepted a ride from a stranger, and then was involved in a car crash wherein the driver drove off a bluff, then abandoned the severely injured Hobbs, whose legs were broken, among other injuries, and yet who somehow managed to crawl away from the wreck. Against long odds, Hobbs survived both the wreck and the medical ordeal caused by his hemophilia complicating such severe injuries.
For a long stretch, though, there was little improvement in Hobbs' case, until his therapist, Michelle Rose, learned that he liked poker and was a fan of Moneymaker. Rose decided to try to get an autographed photo of Moneymaker for Hobbs, and she had an in, of sorts, being a friend of veteran WSOP tournament director Charlie Ciresi. After hearing of Hobbs' ordeal via Ciresi, Moneymaker decided to do Rose one better, visiting Hobbs in person. Moneymaker met with Hobbs and played a bit of poker for fun, and afterwards, Moneymaker decided to not only bring Hobbs out to the 2008 Main Event, but to pay his entry fee into the Main Event as well. (Moneymaker personally paid the entry, while PokerStars, upon learning of the tale, picked up some of the extra expenses involved with Hobbs making the trip. Hobbs was accompanied to Las Vegas by both his brother and his nurse.)
Overall, the experience reenergized Hobbs, who then made marked strides in his recovery, though he still uses a wheelchair at times and continues with his therapy to this day.
On Thursday, at the Palms in Las Vegas, the two themes involving Chris Moneymaker were brought together. Including both Hobbs and Moneymaker himself, 15 players comprise Team Moneymaker. The other team members were told the story of Hobbs' ordeal before sitting down to an impromptu training session led by Moneymaker and Team PokerStars pros Bill Chen and Isabelle Mercier.
It was at the "boot camp," though, that the other Team Moneymaker members learned they'd be part of a benefit for Hobbs as well. PokerStars announced there that they'd make an initial contribution of $30,000 — $2,000 each for the 15 members of the team – to the Kentucky Hemophilia Foundation, that state's branch of the National Hemophilia Foundation, which has assisted Hobbs in his own continuing struggle back to health. Stars also announced that they'd make an additional matching contribution if any of the Team Moneymaker members cash in the Main Event, up to a combined total contribution of $100,000.
All of the Team Moneymaker players were scheduled to play on either the Day 1c or Day 1d starting days, with Moneymaker participating on Day 1c and Hobbs on Day 1d. They all have the same dreams that Moneymaker did when he captured the title himself back in 2003, and Moneymaker himself hopes lightning strikes a second time. Not even he could envision the road before him would mean, nor what the five years since his own poker-world-changing event occurred have brought.
Whether giving several players a chance at their own poker dreams or helping restore one life to a better future, the year's events have been worthwhile to Moneymaker, win or lose. When asked to look forward and think about what the next five years might bring, he still had a hint of the former everyman himself, tha anonymous accountant whose own dream came true. "I don't know," said Moneymaker. "We'll see what happens."