APT Macau Final Table: Timoshenko Destroys Competition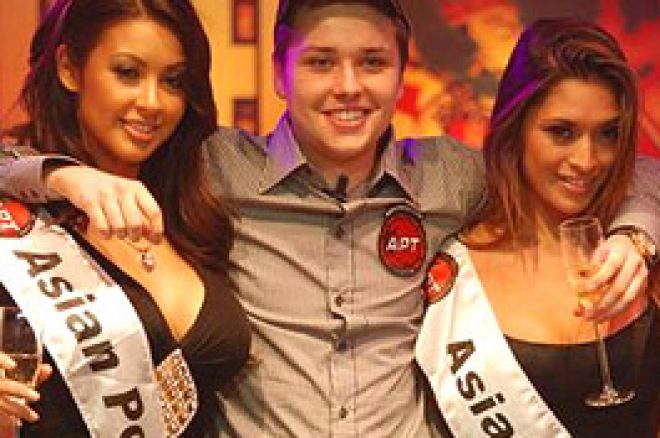 Out of 257 original entrants, only eight made the final table of the APT Macau Main Event at the StarWorld Galaxy Hotel and Casino. Of those eight, Casey Kastle held the lead in big tournament experience and chips, but it was 20-year-old Yevgeniy Timoshenko who took control of the final table and eliminated all but one opponent on the way to the title and $500,000 in prize money.
The chip stacks looked like this as play kicked off:
Seat 1: Casey Kastle - 456,000 chips
Seat 2: Michael Pedley - 132,000
Seat 3: Joon Hee Yeah - 160,000
Seat 4: Chong Wing Cheong - 454,000
Seat 5: Yevgeniy Timoshenko - 318,000
Seat 6: Quang Nguyen - 315,000
Seat 7: Julio Diaz - 315,000
Seat 8: Rober Karian - 419,000
Michael Pedley wasted no time getting his short stack in the middle, moving all in on the very first hand on a board of
. His
was slightly ahead of Quang Nguyen's
, but the
turn left Pedley drawing dead. The
river was irrelevant, and Pedley picked up $26,250 for eighth place.
With that hand, Nguyen moved into the chip lead for a brief moment, but it became the Yevgeniy Timoshenko show from then on. Timoshenko claimed his first victim when he sent Chong Wing Cheong to the rail in seventh ($37,500). Timoshenko raised preflop with
, and Cheong made the call. On a flop of
, Timoshenko bet out. Cheong check-raised, and Timoshenko moved all in quickly. Cheong thought for a moment before deciding he was pot-committed and called. Cheong was in trouble with
, and a four on the turn left him drawing dead.
Quang Nguyen and Julio Diaz both called Timoshenko's preflop raise in a hand that would ultimately prove to be Nguyen's last. Timoshenko led out at the flop of
, and Nguyen called. Nguyen check-raised all in when the turn brought the
. Timoshenko thought for a moment before calling with the
for two pair. Nguyen tabled
for top pair, and the
on the river made Nguyen the latest victim of the Timoshenko steamroller. Nguyen picked up $52,000 for his sixth-place finish.
On the very next hand, Timoshenko moved all in preflop after opening with a raise and being reraised by Julio Diaz. Diaz thought for a long moment before calling with
, and Timoshenko tabled pocket sixes for a race. When the board ran out
, Timoshenko's kings-up hand was good enough to win a coin flip, and Diaz headed to the rail in fifth place ($67,500).
It took a couple of hours for Timoshenko to claim his next victim, but when he did, it was Day 2 chip leader Casey Kastle that busted in fourth for ($90,000). Timoshenko raised preflop with
, and Kastle moved all in over the top with
. Timoshenko called, and the board ran out
, the King on the river giving Timoshenko top pair and another notch on his gun belt.
And once again, it was back-to-back eliminations for Timoshenko as he took out Rober Karian on the very next hand. Karian moved all in over the top of Timoshenko's raise, and got a speedy call in response. Timoshenko tabled
, dominating Karian's
. Earlier in the night, these players had been in the same positions, and Karian doubled through Timoshenko by catching his kicker on the flop. It was not to be this time, as the board ran out
. Karian finished in third place, good for $126,000.
Timoshenko took a staggering lead into heads-up play, with almost a 10:1 chip advantage over Joon Hee Yeah. The stacks looked like this as the final two players returned from a short break:
Timoshenko - 2,301,000
Yeah - 257,000
Yeah wielded his short stack well, doubling through Timoshenko in one of the first hands of heads-up play, but in the end the chip disadvantage and the strong play of Timoshenko was too much for Yeah, and he was eliminated in second place ($250,000).
On the final hand, Timoshenko raised preflop, and Yeah re-raised. Timoshenko moved all in with
, and Yeah called. Yeah tabled
, and was drawing thin to Timoshenko's queens. The flop was a near-perfect
, giving Yeah the royal flush draw and bringing the crowd to its feet. The
on the turn was no help, and the
on the river was not one of Yeah's outs. Timoshenko's pocket queens held up to take down the APT Macau Main Event and the $500,000 first prize.
"I'm very fortunate to have won this," said Timoshenko as he hoisted his trophy. "I ran extremely well. The final table was a pretty tough lineup. I'm really ecstatic that I finally won a main event."