Women's Poker Spotlight - The Ladies Get Their Day in Peru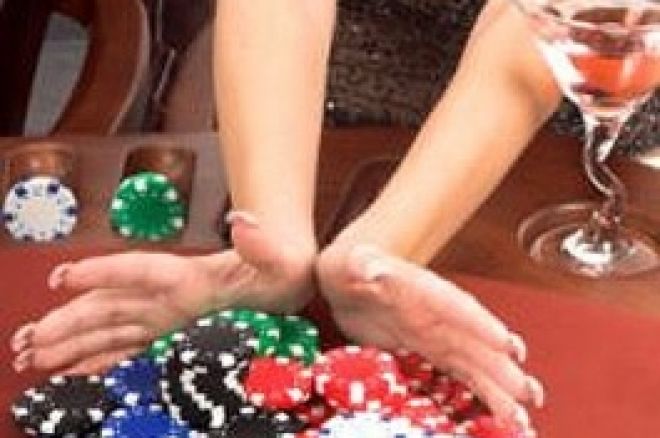 Women poker players in Peru, as in many other countries, are seriously outnumbered. At the cash tables about one in every 100 players is a woman. In no money, bar league type tournaments the number is up a bit to about one in every fifty players being female. LIPS Tour and the Pro Poker Challenge of America hope to expose the women of Peru to the felt and transform those numbers. The two have joined forces to encourage women to participate in poker through the first Pro Poker Challenge of America Series which will be held at Casino Atlantic City in the city of Mira Flores, neighboring Lima, in Peru from August 23rd to September 1st, 2008.
The women get their day on Saturday, August 30th with a LIPS sponsored ladies only event at 6:00 PM. The tournament will be No Limit Hold'em with a $200 +30 buy in. The ladies only tournament is a first on many counts. It will be the first women's only tournament to be held in Peru, it will also be the first United States based women's only tour to be considered truly international.
The Ladies International Poker Series (LIPS Tour) started in 2004 by Lupe Soto with just over 200 women entering their launch events. Over the past 4 years LIPS has boasted tournaments with up to 400 women making it the largest women's poker tour to date. It is a natural progression that the tour goes international. "I was very excited when Pro Poker Challenge contacted me to help open the women's market in Peru" says Lupe "I really want to expose the game to more women and encourage them to play."
Juan Carlos Mejia started the Pro Poker Challenge of America in 2003 as a bar league that holds point based tournaments in the United States, Canada and South American countries including Chili and Argentina. From the bar league stemmed the idea of a separate series starting in the basically uncharted country of Peru and plans are in the works for more tournaments and stops in other South American countries. "I plan on doing more things in the future to bring poker to women in South America," says Mejia.
Joining LIPS and Pro Poker Challenge of America for the series will be professional players Linda Johnson and Jan Fisher. Johnson and Fisher will be offering a tournament strategy seminar to all who attend. The seminar features tournament playing skills and tips that can be implemented immediately and can be utilized by both beginning participants as well as the more seasoned players.
The series looks forward to moving into other Latin American countries and with it exposing and encouraging more women across the globe to play poker. Best of luck to our new poker playing sisters in Peru!
1st International LIPS &
Pro Poker Challenge of America Classic
August 23rd – September 1st 2008
(Championship Final Table Played Sept 2nd)
Early Bird Events:
Sat, Aug 23 – 6 PM Single Table Satellites Begin*
Sun, Aug 24 – 6PM "Super Pass" Mega Satellite $300 + $40
For every 10 players, One "Super Pass" will be issued plus $200 in cash.
"Super Pass" Mega Satellite – For every 10 players, one Super Pass will be issued plus $200 in cash. ($2,710 in entries seats + $200 cash) Vouchers are transferable but may not be redeemed for cash nor are any refunds given. NOTE: Ladies Event is NOT included in this package.****
Scheduled Events:
Mon, Aug 25 - 6 PM Event #1 - NLHE $200 +$30
Tue, Aug 26 - 6 PM Event #2 – NLHE "Licensed to Kill" Bounty Event ** $250 +$30
Wed, Aug 27 - 6 PM Event #3 - NLHE $200 + $30 $100 Rebuys
Thu, Aug 28 - 6 PM Event #4 - NLHE $300 + $40
Fri, Aug 29 - 6 PM Event #5 – NLHE $500 + $50
Sat, Aug 30 - 3PM Special Seminar and Autograph Signing with the Pros!
Sat, Aug 30 - 6 PM Event #6 - Ladies – LIPS NLHE $200+$30
Sat, Aug 30 - 8 PM Event #7 SUPER SATELLITE $150 + $25 $100 Rebuys***
Sun, Aug 31 - 6 PM Event #8 - NLHE Championship $1,000 + $80
Mon, Sept 1 – 6PM NLHE Championship Final Table