Bart Simpson Voice Nancy Cartwright to Host Third Annual Monte Carlo Charity Poker Event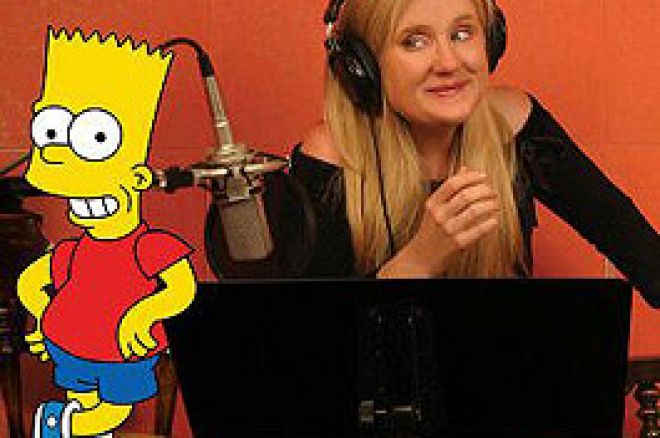 Bart Simpson is not known for his charity and compassion, but the woman who has given him his voice for over twenty years is once again hosting a charity tournament this September benefiting a local youth program. Actress Nancy Cartwright will be opening her home for the 3rd Annual Monte Carlo Night and Texas Hold'em tournament and party with all proceeds going to the LAPD Devonshire Police Activity League Supporters (PALS), a local charity aimed at helping at-risk youths.
Among the celebrities on the guest list are comedian Brad Garrett, actresses Camryn Manheim and Kirstie Alley, comedian Sinbad, and Mickey Dolenz of The Monkees. Poker pros on the list include Jennifer Harman and Marco Traniello, Todd Brunson, Sammy Farha, Men "The Master" and Van Nguyen, Kenna James, Kristy Gazes, Barbara Enright, and Mary Jones, who will be running a poker boot camp. 2006 WSOP Main Event Champ Jamie Gold will chair the event's Poker Committee.
The buy-in for the tournament, to be held September 20th at Cartwright's home in Northridge, California, just northwest of Los Angeles, is $500. In addition to raising money for a worthy cause, players will vie for a seat in an upcoming WSOP satellite event will be awarded to the top five finishers. For those not interested in playing, who just want to meet the Hollywood and poker celebrities and enjoy the all-day party, which includes entertainment, a cigar bar hosted by Zeno Platinum, dinner and open bar, a ticket is $250.
The first PALS charity poker event was held in 2006 and drew 250 participants. Last year, the event attracted 450 players and with the money from both events, a new youth center for the organization will have its groundbreaking later this year. Cartwright is said to expect about 600 at next month's party/tourney which, in addition to raising money through ticket sales, will also host both a silent and live auction and a raffle.
For more information on the poker tournament and casino night, or to purchase tickets, visit the Devonshire PALS Web site at www.devonshire-pals.org/Monte-Carlo-Night.html.