Venetian Announces Fourth 2008 Deep Stack Extravaganza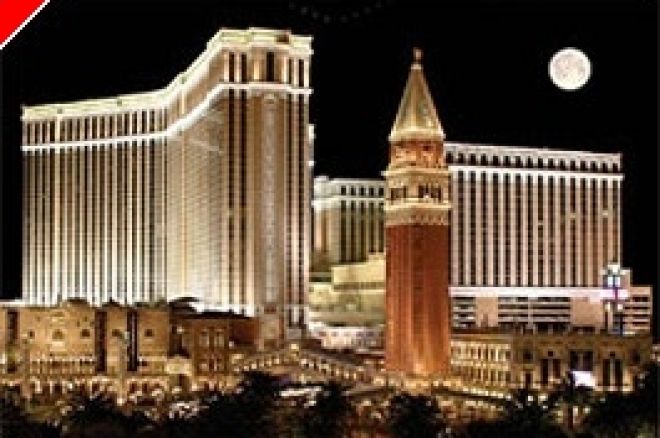 The Venetian has announced the last 2008 installment of its popular Deep Stack Extravaganza series. Deep Stack Extravaganza IV will run November 1-25, 2008, offering one no-limit hold'em event on each of 23 consecutive start days. The final starting day in the DSE IV series is November 23, the beginning of the $2,500-entry final event, which will span three days. Most earlier events feature $330 or $540 buy-ins.
The Venetian's recurring DSE series have carved out a popular though affordable niche in the Las Vegas poker tournament market since the series' 2007 inception. DSE III, which ran concurrently with the WSOP this summer, drew over 20,000 entrants and awarded more than $10 million in prize money.
For DSE IV, the $330-entry events feature $10,000 in starting chips, while events with larger buy-ins offer deeper stacks, up to $15,000 in chips for the final. A deliberately paced play structure gives the deep stacks their meaning, while extra chips are available in all events with purchase of a nominal staff bonus. All events begin at noon. Satellites are also available for an even more affordable method of entry into any of the events.
According to Kathy Raymond, the Venetian's director of poker operations, "We are thrilled with the amount of excitement our Deep Stack Extravaganza series creates on the casino floor and throughout the poker community. The quality and experience of our staff along with the high starting chip counts and structure of the tournaments continues to draw players from different skill levels and from all over the world."
The complete Deep Stack Extravaganza IV schedule:
Saturday, Nov. 1 $540 NLHE
Sunday, Nov. 2 $1,060 NLHE
Monday, Nov. 3 $330 NLHE
Tuesday, Nov. 4 $330 NLHE
Wednesday, Nov. 5 $330 NLHE
Thursday, Nov. 6 $330 NLHE
Friday, Nov. 7 $540 NLHE
Saturday, Nov. 8 $540 NLHE
Sunday, Nov. 9 $1,060 NLHE
Monday, Nov. 10 $330 NLHE
Tuesday, Nov. 11 $330 NLHE
Wednesday, Nov. 12 $330 NLHE
Thursday, Nov. 13 $330 NLHE
Friday, Nov. 14 $540 NLHE
Saturday, Nov. 15 $540 NLHE
Sunday, Nov. 16 $1,060 NLHE
Monday, Nov. 17 $330 NLHE
Tuesday, Nov. 18 $330 NLHE
Wednesday, Nov. 19 $330 NLHE
Thursday, Nov. 20 $330 NLHE
Friday, Nov. 21 $540 NLHE
Saturday, Nov. 22 $540 NLHE
Sunday, Nov. 23 $2,500 NLHE Final Event (Day 1)
Monday, Nov. 24 $2,500 NLHE Final Event (Day 2)
Tuesday, Nov. 25 $2,500 NLHE Final Event (Day 3)