Women's Poker Spotlight: The Past, Present and the Future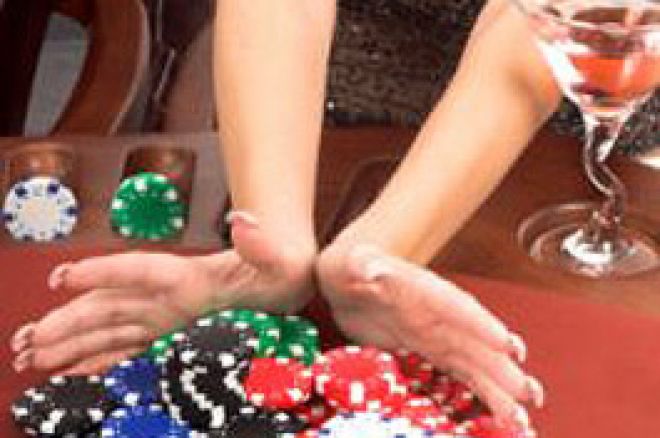 Poker is to cards and games what jazz is to music. It's this great American thing, born and bred here. We dig it because everybody can play. ~Steve Lipscomb
In the grand scheme of things twenty years is not a very long time, but over the past two decades women have been finding their way and exploring new territory both in society as well as in the poker world.
The late 1970s and '80s were a period when women found equality in a predominantly male-run world. At the same time as women were establishing a voice in society, men found solace in smoke-filled poker rooms overflowing with manly stories and testosterone. Very few women dared enter the macho domain unless they were scantily clad and equipped with cigars and drinks. The few women who dared invade the "good old boys" poker rooms were surely met with open hostility and derogatory remarks to let them know they were out of their league. It was quite clear that women just didn't belong.
By the '90s, women became an active influence in business and politics and held positions traditionally coveted by men. The glass ceiling was showing signs of cracking. As women's roles in society changed so did their roles in poker rooms. More women braved the sneers and jeers and stepped up to the felt. Women were not necessarily embraced with open arms by men at the time but those who proved to have thick skin as well as skill were given the respect they earned. Despite being dubbed as easy marks and weak players, women were winning and gaining more credence as poker players in their own right.
Early in the new millennium women scorched new paths and scaled new heights. More women became successful contributors in fields such as science, mathematics and art. As the poker world tends to emulate society, women in poker also began breaking through. Women entered poker rooms not only as dealers or waitresses but tried their skills on the other side of the tables.
The poker boom of 2004 brought many new players to the game. It also brought with it a new demographic of players. The host of online poker rooms allowed women to play under the anonymity of the internet, giving them a safety net. Faceless names and avatars brought women out of the closet and into the poker world. Gradually women brought their games out of their homes and into a man's domain… the poker room.
By 2006 casinos found a new segment of poker. Live women's events were commonplace and listed in most casinos across the United States. Creative marketers found a new demographic which was ready and eager to be marketed to. Women's poker became unfocused, lazy and gimmicky. But women were profitable. Therefore, women's poker became a commodity that could be packaged and sold.
Women in 2008 are climbing to new heights. They are accomplishing pinnacles of success in business, science, medicine, mathematics, and just about every other field that was once held fast by men. As poker emulates society, women in poker are achieving new things on the felt that just a short time ago were unthinkable. It is no longer uncommon to see at least one woman at each table in a poker room. It is no longer unheard of to hear opinions and advice on the skills needed to play poker from women. Many of the great players of our time are women who play some of the most prestigious tournaments and largest cash games around.
Today's women want personal choice and are now offered more venues to play and mold themselves into the types of players they would like to be. Women's-only events and tours are still popular but now range in buy-ins and structures to accommodate both the social player and the woman who wants to further her poker career and take the game to a more serious level. Mixed events are becoming an atmosphere where women no longer have to battle to show they are just as worthy to be there as any man at the table.
After all that women have accomplished, there are still those who feel women are the weaker sex as well as the weaker poker players. Women coming into poker now are more educated and are given the tools to learn the game much sooner than those of us who started playing early in the decade. They know how the game is played and are learning how to drive results. In the near future, sex won't matter at the poker table and every woman will feel just as relaxed playing in the comfort of their own home or out in the poker rooms raking in the chips.
The future of women's poker is a gray area; the biggest weakness faced in poker right now is numbers. Men outnumber us in the poker rooms about five to one*. The number of women, though, is growing more and more every day. More women are learning the skills necessary and are gaining the courage to step up to the felt. Eventually the numbers will even out and women can become not only poker players but respected members of the poker community.
* Based on my own personal experience.
<center>* * * * *</center>
Mark your calendar for these August women's-only events:
Saturday, August 16, 2008: WPT Season 7 Legends of Poker Ladies Only event will take place at the Bicycle Casino. The ladies-only no-limit hold'em freezeout tournament will be Event #19 with a $500+50 buy-in.
Sunday, August 31, 2008: The Gulf Coast Poker Championship Ladies NLHE event will be held at 11:00 AM. The buy in is $300+40.