PokerStars 2008 WCOOP Day 14 Summary Report: 'TheActionKid' Wins Triple Shootout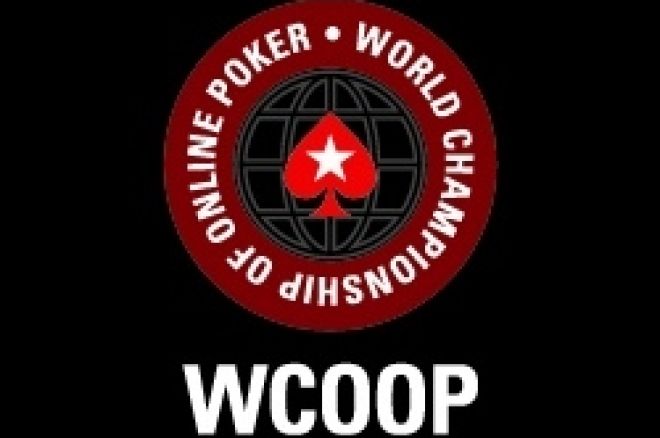 Day 14 of 2008 World Championship of Online Poker (WCOOP) at PokerStars brought another pair of $500+30 events and the fifth straight strong performance in one of the day's events by Bertrand "ElkY" Grospellier, who final-tabled in Event #27, the no-limit triple shootout. Andrew "TheActionKid" Glogowski and "Big10" emerged from the day's action with the latest WCOOP bracelets.
WCOOP #27: $500+$30 NLHE Triple Shootout, $300,000 Guaranteed
The only shootout-style WCOOP event, a $500+30 no-limit hold'em triple shootout, was filled to capacity with 729 entrants for a total prize pool of $364,500. In one way, it was no different than most events since Day 10. As has been the case for the last several days, Bertrand Grospellier had yet another deep run. Though he did not win, ElkY is undoubtedly the hottest online tournament player at the moment with the $5,200 WCOOP main event on the horizon. Other notable finishers having won their first table include Maros "Premier" Lechman in 15th place ($1,640.25), deerchaser21 in 20th ($1,640.25), Ben "bfineman" Fineman in 24th place ($1,640.25), Brent "usourcek" Hanks in 35th ($1,640.25), Chris "Money800" Moneymaker in 36th place ($1,640.25), Eric "jakz101" Crain in 39th place ($1,640.25) and Jon "sketchy1" Eaton in 49th ($1,640.25).
Andrew "TheActionKid" Glogowski was the only one of the 729 entrants who was able to win three consecutive tables en route to the bracelet
and the first-place prize of $76,545. The final results:
1. Andrew "TheActionKid" Glogowski - $76,545
2. SgtKyle - $51,030
3. Rip_Cheese - $36,450
4. Jorj95 - $27,337.50
5. Bertrand "ElkY" Grospellier - $20,047.50
6. lipster99 - $14,580
7. porcelet - $10,206
8. Mike "WiscoMurray" Murray - $6,561
9. tictac - $3,645
WCOOP #28: $500+$30 Limit Omaha Hi/Lo, $400,000 Guaranteed
It was a close call, but Event #28 squeaked by its $400,000 guarantee. The $500+30 limit Omaha hi/lo tourney attracted a field of 829 for a prize pool of $414,500. Notable showings include Lee Nelson in 52nd place ($1,036.25), Stuart "thedonator" Paterson in 65th place ($911.90), Humberto Brenes in 71st place ($911.90), Adam "Roothlus" Levy in 75th ($870.45) and Luca Pagano in 83rd ($870.45).
Porcelet finished the tournament in ninth place, but capped off an excellent day of poker having final tabled both WCOOP events on Day 14. In the end, it was Big10 who captured the championship. The final standings:
*1. Big10 - $69,801.88
*2. lolovitch - $61,801.87
3. flk&nit - $41,450.00
4. Bonitaines - $31,087.50
5. hazardous88 - $21,761.25
6. Danny "cpfactor" Smith - $17,616.25
7. Fabrice "fabsoul" Soulier - $13,471.25
8. DrParkinson - $9,326.25
9. porcelet - $5,803.00
* — two-way chop for remaining prize money; $8,000 to eventual winner