PokerStars 2008 WCOOP Day 16 Summary Report: 'DocHolatchya' Captures Prestigious H.O.R.S.E. Bracelet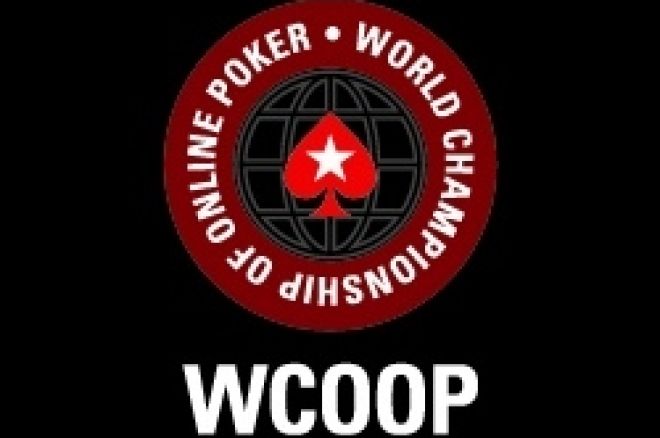 The final weekend of action in the 2008 World Championship of Online Poker (WCOOP) at PokerStars meant the start of one of the series' most anticipated offerings – the $10,000+300 buy-in Event #32, H.O.R.S.E. Big names abounded in this event, with Team PokerStars Pro Andre Akkari among several name players to make the final. When the last card fell, however, it was "DocHolatchya" who captured the $287,500 winner's payday.
WCOOP #32: $10,000+$300 H.O.R.S.E., $500,000 Guaranteed
While Texas hold'em usually draws the attention, many players feel that H.O.R.S.E. is the truest test of poker skill and supremacy. WCOOP #32, the $10,300 HORSE event, drew a field of 125 eager participants for a total prize pool of $1,250,000. With so many big names in the field, many stars made the money but fell short of the final table. Among them were MadCaddy in ninth ($25,000), Empire2000 in 10th ($25,000), Steve "MrSmokey1" Billirakis in 12th ($25,000), Humberto Brenes in 13th ($18,750), Noah "Exclusive" Boeken in 17th ($13,125), Thayer "THAY3R" Rasmussen in 19th ($13,125), and Lee Nelson in 20th ($13,125).
The final eight all had their gazes set on the first-place prize of $287,500 and the championship bracelet in this prestigious event. The chip counts to start the final table were these:
1. Andre "aakkari" Akkari - 617,843
2. Daniel "djk123" Kelly - 567,371
3. Sergey "gipsy74" Rybachenko - 502,182
4. crazyjanie - 435,921
5. DocHolatchya - 373,246
6. pumped4good - 235,588
7. Ryon "7CardRyon" Nicholson - 204,951
8. pycb - 187,898
Play lasted for several games before the first elimination. Sergey "gipsy74" Rybachenko was the unlucky eighth-place finisher. The game was razz and the stakes were 16,000/32,000 with a 3,200 ante. Rybachenko put his last 56,982 in chips into the pot with (9-6)-4 against DocHolatchya's (2-5)-A. The remaining cards came out:
Rybachenko: (9-6)-4-6-K-8-(6)
DocHolatchya: (2-5)-A-5-8-4-(10)
DocHolatchya's 10-8-5-4-A won easily to send Sergey "gipsy74" Rybachenko to the rail with $38,750 in eighth-place money. The next to fall was Ryon "7CardRyon" Nicholson in the same razz level. He started the hand with 79,306 in chips and after fifth street he was all in, revealing (2-7)-6-4-4 against DocHolatchya's (8-3)-A-3-7. Unfortunately for Nicholson, he would wind up with a 10-low while DocHolatchya hit a six on sixth street to make an 8-low. Ryon "7CardRyon" Nicholson finished in seventh place for $46,875.
When the game changed to stud, two more eliminations occurred. The stakes were 20,000/40,000 with a 4,000 ante. Daniel "djk123" Kelly was especially short-stacked with just 26,990 and put himself all in with (
)
against crazyjanie's (
)
. Kelly missed his draws, though, as the complete hands ended up this way:
Kelly: (
)
(
)
DocHolatchya: (
)
(
)
Daniel "djk123" Kelly could not beat DocHolatchya's cowboys and was eliminated in sixth place for $59,375. Four hands later, pumped4good would hit the rail. Starting the hand with 128,376, pumped4good capped the betting on fourth street in a hand against pycb, with a pair of tens against pycb's four-heart start. The rest of the chips were in on fifth street and pumped4good's tournament life was at stake. The completed hands:
pumped4good: (
)
(
)
pycb: (
)
(
)
Pycb's flush draw never materialized, but he made a winning straight on seventh street to clinch the hand. Pumped4good took home $75,000 for fifth place.
The next bustout happened at the hold'em level. With the stakes at 25,000/50,000, pycb and Team PokerStars Pro Andre "aakkari" Akkari capped the betting action preflop. The
flop brought a raise from akkari, a check-raise from pycb, and an Akkari call. The
hit the turn and pycb check-called all-in for his tournament life. He held
, but Akkari's
had taken the lead. The river was the
and pycb finished in fourth place for $112,500.
The following round of Omaha hi/lo with stakes of 25,000/50,000 saw crazyjanie exit the event in third place. Down to 63,061, crazyjanie got it all in with
against DocHolatchya's
. The
flop kept crazyjanie's
in the lead for the high, while DocHolatchya had made a qualifying low. The
on the turn gave crazyjanie top set and almost guaranteed a chopped pot. Only a non-diamond five would scoop the pot for DocHolatchya. Sure enough, the river delivered the
making a straight and a six-low for DocHolatchya, felting crazyjanie in third place for $150,000.
The chip counts going into heads-up play were as follows:
DocHolatchya: 734,522
Andre "aakkari" Akkari: 2,390,478
DocHolatchya mounted a furious comeback and took complete charge of the match. When the game was back at stud with 30,000/60,000 stakes, DocHolatchya had several chances to win the match and eventually did so. Betting on third street was capped, and after sixth street Andre Akkari's final 287,912 in chips to start the hand were all in. The hands were these:
DocHolatchya: (
)
Andre "aakkari" Akkari: (
)
DocHolatchya's king on sixth street gave him the lead, and when Akkari bricked out on seventh the tournament was over. Akkari finished as runner-up for $200,000, with docholatchya the winner of the $287,500 first-place payday. The final results were as follows:
1. DocHolatchya - $287,500
2. Andre "aakkari" Akkari - $200,000
3. crazyjanie - $150,000
4. pycb - $112,500
5. pumped4good - $75,000
6. Daniel "djk123" Kelly - $59,375
7. Ryon "7CardRyon" Nicholson - $46,875
8. Sergey "gipsy74" Rybachenko - $38,750
WCOOP #31: $1,000+$50 Fixed-limit Hold'em 6-max, $500,000 Guaranteed
Event #31, a $1,050 limit hold'em affair, drew 580 entrants to create a prize pool of $580,000, with first place set at $107,300. Several big names came close to the final table and posted nice finishes, including Stuart "thedonator" Paterson in 10th ($7,540), Chris "Money800" Moneymaker in 13th ($5,220), Gary "GB2005" Bogdanski in 16th ($5,220), James "Andy McLEOD" Obst in 19th ($4,060), and Danny "THE__D__RY" Ryan in 20th ($4,060). Other noted in-the-money finishers included Jordan "scarface_79" Smith in 31st ($3,016), Dustin "neverwin" Woolf in 33rd ($3,016), Mark "newhizzle" Newhouse in 43rd ($2,320), Matt "MattSuspect" Molinari in 52nd ($2,030), Bryan Micon in 61st ($1,798) and Aaron "GambleAB" Bartley in 63rd ($1,798).
Vanessa "LadyMaverick" Rousso held the chip lead at the final table but fell short of the win, finishing in third place. It was aasezz notching the victory, topping David "drood" Rood in heads-up play. The final standings:
1. aasezz - $107,300
2. David "drood" Rood - $80,040
3. Vanessa "LadyMaverick" Rousso - $59,450
4. brendol - $40,600
5. juuuiice - $29,000
6. Zak0707 - $17,400