PokerStars 2008 World Championship of Online Poker (WCOOP): Day 4 Summary Report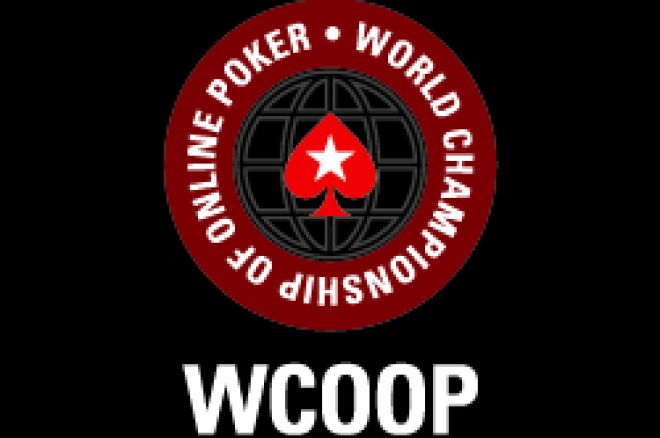 It was a very busy Day 4 in the 2008 World Championship of Online Poker (WCOOP) at PokerStars on Monday, due to a needed second day of play in Event #6, $500+30 NLHE, assured by the massive number of entrants who began action on Sunday. Three WCOOP bracelets were awarded in the day's action, with Event #6 winner Calvin32 taking down the night's largest prize of $452,085.50.
WCOOP Event #6: $500+30 NLHE
The first two-day event of the WCOOP was the $500+30 NLHE event. The 7,351 entrants created a prize pool of 3,675,500 with 72 making it to an impromptu Day 2 to battle it out for the $452,086.50 first-place prize. Among the ones who made it to Day 2 but fell short of the final table were Kenny "Kenny Rap" Weinstein in 18th place ($9,188.75), Andre Akkari in 47th place ($5,880.80), Alex "AJKHoosier1" Kamberis in 50th place ($5,880.80), and horryclutch in 62nd place ($5,513.25).
The chip counts to start the final table were:
Solovka - 22,993,538
Calvin32 - 15,873,618
adonislee - 12,046,474
DUBBZZ - 6,961,294
Yo Burger - 6,261,674
Roland_NL - 3,300,096
cassie13 - 2,525,362
Ben "randomcrayon" Barrows - 2,352,334
Papio Papio - 1,195,610
With blinds and antes at 100,000/200,000/20,000, Papio Papio was the first one eliminated. From middle position, Papio Papio moved all in for 695,610 and cassie13 reraised all in, successfully isolating the action with
. Papio Papio showed
but was not happy to see the board roll out
, eliminating him in ninth place for $25,728.50. The next to fall was Yo Burger. Solovka raised to 500,000, Yo Burger moved all in for just under five million from the button with
, and Solovka quickly called with
. The board ran out
and Yo Burger earned $42,268.25 for eighth place. From the small blind, Ben "randomcrayon" Barrows moved all in for 2,872,334 with
and Calvin32 called, showing
. The
flop left Barrows looking for a diamond, but the turn and river were the
and
. This busted Ben "randomcrayon" Barrows in seventh place for $64,321.25.
DUBBZZ was eliminated when the blinds and antes were raised to 125,000/250,000 and 25,000. DUBBZZ and Solovka saw a flop of
and all of DUBBZZ's chips found their way to the middle with
and was well ahead of Solovka's
. Amazingly though, the
hit the turn and DUBBZZ was drawing dead. The meaningless river card was the
and DUBBZZ earned $95,563 for sixth place. Cassie13 was next to be felted when all in preflop, cassie13 held
but was trailing Solovka's
. The
turn card sealed the deal, eliminating cassie13 in fifth place for $132,318. With the blinds and antes at 150,000/300,000/30,000, adonislee was eliminated in fourth place. Calvin32 made it 825,000 to go from the cutoff and adonislee moved all in from the button for 3,442,861 with
. Calvin32 called and showed
, which would take down the hand when the board brought no king. Adonislee took home $169,073.
Roland_NL quietly made it through to the final three but would wind up as the third-place finisher. Down to 3,705,192, Roland_NL got all in with
but was up against Solovka's
. The board came out
and Roland_NL won $205,828 for his run.
Heads-up play began with these chip counts:
Solovka: 53,811,283
Calvin32: 19,698,717
The duel was fierce and competitive, lasting over two hours. It was a stark contrast from the rest of the final table, which went from nine players to two in a mere 68 minutes. The chip lead went back and forth throughout, with Calvin32 finally emerging victorious. At the 400,000/800,000/80,000 level, Solovka moved all in for 12,451,283 with
and Calvin32 called with
. The board ran out
and Solovka finished as the runner-up, earning $306,169.15, while Calvin32 won Event #6 of the 2008 WCOOP for a $452,085.50 payday.
The final standings were:
1. Calvin32 - $452,085.50
2. Solovka - $306,169.15
3. Roland_NL - $205,828
4. adonislee - $169,073
5. cassie13 - $132,318
6. DUBBZZ - $95,563
7. Ben "randomcrayon" Barrows - $64,321.25
8. Yo Burger - $42,268.25
9. Papio Papio - $25,728.50
<center>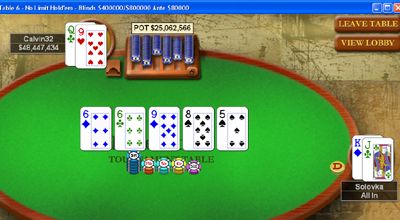 </center>
WCOOP Event #7: $200+15 6-max
The $200+15 PLO 6-max event attracted 2,457 participants for a prize pool of $491,400. The tournament saw several big names put up impressive showings, with Lex "RaSZi" Veldhuis in 10th place ($1,818.18), Danny "THE__D__RY" Ryan in 29th place ($1,474.20), Brock 't soprano' Parker in 32nd ($1,425.06), Jon "PearlJammer" Turner in 35th place ($1,425.06), and Jeremiah "Believer82" Vinsant in 44th ($1,326.78).
Mary 717 outlasted mddgfc in the heads-up battle to take down the tournament and the championship bracelet, following a three-way chop for most of the remaining prize money. The final standings were:
*1. Mary 717 - $71,730
*2. mddgfc - $50,301
*3. Kevin "Kev19" Tanner - $49,861
4. HORERogHALM - $30,221.10
5. rkruok - $21,130.20
6. bearbeer123 - $12,481.56
* — three-way chop for remaining prize money; $6,000 to eventual winner
WCOOP Event #8, $300+20 8-game Mix
The $300+20 8-game Mix, WCOOP Event #8, drew 1,128 hopefuls for a prize pool totaling $338,400. Notable showings included Eric "SiVTEC" Tomberlin in 12th place ($3,045.60), Jordan "FellKnight" Devenport in 14th ($2,199.60), Greg "DuckU" Hobson in 30th place ($1,353.60), Brandon "BrandonPL" Leeds in 32nd place ($1,184.40), Gary "GB2005" Bogdanski in 38th place ($1,015.20), "Telefonkiosk" in 40th place ($1,015.20), and Jason Gray in 42nd place ($1,015.20). After agreeing to an even chop, Ulett_23 defeated Chuck "Seitz333" Heavener to win the set-aside $4,000 and the championship bracelet. The final results were:
**1. Ulett_23 - $50,797.28
**2. Chuck "Seitz333" Heavener - $46,797.28
3. Booster_JJ - $30,456.00
4. osten - $23,688.00
5. SC72A - $17,766.00
6. Andrejkovics - $11,844.00
* — two-way chop for remaining prize money; $4,000 to eventual winner