PokerStars 2008 WCOOP -- Day 8 Summary Report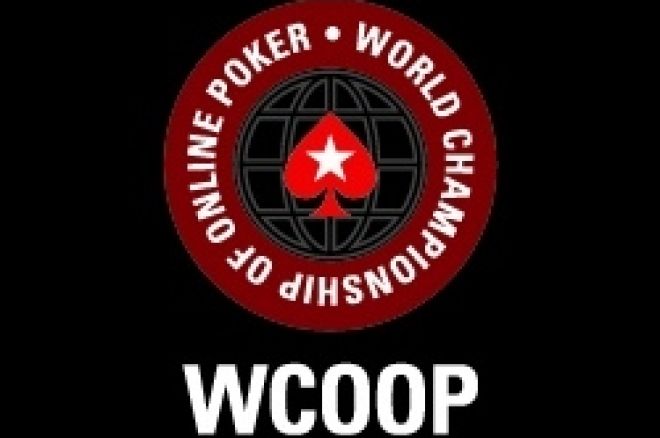 Two more events played out to exciting conclusions on Day 8 of the 2008 World Championship of Online Poker (WCOOP) at PokerStars. The early start went to Event #15, $300+20 Heads-Up No-Limit Hold'em, where "Husfluxen" emerged with the bracelet after a chop for finals money with his opponent, "pandaCHAN12". The day's second event ($16), featured a stellar lineup loaded with big names from both the online and brick-and-mortar worlds, including former WSOP Main Event champion Chris Moneymaker.
WCOOP Event #15: $300+20 NLHE Heads-Up
A whopping 2,048 players registered for the WCOOP's $320 Heads-Up NLHE tournament to build a total prize pool of $614,400. The first-place prize of $104,448 required winning 11 consecutive heads-up matches, a task only one player could accomplish. Huxfluxen was the player who managed to achieve that feat. Players of note who didn't make the final eight included "McShove", Kenny "Kenny Rap" Weinstein, and Sorel "Zangbezan24" Mizzi in a tie for 33rd-place money ($1,843.20), and Daniel "KidPoker" Negreanu in 105th (for 65th-128th prize money, $1,228.80).
During the final match, Huxfluxen and pandaCHAN12 agreed to a chop giving each $70,000, then played on for the remaining $19,744. Huxfluxen emerged victorious, winning the extra money and the bracelet. The final results were:
1. Huxfluxen - $89,744
2. pandaCHAN12 - $70,000
(3.) Benba - $33,792
(3.) IFiNishfish - $33,792
(5.) Lucarlli - $16,896
(5.) pokerjamers - $16,896
(5.) sqmpork - $16,896
(5.) evilly - $16,896
WCOOP Event #16: $200+15 Pot-Limit Omaha (1 Re-buy / 1 Add-on)
A field of 1,223 turned out for Event #16, a $215 pot-limit Omaha tournament allowing the options for one re-buy and one add-on per player. The prize purse built up to $546,000 after the final add-ons were tallied. Several notables had quality showings. Among them were Daniel "steamraise" Alaei in 11th place ($5,187), Anders "Donald" Berg in 12th place ($5,187), Kenny "Kenny Rap" Weinstein in ($1,911), Joseph "bigegypt" Elpayaa in 51st ($1,307.40), and Barry "barryg1" Greenstein in 131st ($819).
The final table itself was loaded with talent. The chip leader was online phenom James "Andy McLEOD" Obst, and chasing him were Chris "Money800" Moneymaker, Isaac "westmenloAA" Baron, and Chris "Moorman1" Moorman. In the end it was down to Obst and Baron, battling for the bracelet. Between the two, well over $2 million in online tournament earnings have been won. However only one could emerge victorious, and it would be "Andy McLEOD" (Obst).
Having also recently won the FTOPS razz tournament, Obst can now make his claim as of the best all-around online tournament players. The final results:
1. James "Andy McLEOD" Obst - $98,280
2. Isaac "westmenloAA" Baron - $70,980
3. Svend sværd - $54,600
4. Ravinesh - $40,950
5. Chris "Money800" Moneymaker - $28,665
6. cuthbertt - $23,205
7. Chris "Moorman1" Moorman - $17,745
8. Bounatirou - $12,285
9. nolimitsuckz - $7,644