PokerStars 2008 WCOOP -- Day 9 Summary Report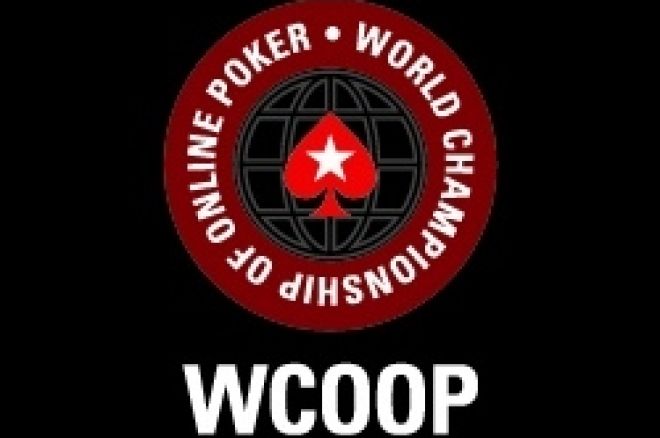 Day 9 action in the 2008 World Championship of Online Poker (WCOOP) at PokerStars put two more events and another $700,000 in guaranteed money on the line. A $530 PLHE 6-max tourney (Event #17) and a $215 H.O.R.S.E. gathering (Event #18) brought more than 3,000 people to their computers on Saturday.
WCOOP Event #17: $500+30 PLHE (6-max), $400,000 Guaranteed
Saturday's first event attracted a field of 980 players for a total prize pool of $480,000. The pot-limit hold'em event of the WCOOP saw several names post respectable finishing, including Team PokerStars pros Chad Brown in 20th place ($3,024) and Luca Pagano in 33rd place ($2,016).
Fourteen and a half hours after it started, the winner was determined. Poker1O1 defeated YanniYankiev to win the event, the bracelet, and the $80,400 1st place prize. The final standings:
1. poker1O1 - $80,400
2. YanniYankiev - $60,000
3. QUEEN KAZU - $45,600
4. mikek 15 - $31,200
5. Str8$$$Homey - $20,592
6. S00tedj0kers - $14,400
WCOOP Event #18: $200+15 H.O.R.S.E., $300,000 Guaranteed
There are two H.O.R.S.E. tournaments during the 2008 WCOOP. While the upcoming $10,300 event is the more prestigious, the $215 is the more affordable and therefore drew a much bigger field. This event drew 2,091 people and had a prize pool of $418,200. Notable finishers included Barry Greenstein who bubbled the final table and finished in 9th place ($3,972.90) and Anna "VietCutie" Wroblewski in 14th place ($3,136.50).
The final table saw Steve "Rabscuttle" Mil finish in seventh place, making it six cashes for him in this year's WCOOP. The heads-up battle following a two-way chop saw Sensor emerge victorious to win the bracelet. The final results:
*1. Sensor - $57,421,66
*2. LittleRedElf - $47,797.46
3. troyomac - $25,928.40
4. BabyJeebus99 - $16,728.00
5. Obender - $8,573.10
6. tennisklause - $7,318.50
7. Steve "Rabscuttle" Mil - $6,063.90
8. BackdoorNutz - $4,809.30
* — two-way chop for remaining prize money, $6,000 to eventual winner