WSOPE Event #3, £5,000 Pot-Limit Omaha Final: Theo Jorgensen Mines Gold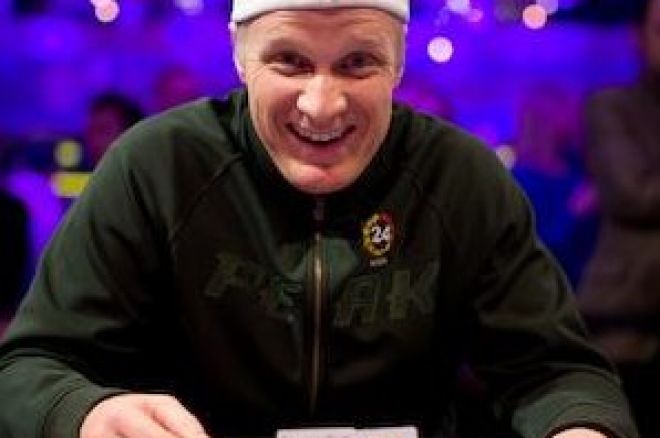 Denmark's Theo Jorgensen made it two for three for his country in winner's bracelets in the 2008 World Series of Poker Europe on Friday night by capturing Event #3, £5,000 Pot-Limit Omaha, in a fast-paced seven-hour final. Jorgensen entered the final with the lead and negotiated through a table loaded with notables to capture the gold and a £218,626 payday, finishing off Sorel Mizzi for the title.
Jorgensen's road to gold in Event #3 began with him leading EPT Remo champion Jason Mercier in chips to start the day, with other stars including Mizzi and Chris Ferguson still in the hunt. The seat assignments for the final, with chip counts, were as follows:
Seat 1: Erik Friberg - 189,000
Seat 2: David Penly - 162,000
Seat 3: Jason Mercier - 650,000
Seat 4: Sorel Mizzi - 290,000
Seat 5: Tomi Nyback - 434,000
Seat 6: Theo Jorgensen - 897,000
Seat 7: Max Pescatori - 126,000
Seat 8: Eric Dalby - 277,000
Seat 9: Chris Ferguson - 282,000
Short stacks David Penly and Max Pescatori managed to double through early in the action, and it was Finland's Tomi Nyback who became the first player to hit the rail. Nyback's demise came in a hand where five players limped to the
flop. Nyback moved in for his last 156,000, and Theo Jorgensen called before Sorel Mizzi moved all in over the top for about 270,000. Jorgensen was priced into the second call as well, and the three players revealed their cards:
Nyback:
Jorgensen:
Mizzi:
Mizzi's two pair led after the flop but he needed to dodge plenty of outs as well, and did so as the turn and river brought the
and
. Mizzi jumped to 860,000 in chips while Nyback exited in ninth with £22,688.
The next significant happenings involved Jorgensen and quads, and it resulted in two knockouts on back-to-back hands. First came Jason Mercier's departure. Mercier found no traction at the final table and came out on the wrong end of several pots before getting the last of his chips in with
after a
flop. Jorgensen held
and called, but fell behind to Mercier's straight when the
fell on the turn. The river
, however, gave Jorgensen quad aces and the knockout, and left Mercier's promising starting position worth only £26,812 in eighth-place money.
Mercier hit quads again in the following hand to send Chris Ferguson home in seventh. Ferguson departed with £33,000 after moving in following a
flop, with Jorgensen again calling; Ferguson showed
to Jorgensen's
for the flopped set, which became quads after the
turn. The meaningless
river officially ended Ferguson's tournament day. Jorgensen moved over 1.3 million in chips with the knockout, though his run to the title would grow tougher.
David Penly, who raised the stakes to enter the event by selling shares of himself on a popular event, gave his backers a nice profit and the hopes of a windfall before settling for sixth. He and fellow short stack Max Pescatori moved the chips in preflop, with Penly starting ahead with
to Pescatori's draw-friendly
. The
flop gave Pescatori plenty of outs, and the
turn gave Pescatori the straight and left Penly drawing dead. The
river completed the hand and made the £41,250 payday for Penly – and his backers – official.
Pescatori, though, lasted only another 15 minutes before behind bounced by Jorgensen. The real damage came a hand before when Pescatori lost most of his chips to Erik Friberg, and Pescatori collected his £51,562 fifth-place payday after Jorgensen and Mizzi checked it down against Pescatori's meager all-in, and Mizzi collected the pot with a modest pair of tens on a
board, as Pescatori managed only a pair of nines.
78-year-old Eric Dalby, seeking to become the second-oldest bracelet winner in WSOP history (behind the Grand Old Man of Poker himself, the legendary Johnny Moss), kept his short stack in play through the opening levels but was still the shortest stack by far at the dinner break. Once action resumed, however, Dalby – officially an amateur, but with an impressive poker resume nonetheless – made a run which took him all the way to the lead.
Dalby doubled through Jorgensen soon after Mizzi stole a pot from Erik Friberg to jumble the leaderboard, and after Dalby captured another large pot from Friberg it foretold the end of Friberg's day. That final blow was delivered by Sorel Mizzi in a hand where he and Friberg saw a
flop. Mizzi called a 20,000 bet from Friberg, then raised for 200,000 over a 60,000 bet from Friberg after the
turn. Friberg called all in and was ahead with
and two pair against Mizzi's
, but the
river gave Mizzi the flush and the knockout. Friberg collected £66,000 for his three days' work.
Dalby's rise, which briefly gave him the chip lead at one point, ended when he crashed to the felt in third. Dalby's final hand saw Mizzi open from the button for 49,000; Jorgensen and Dalby called from the small and big blinds. The flop was
, Jorgensen checked, Dalby bet 147,000, Mizzi folded and Jorgensen called. The turn brought the
, and this time Jorgensen led out for 270,000. Dalby bet the pot, which put him all in, and Jorgensen quickly called. Dalby's
was dead to Jorgensen's
and the nut straight. The
river completed the hand and left Dalby to collect his £84,562 third-place winnings.
Jorgensen began heads-up play against Mizzi with about a 3:1 chip advantage, but Mizzi won a couple of early pots and then doubled through to move into the lead. Following a dramatic chopped hand in which a river heart would have given Mizzi the win, Jorgensen returned the double-through and then captured a couple of smaller pots to put Mizzi on the brink.
The end came when both players saw a
flop. Jorgensen bet 100,000, Mizzi raised, Jorgensen re-raised, and Mizzi called all in. Jorgensen opened
for top set, while Mizzi showed
for nut-flush and gutshot-straight draws. The board ran out harmlessly for Jorgensen, though, with the
turn and
river leaving Jorgensen's three kings intact. Mizzi's consolation prize was a check for £132,000, while Theo Jorgensen celebrated his bracelet and £218,626 payday. The fast-paced final at the Empire brought action in WSOPE preliminaries to an end and set the stage for the start of the WSOPE Main Event on Saturday.