PokerStars.com APPT Macau Main Event Day 1c: Mark Walsh Tops Final-day Starters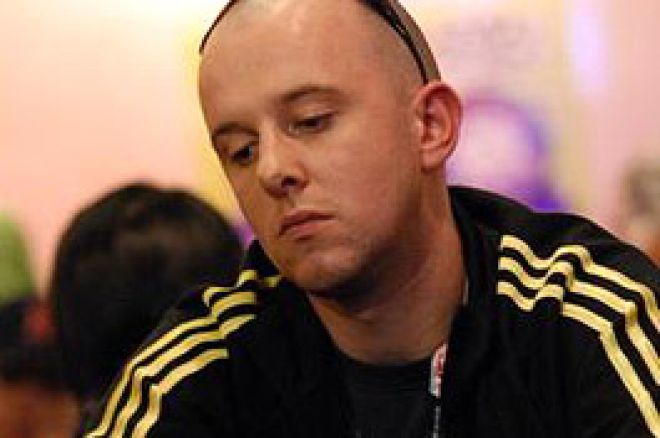 Day 1c of the PokerStars.com Asia Pacific Poker Tour Macau Main Event marked the largest poker tournament in Asia, with 229 Day 1c competitors swelling the total field to 538 players, building a prize pool of $1,620,000, a record for a poker tournament in Asia. Among the players in the field on Day 1c were former World Champion Joe Hachem and brother Tony, J.C. Tran, John "The Razor" Phan, Lee "Final Table" Nelson, J.J. Liu and 2007 APPT Macau Champion Dinh Le. The Hachem brothers weren't the only family taking part in Day 1c, as Men "The Master" Nguyen and his wife Van also competed. The Nguyens showed a stronger finish than the Hachems in this event, as both finished with above-average chip stacks.
The strong field meant some big names would go bust early, and Tony Hachem was an early casualty. With
on a board of
, Hachem moved the last of his chips into the middle, finding one caller. His opponent tabled
, and when no help arrived for Hachem on the turn or river, he was done. J.C. Tran took a tough beat early on to end his APPT Main Event. On a board of
, Tran check-raised David Chiu all in. Chiu quickly called with
for top set, and Tran was left with a pair of cracked kings as he tabled
. The
on the river was no help, and Tran was done.
No player on the 2008 tournament circuit has been hotter than John "The Razor" Phan. With a WPT title last month to go with his two WSOP bracelets this summer, Phan brought a hot streak into Macau looking for his first APPT championship. His quest for APPT gold will have to wait for Korea, as he busted on Day 1c. With
, Phan called all in needing a gutshot on a board of
. His opponent tabled
for top set, and the river came down the
to send Phan packing.
Other notable eliminations on Day 1c included Jozef Berec, Hevad Khan, and 2007 APPT Macau Champion Dinh Le. Le got all his money in good against Joon Hee Yeah, with pocket kings to Yeah's A-J. The 6-Q-4 flop helped neither player, but the ace on the turn gave Yeah the solid lead. No king showed on the river, and Le was finished.
Joe Hachem finished Day 1c with chips, but not many as he found himself crippled late in the day. He got it all in with pocket queens against pocket eights, but an eight on the flop left him with just a tiny stack going into Day 2. Shaun Deeb barely missed going into Day 2 when he busted on one of the last hands. Deeb opened for a raise preflop and found a re-raise from Bill Copeland. Deeb moved all in over the top with
, and Copeland thought for a moment before calling with
. No ace on the board for Deeb, and Copeland picked up a huge pot to move into Day 2 with a very comfortable stack.
Mark Walsh finished the day with the chip lead, with survivors like Isabelle Mercier, Lee Nelson, Terrence Chan and David Chiu all finishing up healthy on Day 1c. 88 players made it through the day, making for a total Day 2 field of 210 returning for Thursday play. The top ten chip stacks from Day 1c play looked like this as players bagged their chips:
Mark Walsh - 95,000
Quinn Do - 83,600
Ole Johan Steinvik - 68,900
Tian Chen - 62,500
Kevin MacPhee - 61,900
Kenneth Hicks - 60,100
Yongseok Choi - 56,600
Jeppe Drivsholm - 54,800
Bill Copeland - 54,600
Nicholas Chlebeck - 50,800
Join PokerNews tomorrow for all the live updates and bustouts as the final 210 players combine to make a star-studded Day 2 field at PokerStars.com APPT Macau.