PokerStars.net APPT Seoul Final: Yoshihiro Tasaka Triumphs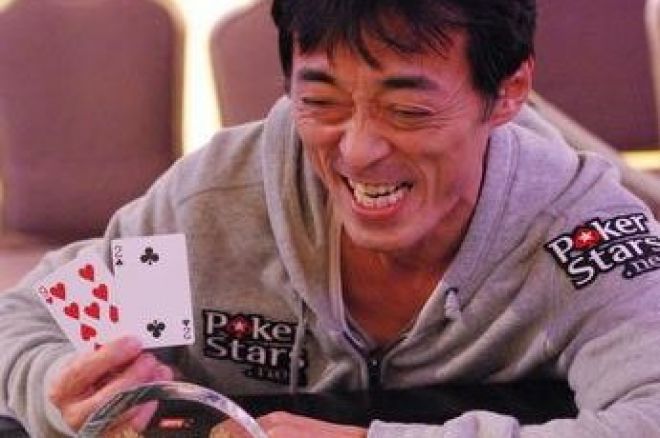 It was a long day of slow, methodical play punctuated by frenzied spells of eliminations, but at the end of the night, Japan's Yoshihiro Tasaka took down the top prize of the PokerStars.net Asia Pacific Poker Tour Seoul Main Event when he eliminated Hidenari Shiono in a short heads-up battle. Tasaka bested a field of 165 players from around the world to claim the trophy and the $128,216 top prize.
Sixteen players returned to the Walker Hill Casino in Seoul for the final day of play, with Canadian Brian Kang leading the pack as the day commenced. The short stacks wasted no time getting all their chips in the middle, as Robert Campitiello (16th), Terry Gardiner (15th), Michiyuki Kondo (14th) and Diwei Huang (13th) all headed to the payout line within the first couple of orbits. Campitiello ran his
into Kwok Yeung's
for his elimination at almost the same as Terry Gardiner made a stand with
against Fam Yat's pocket tens. Then Fam Yat added another scalp to his collection as he took out Michiyuki Kondo with
on a board of
. Kondo moved all in on the river and Yat thought for a moment before calling with second pair. Kondo tabled
for ace high and was done.
Chip leader Brian Kang re-raised Diwei Huang preflop with
, and Huang made the call. The flop came down
, and Huang moved all in over the top of Kang's opening bet. Kang quickly called with his aces and nut flush redraw, and Huang showed
for the steal attempt. No help on the turn or river for Huang, and his tournament was over.
Hori Katsiyoshi headed to the rail in 12th place ($6,010) when he lost a coin flip to Dan Schreiber. All the money went in preflop, and Katsyoshi's pocket sevens couldn't hold up against Schreiber's
on a flop of
. Hori couldn't catch a seven on the turn or river, and he was eliminated. Next, Kwok Yeung got his chips in good preflop against David Horvath when he pushed with
and was called by Horvath with
. Horvath needed a ten, but made a flush on the board of
to send Yeung hone in 11th ($6,010).
After nursing a short stack for much of the day, Wooka Kim became the final-table bubble girl when she moved all in from the button with
. Sam Faqiryar called from the big blind with
and went from dominated to dominating on a flop of
. The
brought additional outs for Kim on the turn, but the
on the river wasn't the help she needed, and Kim picked up $6,010 for her 10th-place finish.
Brian Kang's chip lead was intact as the final table kicked off, with seating assignments and chip stacks that looked like this:
Seat 1: Daniel Williams - 42,000
Seat 2: Daniel Schreiber - 253,500
Seat 3: Yoshihiro Tasaka - 226,500
Seat 4: Fam Kai Yat - 66,500
Seat 5: David Horvath - 124,000
Seat 6: Yuji Masaki - 13,500
Seat 7: Sam Faqiryar - 185,000
Seat 8: Brian Kang - 394,000
Seat 9: Hidenari Shiono - 269,000
Final-table play was tentative at first, with the remaining nine players jockeying for position and looking to make a move for the title. After more than half an hour of finaltable play, Sam Faqiryar became the first casualty of the final table when he ran afoul of Dan Schreiber. With a big chunk of his stack committed from the big blind, Faqiryar moved the last of his chips in over the top of Dan Schreiber's preflop raise. Schreiber called with
to Faqiryar's
. Faqiryar picked up a pair on the
flop, but as the turn and river came down
Schreiber made a straight to eliminate Faqiryar in ninth place ($8,013).
With Faqiryar's elimination, the floodgates opened at the final table and the rest of the short stacks began to make moves. David Williams got his last few chips in from late position with
and found two callers in Yoshihiro Tasaka and David Horvath. Horvath and Tasaka checked down the board of
, and Tasaka's
took down the pot and sent Williams home in eighth place ($10,020).
Soon after, Horvath pushed all in from the button with
and was called by Brian Kang, who tabled the dominating
. No help came on the
board for Horvath and he departed in seventh place ($16,027).
After Horvath's elimination another lull in play ensued, before Dan Schreiber kicked off a spate of eliminations with his sixth-place exit ($20,033). Schreiber called Brian Kang's raise to see a flop of
. Kang led out with a bet, and Schreiber quickly raised. Kang thought for a moment before re-raising, and Schreiber instantly shoved all in. Kang called quickly and showed
for top set. Schreiber was ahead with
for the flopped straight, but the
on the turn gave Kang a full house and left Schreiber drawing completely dead. The
river was irrelevant as Schreiber headed to the rail and Kang cemented his chip lead.
Yuji Masaki carefully threaded his short stack through the final table before finally succumbing in fifth place ($26,043). Masaki moved all in from the small blind, and Kang called with
. Masaki was dominated with
, but the flop of
gave Masaki flush outs. The turn and river ran out
, however, and Masaki was busted.
With Masaki gone, Fam Yat didn't even wait for Kang to finish stacking chips before he moved all in from under the gun. Hidenari Shiono went deep into the tank before calling with
. Yat showed
for the coin flip, and he got no help on the board of
. Yat picked up $32,054 for his fourth-place finish.
Three-handed play continued for over four hours before former chip leader Brian Kang busted in third place ($44,074). Kang found himself crippled after a peculiar hand with Yoshihiro Tasaka, where Tasaka moved all in and exposed his cards before Kang called, showing
. Kang had received a warning not to expose his cards earlier in the event, and called the floor on Tasaka. The decision was made that Tasaka's hand was live and he would sit out one orbit after the hand was over. Kang thought for a moment before calling with
. The flop was no help to either player as it came down
, but Kang leapt into the lead when the
came on the turn. Tasaka called for an ace on the river, and the deck obliged, delivering the
to leave Kang with practically no chips as Tasaka stacked an enormous pot.
On the next hand, Kang put his last few chips in with
, and Hidenari Shiono called with
as Tasaka sat out the first of his three-hand penalty. As the board ran out
, Shiono made two pair to send Kang home in third place ($44,074).
Shiono trailed Tasaka in chips as heads-up play began, though Tasaka still had to sit out the first two hands due to his early penalty. It took nearly an hour of heads-up competition for the title to be decided, as Shiono finally fell to the aggressive Tasaka. Shiono opened for a raise, and Tasaka quickly three-bet. Shiono moved all in, forcing the decision back to Tasaka. After a long moment of thought, Tasaka pointed to the cards, told the tournament director "It's my favorite hand," and called with
. Shiono showed
, and Tasaka gained more reason to love his hand as the flop came down
and he took the lead. The
on the turn was no help for Shiono, and the
on the river left him the runner-up for $80,135.
After three days of play against some of the toughest players in the world, Yoshihiro Tasaka took down the APPT Seoul Main Event championship and the $128,216 top prize.