PokerStars.net EPT Barcelona, Day 1a: Michael Murra Early Leader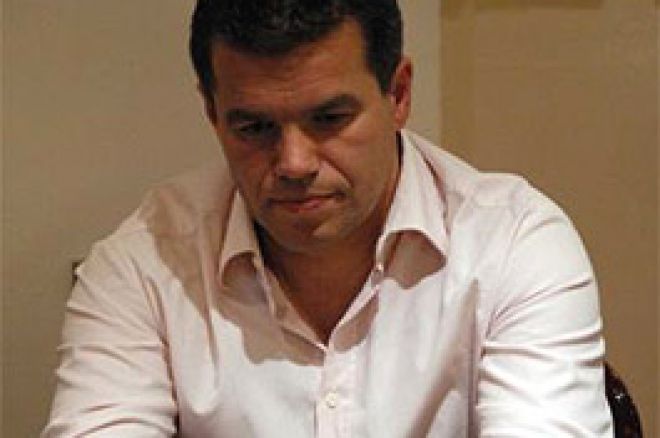 With a cap of 300 players on Day 1a, Season 5 of the PokerStars.net European Poker Tour got off to a roaring start with only eight open seats. 292 players took the field at the EPT Barcelona Open on the day. In the field were WSOP champs, WSOP-E champs, WPT champs and EPT champs, not to mention a whole passel of people looking to become champs. World Champions Greg Raymer and Annette Obrestad played on Day 1a, as did former EPT winners Rueben Peters and Glen Chorny.
David "Chino" Rheem has been seen at several events since becoming a finalist at the World Series of Poker Main Event, and he added EPT Barcelona to the list. He was joined on Day 1a by fellow member of the "November Nine," Scott Montgomery, who chipped up nicely through the day to end with a healthy stack.
Robert and Michael Mizrachi stayed in Europe after playing in France earlier this week to join the field at EPT Barcelona. Robert fared much better than Michael on Day 1a, as he finished the day with a moderate chip stack. Michael busted near the end of the day when his top set was run down by an opponent's flush draw that hit on the turn and sent "The Grinder" to the rail.
Other eliminations on Day 1 included Annette Obrestad, Greg Raymer, David Williams and Vicky Coren, who got the last of her chips in the middle preflop in a coin flip with
against her opponent's
. The
landed right in the window as the flop came down
. No ten on the turn or river, and Coren's tournament was over early.
David "Chino" Rheem rode a rollercoaster of chips on Day 1 before finally finishing up with a short stack. He took out several opponents en route to building a big stack early, but ran into some tough hands late to lose a significant portion of his stack. Early on he raised preflop with
and found three callers to a flop of
. Rheem led out at the flop, and one opponent moved all in over the top. The other two players folded quickly as Rheem called with bottom set. His opponent tabled
and failed to improve as Rheem added his oppenent's chips to his stack.
As the evening wore down, so did Rheem's stack. In one hand late in the day, Rheem three-bet preflop to see a board of
. Both players checked the flop, and the turn came down the
. Rheem called a bet on the turn, then called another on the
river. His opponent tabled
for the straight, and Rheem mucked, finishing the day with a marginally short stack.
While Rheem finished the day in rough fashion, EPT champ Jason Mercier picked up quite a few chips in the latter levels to finish Day 1a among the chip leaders. Incomplete chip counts had Michael Murra in the top spot on the leader board, with the preliminary counts showing these stacks among the leaders:
Michael Murra - 87,000
Nichlas Mattson - 72,000
Ramzi Jelassi - 62,800
Chad Brown - 61,000
Michael Keiner - 60,000
Glen Chorny - 55,000
Jesper Hougaard - 52,275
Jason Mercier - 50,000
Jonathan Dwek - 50,000
Albert Sapiano - 45,000
Daniel Mangas - 41,000
Andre Akkari - 40,000
Join PokerNews at 3PM Barcelona local time on Wednesday for continuing live updates from Day 1b at the opening event of the European Poker Tour's fifth season.