First Annual State of Nevada Championship Poker Event Set for September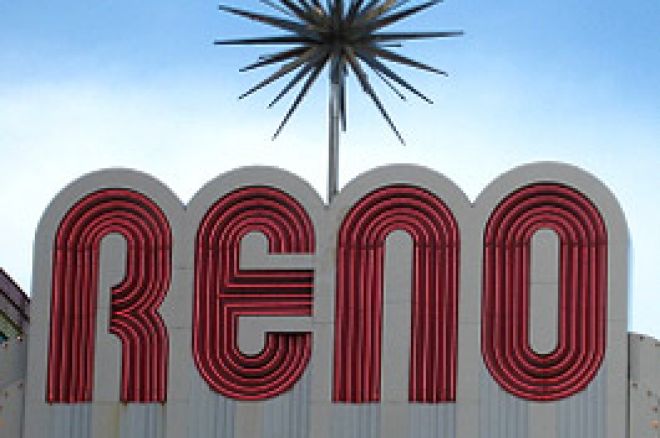 Reno, billed as the "Biggest Little City in the World," will be the site of an upcoming big poker event, the First Annual State of Nevada Championship Poker event, scheduled for September 25 – October 5, 2008. Held at the Grand Sierra Resort and Casino, this 11-day poker series includes 32 separate events beginning with the series' Casino Employees' No-Limit Hold'em State Championship and concluding with a lightning-fast turbo hold'em tournament.
In all, 11 separate "State Championship" events are scheduled, one each day, in a variety of different games including limit, H.O.R.S.E., Omaha 8-or-better, stud 8-or-better, pot-limit Omaha, no-limit (also in a shootout format), and six-handed no-limit. There is also a Seniors NLHE championship event for players 50+ and a Ladies tournament sponsored by Ladies International Poker Series Tour (LIPSTour). Capping the event is the 2-day No-Limit Hold'em State Championship on October 4th and 5th. Mega satellites will be held on October 3rd to award seats to the $1,000 buy-in big event.
In addition to the championship events, poker players will have choice of 18 other no-limit hold'em tournaments, held twice daily, with buy-ins ranging from $100 to $340. On October 1st there will be a charity poker event with a $125 buy-in plus rebuys.
With the World Poker Tour having pulled out of Reno, this event will give poker players in northern Nevada a new opportunity to "Take on the State." Thanks to the special rates provided to tournament players, out-of-town guests who want to travel to take part will be treated to the premier dining and entertainment options of the beautiful Grand Sierra Resort and Casino (formerly the Reno Hilton), the largest casino in northern Nevada.
To learn more about the State of Nevada Poker Championship, check out the Grand Sierra's website at grandsierraresort.com.
Event # Date Time Buy-In+Entry Format
1 [/I]9/25 11:00 am[/I] - $440 Casino Employees NLHE
2 [/I]9/25 3:00 pm[/I] - $230 NLHE
3 [/I]9/25 7:00 pm[/I] - $150 NLHE
4 [/I]9/26 11:00 am[/I] - $440 LHE State Championship
5 [/I]9/26 3:00 pm[/I] - $340 NLHE
6 [/I]9/26 7:00 pm[/I] - $230 NLHE
7 [/I]9/27 11:00 am[/I] - $440 H.O.R.S.E. State Championship
8 [/I]9/27 3:00 pm[/I] - $340 NLHE
9 [/I]9/27 7:00 pm[/I] - $230 NLHE
10 [/I]9/28 11:00 am[/I] - $440 Senior's State Championship
11 [/I]9/28 3:00 pm[/I] - $230 NLHE
12 [/I]9/28 7:00 pm[/I] - $230 NLHE
13 [/I]9/29 11:00 am[/I] - $440 Omaha 8-or-better State Championship
14 [/I]9/29 3:00 pm[/I] - $230 NLHE
15 [/I]9/29 7:00 pm[/I] - $150 NLHE
16 [/I]9/30 11:00 am[/I] - $440 Stud 8-or-better State Championship
17 [/I]9/30 3:00 pm[/I] - $230 NLHE
18 [/I]9/30 7:00 pm[/I] - $150 NLHE
19 [/I]10/1 11:00 am[/I] - $440 PLO State Championship
20 [/I]10/1 3:00 pm[/I] - $230 NLHE
21 [/I]10/1 7:00 pm[/I] - $150 NLHE
22 [/I]10/2 11:00 am[/I] - $440 NLHE Shootout State Championship
23 [/I]10/2 3:00 pm[/I] - $230 NLHE
24 [/I]10/2 7:00 pm[/I] - $150 NLHE
25 [/I]10/3 11:00 am[/I] - $440 Six-Handed State Championship
26 [/I]10/3 3:00 pm[/I] - $230 Mega Satellite
27 [/I]10/3 7:00 pm[/I] - $230 Mega Satellite
28 [/I]10/4 11:00 am[/I] - $1,080 NLHE 2-day State Championship
29 [/I]10/4 3:00 pm[/I] - $340 NLHE
30 [/I]10/4 7:00 pm[/I] - $230 NLHE
31 [/I]10/5 11:00 am[/I] - $230 Ladies' State Championship
32 [/I]10/5 3:00 pm[/I] - $120 Turbo NLHE