Women's Poker Spotlight: Jacquelyne Leslie-Zand -- The Journey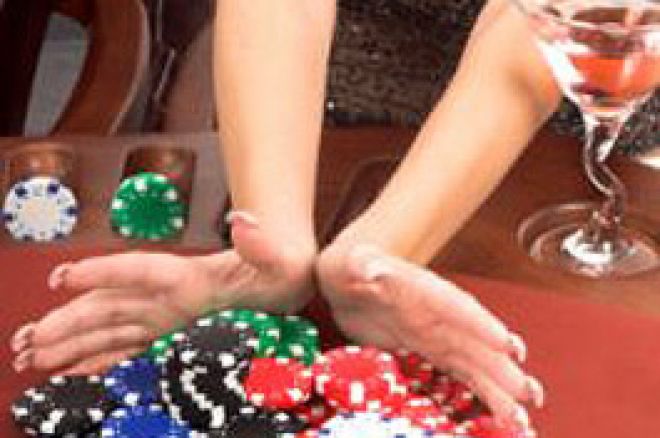 My favorite part of the poker world is how it has created its own "society" very separate but nonetheless reflective of the "greater society". The world of poker has risen from the basements and backrooms to become a unique entity with its own particular traits, its own character if you will, that continues to develop within itself. As in society, politics, big business, the arts and players all come together to create a constantly moving and changing world.
The ever-evolving world that poker has become now offers more than just dreams being a professional poker player. Dreams of a lifetime can come true beyond the green felt of the tables. Writers, management professionals and artists have found an outlet and opportunity for their talents that might not otherwise be discovered or ever explored.
No one is more grateful for the opportunity that poker offers than poker player and singer Jacquelyne Leslie-Zand. When Jaquelyne was 15 years old she found she had a talent for singing and song writing. Like so many teenagers, she had dreams to take her talent out of her small hometown to bigger and better places. Those dreams faded as time went on. She married, had children and sang only around the house and for fun. "I married young, had children and gave up my dreams of singing professionally," says Jacquelyne. "I lost control of what I always wanted to do."
After the break up of her first marriage, Jacquelyn met and married poker player Mark Zand. It was then that she found a new love… poker. "Mark was always traveling to big tournaments and games. He could just take off and go to Vegas to play." she says. "It was either learn the game or get left behind." She began reading, playing more and working with her husband to further her game. "Like most married couples that play poker, we have our 'difference of opinion' sometimes when we play but he has been my biggest coach and my biggest supporter in every thing I do" Jacquelyne adds. Over the last four years she gained enough confidence to play in larger venues such as the World Series of Poker and World Poker Tour events.
In 2007 Jacquelyne and her husband attended the World Poker Tour's Battle for the Season Pass II in the Bahamas. It was here that her love of poker and love of singing and song writing united. During a dinner with friends, Jacquelyne met professional player Kenna "Cowboy" James. Discussion ensued between the two and they soon discovered they shared the same passions.
It wasn't long before Jacquelyne and Kenna began writing and making music together. Their first single "Dream this Dream", which was released earlier this year, features Kenna as lead vocal and Jacquelyne on background vocals. "'Dream this Dream' isn't really focused on poker," Jacquelyne says. "It is about anything in life that you really want. It's about chasing your dreams and not letting go of them."
Jacquelyne's most current release is "The Journey", which is believed to the first poker song to be written and recorded by a woman. The song is based on her real-life experiences with playing poker, but most women who play can easily empathize with the lyrics and dynamic feelings of the song. When asked what inspired her to move into her singing career forward after many years, Jacquelyne replied, "For the first time in my life I have control. I have control over my poker career and my singing career. There have always been obstacles in the way, keeping me from pursuing what I wanted to do. This is the first thing that is totally mine." She added, "I wanted to send a message to other women to never give up and to always push forward no matter what they want to do."
Jacquelyne Leslie-Zand's story is a perfect example of what the poker world has to offer. It can offer the dreams of a lifetime.
"The Journey" is available at www.myspace.com/jacquelyneleslie and will be available on iTunes for download.