Caesars Palace Mega Stack Series Returns in November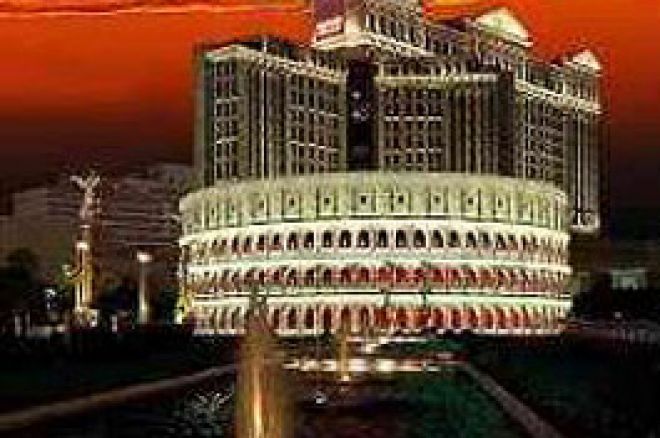 Caesars Palace in Las Vegas has released the schedule for its upcoming Mega Stack poker series, marking the return of the event which proved to be a popular addition to the city's poker scene last summer. The upcoming series, following on the heels of the currently ongoing Caesars Poker Classic, will run from November 2-20, 2008, and feature a selection of tournaments heavy on no-limit hold'em.
The 17 events feature buy-ins ranging from $200 to $1,060 for the Mega Stack series' championship event, a three-day tourney set to begin on November 18th. Extra chips are available as a dealer gratuity at the start of each event.
The complete Caesars Palace Mega Stack Schedule:
Date Time Buy-in Tournament
(11/1) — -- (Satellites Begin)
11/2 Noon $500+40 NLHE
11/3 Noon $200+25 NLHE
11/4 Noon $200+25 NLHE
11/4 3 PM $180+20 PLO
11/5 Noon $200+25 NLHE
11/6 Noon $200+25 NLHE
11/7 Noon $300+30 NLHE
11/8 Noon $300+30 NLHE
11/9 Noon $500+40 NLHE
11/10 Noon $200+25 NLHE
11/11 Noon $200+25 NLHE
11/11 3 PM $180+20 Omaha 8/B
11/12 Noon $200+25 NLHE
11/13 Noon $200+25 NLHE
11/14 Noon $300+30 NLHE
11/15 Noon $300+30 NLHE
11/16 Noon $500+40 NLHE
11/17 Noon $200+25 NLHE
11/18 Noon $1,000+60 Mega Championship (NLHE)
11/19 2 PM -- Mega Championship Day 2
11/20 2 p.m -- Mega Championship Final Table