Online Poker Roundup: 'PeachyMer' and 'kingbenno' Log Major Triumphs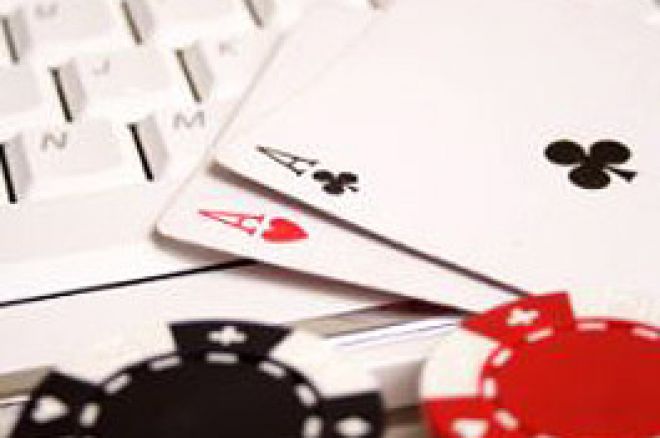 Another big early week in online poker saw winners crowned in major events at Full Tilt and PokerStars. PeachyMer captured Monday night's Full Tilt $1K Guarantee for a nice $86,000 payday, while the PokerStars Super Tuesday went to kingbenno for a solid $78,000 score. Here's how the final tables of each unfolded:
Full Tilt $1K Monday
The Full Tilt $1K Monday event tournament drew a field of 344, with first place paying $86,000. Among the top finishers were Jamie "pokerjamers" Armstrong in 11th place ($4,300) and Joseph "hoodini12" Udine in 12th place ($4,300). The chip counts to start the final table were as follows:
Alex "TheAssassinato" Fitzgerald - 308,337
PeachyMer - 266,542
HahnimKorb - 97,588
I Pay Ur Rent - 84,156
HONKYdonky - 69,869
Villain1318 - 61,875
jcgoheels - 59,462
Karls_Hungus - 42,426
Eric "lupo514" Lupovich - 41,745
At the 1,700/3,400/400 level, Karls_Hungus was the first to hit the rail after making a stand with
, but he ran into HahnimKorb's pocket kings. Karls_Hungus could not beat the big pair and finished ninth for $6,880. Falling next was I Pay Ur Rent, the winner of this event two weeks ago. PeachyMer opened to 8,855 and I Pay Ur Rent popped it up to 31,600. When action folded back to PeachyMer, she shoved her big stack all in. I Pay Ur Rent called all in for 44,856 with
, but needed help against PeachyMer's
. The board rolled out
and I Pay Ur Rent collected $8,600 for eighth. A few hands later PeachyMer eliminated another player, when HONKYdonky's
was unable to hold against her
as the flop brought a four, busting HONKYdonky in seventh for $11,180.
The hot streak for PeachyMer continued at 2,000/4,000/500. Jcgoheels raised to 11,000 from the cutoff and PeachyMer moved all in from the big blind with
, but was insta-called by jcgoheels's
. However, she hit a great flop as it came
and jcgoheels would not catch up to the flopped two pair, finishing sixth for $17,200. Eric "lupo514" Lupovich was the next to fall. Down to just 27,000, Lupovich committed his chips after facing a raise while in the big blind with
. His live cards could not beat HahnimKorb's
, as Lupovich took home $24,080 for fifth place. Alex "TheAssassinato" Fitzgerald was the short stack four-handed, and eventually was felted. With blinds and antes at 3,000/6,000/750, Fitzgerald opened to 15,250 from the cutoff and Villain1318 set him all in with
. Fitzgerald called, but saw the bad news that his
needed to catch up. The board brought no help, coming out
, busting Fitzgerald in fourth for $31,820.
An extended stretch of three-handed play lasted until PeachyMer eliminated Villain1318. The blinds and antes had reached the 6,000/12,000/1,500 level. From the small blind, PeachyMer shoved all in with the big stack (581,435) holding
and Villain1318 called all in for 127,937 with
. The board rolled out
, sending Villain1318 home in third for $41,280.
These were the chip counts at the start of heads-up play:
PeachyMer - 724,372
HahnimKorb - 307,628
PeachyMer won a few pots to extend her lead before winning the tournament. On the first hand of the 8,000/16,000/2,000 level, PeachyMer moved all in and HahnimKorb called all in for 96,146 with
, needing to catch some cards to beat PeachyMer's
. The board rolled out
, as HahnimKorb finished runner-up for $55,040. PeachyMer took it down and won $86,000. Entering the final table second in chips, she played an aggressive game to accumulate chips and win the tournament.
Final Results:
1. PeachyMer - $86,000
2. HahnimKorb - $55,040
3. Villain1318 - $41,280
4. Alex "TheAssassinato" Fitzgerald - $31,820
5. Eric "lipo514" Lupovich - $24,080
6. jcgoheels - $17,200
7. HONKYdonky - $11,180
8. I Pay Ur Rent - $8,600
9. Karls_Hungus - $6,880
PokersStars Super Tuesday
The PokerStars Super Tuesday attracted 372 players, falling just a bit shy of its $400,000 guarantee and chipping in a nice overlay of $28,000 to its participants. Notable non-final finishes here included Shaun Deeb in 21st place ($2,800) and Josh "nitbuster" Arieh in 28th place ($2,600). The chip counts to start the final table were as follows:
Jon "apestyles" Van Fleet - 316,567
PreshaDrop - 226,132
kingbenno - 133,105
roeik - 96,310
backmanslivs - 94,027
copi - 77,344
truesyalose - 68,257
Jamie "TheNew" Robbins - 64,328
Exitonly4 - 39,930
The first to bust out was Jamie "TheNew" Robbins. With the blinds and antes at 1,250/2,500/250, kingbenno raised to 6,250 from middle position and Robbins called from the big blind. They checked the
flop, leading to the
turn, after which Robbins led out for 12,500 and kingbenno called. The
fell on the river and Robbins checked the action over to kingbenno, who moved all in. Robbins called all in for his last 44,578 with
for two pair, but saw kingbenno turn over
for the rivered straight, sending Robbins home in ninth for $7,000.
Exitonly4's exit came next, after play had moved to the 1,500/3,000/300 level. Copi raised to 9,000 from early position and Exitonly4 moved all in from the cutoff for 64,010. Action folded back to copi who called with
and was in a race against Exitonly4's
. A third seven hit the flop, ending the tournament for Exitonly4 in eighth spot for $10,000. Roeik hit the rail next after a hand with kingbenno. Roeik opened to 8,888 from middle position and kingbenno called from the cutoff. The flop came out
and kingbenno checked to roeik, who fired 21,000 into the pot. Kingbenno responded by moving all in, having roeik covered. A snap-call from roeik revealed
for middle set, while kingbenno showed
for middle pair and an open-ended straight draw. The
turn kept things the same but the
hit the river, making the straight for kingbenno and eliminating roeik in seventh for $14,000.
Backmanslivs exited next. At the 2,000/4,000/400 level, kingbenno raised under the gun to 9,750. PreshaDrop reraised to 32,000 from middle position and backmanslivs moved all in for 50,805 from the button. From the big blind, truesyalose then reraised all in to 69,714 total. Kingbenno folded but PreshaDrop called holding
, the same as backmanslivs
. Truesyalose held
and was in great shape to win a big pot. The board rolled out
and backmanslivs was finished, earning $18,000 for sixth. Jon "apestyles" Van Fleet finished in fifth place. Down to 64,174, Van Fleet moved all in from the small blind with
and PreshaDrop called from the big blind with
. The board came
and Van Fleet's river pair was not enough, assuring his exit with $23,000.
Next, Truesyalose's tournament came to an end in fourth place at the 3,000/6,000/600 level. From the cutoff, truesyalose moved all in for 62,473 with
and was called by kingbenno on the button with
. The board rolled out a safe
for kingbenno, sending truesyalose to the payout line for $33,600. Third place was determined a few hands later after copi's raised to 18,000 on the button. Kingbenno called and the flop came
. After kingbenno led out for 17,250, copi raised all in for 105,240. Kingbenno insta-called with
, ahead of copi's
. The turn and river were the
and
, earning copi third, for $44,000.
PreshaDrop led as heads-up play began, with these chip counts:
PreshaDrop - 695,658
kingbenno - 420,342
The blinds and antes were at 4,000/8,000/800 as the duel began. Kingbenno took the chip lead on a limped pot that saw a flop of
. The chips made it to the center of the table and kingbenno's tournament life was at stake with
for a baby flush, ahead of PreshaDrop's
. The board didn't pair and kingbenno collected most of the chips. It ended two hands later on another limped pot. A
flop saw kingbenno lead out for 17,250 and PreshaDrop min-raise in return. Kingbenno then made it 67,250 and PreshaDrop called, bringing out the
turn card; both players checked. The
river saw a check-raise all in from kingbenno, which PreshaDrop called with
, second best to kingbenno's
. PreshaDrop earned $59,000 for finishing as runner-up, as kingbenno captured the Stars Super Tuesday.
Final Results:
1. kingbenno - $78,000
2. PreshaDrop - $59,000
3. copi - $44,000
4. truesyalose - $33,600
5. Jon "apestyles" Van Fleet - $23,000
6. backmanslivs - $18,000
7. roeik - $14,000
8. Exitonly4 - $10,000
9. Jamie "TheNew" Robbins - $7,000