Poker & Pop Culture: CBS and the World Series of Poker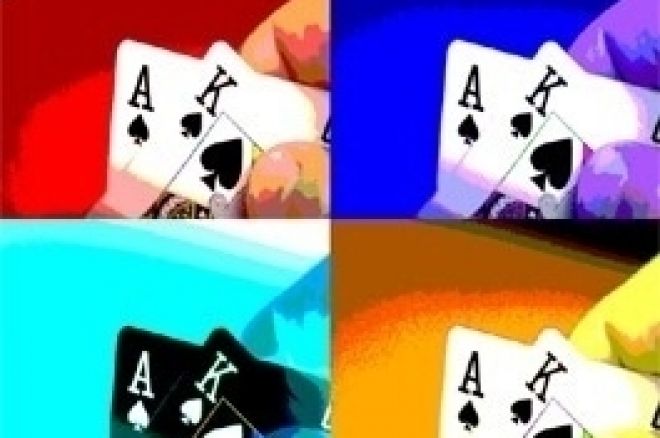 We are just three weeks away from seeing the final table of the 2008 World Series of Poker Main Event. By the time ESPN concludes its "plausibly live" presentation of that final table on Tuesday, November 11, a grand total of 21 hours of coverage of the Main Event will have been aired (including that one-hour final table preview show scheduled for November 4). How unlike the early days of the WSOP, when even a half-hour's worth of Main Event coverage was a significant development in poker's efforts to gain mainstream acceptance.
In the late 1970s, one of the major networks, CBS, decided to give poker and the WSOP a chance to capture a wider following. While the experiment ultimately failed, it is interesting today to look back at this early attempt to bring poker out of relative obscurity and into the pop culture limelight.
The Sports Anthology Show: Perhaps a Place for Poker?
In 1960, CBS began airing "CBS Sports Spectacular," a weekly sports anthology program much like ABC's "Wide World of Sports" (which debuted a year later). Both shows focused on presenting a variety of sports, many of which received little or no coverage otherwise. They featured relatively mainstream fare such as bowling, boxing, and horse racing, as well as more obscure sports such as hurling, jai-alai, rodeo, and even demolition derby. Sports commonly associated with the Olympics such as figure skating, gymnastics, and track and field events were regularly shown as well.
Many of the segments shown on these anthology shows were presented in the form of highlight packages. That is, rather than show events in their entirety, segment producers would compile a sequence of key plays, edited and presented in such a way so as to emphasize the "story" of whatever event was being covered. Following Amarillo Slim Preston's victory in the 1972 World Series of Poker, his subsequent publicity efforts helped raise the WSOP's profile significantly. (Read here about the spread of Preston's fame, including his numerous appearances on "The Tonight Show" with Johnny Carson.) As a result, the following year CBS sent a film crew to Binion's, creating a 47-minute documentary of the 1973 WSOP that was subsequently aired on "CBS Sports Spectacular".
Over the next four years, clips from the WSOP would occasionally turn up on both "CBS Sports Spectacular" and ABC's "Wide World of Sports". Finally, in 1978, CBS decided once again to spotlight the WSOP Main Event with a half-hour special dedicated to the event. A key figure in CBS' decision was a recent addition to the network's line-up of sports reporters, a Las Vegas oddsmaker who would emerge as a fixture on the network over the next decade.
Jimmy the Greek
Born Dimetrios Georgos Synodinos in Ohio to a family whose ancestry traced back to the Greek island of Chios, Jimmy "the Greek" Snyder made his way to Vegas in the mid-1950s and eventually parlayed his instincts as a gambler into a position as a top oddsmaker on the weekly pro football line. Snyder became friends with Jack Binion as well as with many of the top poker players who had begun assembling at Binion's every spring once the WSOP was begun in 1970.
Snyder played an active role in promoting the WSOP from its inception, laying odds on participants each year, and prompting CBS to film the 1973 documentary (which he narrated). Snyder's prominence on the poker scene is demonstrated by his having contributed the foreword to Doyle Brunson's How I Made Over $1,000,000 Playing Poker, eventually retitled Super/System. There Snyder tells how he was responsible for Brunson's nickname "Dolly," which was in fact the result of Snyder's having mispronounced "Doyle" as "Doy-lee." Snyder concludes his foreword by correctly predicting Brunson's book will be "a super-favorite to become the all-time Poker classic."
Younger players who pick up Super/System today likely do not recognize Snyder, but for readers of a certain age, his face is quite familiar thanks to his twelve-year run as a co-host on CBS' "NFL Today" pregame show. In 1976, Snyder was recruited by CBS to join the show and offer his picks on the air. While his presence on the show wasn't appreciated by all — some believed his contribution to represent a tacit endorsement by the network of sports gambling — his weekly breakdown of the games' deciding factors and "intangibles" was a primary reason for "NFL Today" becoming the most popular NFL pregame show during the '70s and '80s.
Snyder's Vegas connections led CBS to try the WSOP experiment once again, and he and "NFL Today" host Brent Musburger were thus tapped to host a half-hour special on the 1978 WSOP Main Event to air on "CBS Sports Spectacular". Other sports that had begun as one-offs on these weekend anthology shows had evolved into staples of networks' programming. For example, a few bowling shows had been popular enough for ABC to establish a regular contract with the Pro Bowlers Tour. Brunson was coming off back-to-back Main Event victories (and Super/System was in the works). Perhaps the time was right for poker to widen its audience in a similar fashion?
The 1978 WSOP on CBS
1978 was the first year the Main Event did not follow a "winner-take-all" format. The top five of the 42 entrants cashed, with the winner taking 50% of the overall prize pool, or $210,000. In fact, the decision to change the format was directly influenced by CBS. As Jonathan Grotenstein and Storms Reback point out in All In: The (Almost) Entirely True Story of the World Series of Poker, CBS had faced some criticism after having recently aired a tennis tournament in which they had reported the victor was the only prize winner, but it had been later confirmed that the second-place finisher had been awarded money as well. Given the custom of final-table deal-making at the WSOP, CBS did not want a similar situation of misrepresentation to occur, and so the new payout schedule was put in place. (The first of many changes to the WSOP introduced by television!)
CBS' coverage picked up the action at the six-handed final table, and began with Musburger interviewing Crandall Addington. Standing before a CBS Sports banner hung alongside the famous Binion's "Wall of Fame," Musburger asked Addington to share his strategy for approaching the final table. "I better not tell you that there, Brent," joked Addington. "Somebody might be watching there on the monitor — one of my opponents!"
Several hands were shown, including all bustout hands, until only Addington and Bobby Baldwin remained to battle heads up. Another interview of Puggy Pearson and Johnny Moss appeared along the way, with Musburger questioning the pair about the influx of young players, a discussion which appropriately foreshadows Baldwin's eventual triumph as the then youngest-ever champion at age 27. Incidentally — contrary to what one often hears about these early telecasts — this early WSOP telecast did in fact feature hole cards (for some hands). Since the hosts' remarks were recorded in post-production, Snyder and Musburger were able to reveal what the players were holding and comment accordingly.
Snyder's commentary well demonstrated his knowledge of hold'em, although some of Musburger's contributions — e.g., references to the entire final table being the "showdown" — betray his being perhaps somewhat out of his element. On last hand, a short-stacked Addington went all in, and he and Baldwin agreed to turn over their cards (not always the custom then). "Let's give 'em all a thrill," said the cigar-chomping Addington.
As they turned their cards over, Baldwin could be heard asking Addington, "You ever been to Ardmore, Oklahoma?"
"Uh oh," Addington replied.
Snyder jumped in to clarify: "Ardmore, Oklahoma! Oh! He's got the Ardmore girls — it's two queens! That's an old saying," explains Snyder. (An Oklahoma-native, Baldwin was the only non-Texan at that year's final table.) Baldwin's queens were well ahead of Addington's pocket nines. A queen and nine both appeared on the flop, adding one last charge of excitement, but Baldwin's hand held up and he took the first-place prize money.
The 1979 WSOP on CBS
Frank Glieber, who'd done play-by-play and color for CBS since the early '60s, took Musburger's spot for the 1979 telecast, joining Snyder for an hour-long telecast. Legendary billiards player and gambler Minnesota Fats (Rudolf Wanderone) was also on hand to provide additional commentary. That year's program began with a montage of players arriving to Binion's, culminating with Amarillo Slim Preston riding up Fremont Street on a bay quarterhorse. Kenny Rogers' 1978 hit "The Gambler" provides the soundtrack. (Rogers actually sang the song at Binion's that year.)
The program began with an opening exchange between Glieber and Snyder, with Glieber asking the oddsmaker to pick a winner. "It's getting tougher all the time," answered Snyder, noting that the field had increased to 54 players. Glieber's next question about the rise in the number of amateurs registered for the Main Event again foreshadowed what was to come, the first-ever victory by a non-professional, Hal Fowler.
Overall, the broadcast was a more polished presentation than that of the previous year's Main Event. There was some helpful exposition early on, with the logistics of hold'em, chip denominations, and the freeze-out format all explained to the viewer. After several player introductions, coverage began with the first hand and hit highlights right up until that last hand when the amateur Fowler managed to turn a straight to crack Bobby Hoff's pocket aces.
Apparently the production went relatively more smoothly than the year before as well. In John Hill's article on that year's WSOP for the October 1979 issue of Gambling Times, Hill described the scene at Binion's and compares it to "several incidents which had occurred the year before between newsmen and the CBS crew jockeying for position in the cramped space of the tournament area." Hill quoted Jerry Adler, who produced the show for CBS, announcing his intention for there to be "'cooperation between the television crew and the press'" this time around.
"Unfortunately, Adler's words didn't seem to filter down to all the troops," explained Hill. "One overzealous camera assistant incurred the wrath of virtually all the newsmen and relatives of players sitting inside the ropes by bodily shoving people out of the vicinity of the camera he was tending." Nevertheless, Hill was ultimately complimentary of Adler and the CBS crew for their professionalism "under trying circumstances."
Aftermath: The Networks Lose Interest
The launching of ESPN, a 24-hour sports network, in September 1979, would ultimately signify the end of the heyday for the major networks' sports anthology shows. Even though "CBS Sports Spectacular" and ABC's "Wide World of Sports" would continue in some fashion throughout the next couple of decades, ESPN would gradually emerge as the place to go for off-the-beaten-path sports programming.
All three major networks (CBS, ABC, NBC) would intermittently report on the WSOP during the early '80s, with ABC producing the most extensive broadcasts hosted by Curt Gowdy and Bobby Baldwin. However, following the 1983 Main Event won by satellite-qualifier Tom McEvoy, all of the major networks would abandon poker altogether. Grotenstein and Reback suggested that "McEvoy's grind-it-out style and the seemingly interminable play [when heads up] strained not only [the networks'] patience, but their budgets, as they had to pay overtime to their crews," thereby leading to none returning the following year.
Whatever the cause, by the time Jimmy the Greek was ignominiously fired by CBS in early 1988 for having made a racially-tinged statement regarding black athletes, all of the major networks had long abandoned the idea of covering poker, and ESPN would begin airing its first WSOP specials — one-hour shows that generally would pick up the Main Event final table once six players remained.
How times have changed!
Ed note: The best PokerStars WSOP qualifiers and satelites are available only when you download PokerStars through PokerNews and entering the bonus code stars600.