PokerNews Cup Event #3, $240 PLO w/ Rebuys: Jamie Pickering Surges to Win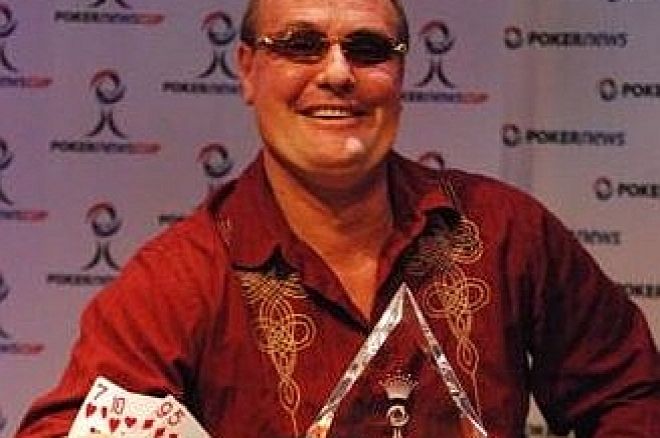 Tuesday's nine-player final in Event #3 of the 2008 PokerNews Cup, $240 Pot-Limit Omaha (with rebuys), saw Day 1 leader Roy Bhasin arrive at the final with a huge lead – more than 5:2 over his closest pursuer, Koray Tucker – but with several strong players still in the mix. Jamie Pickering and James Kronos were among the stars chasing Bhsin as action began, and in the end it was Pickering who capped off a run to the title and the winner's AUD $22,170 payday.
Here's how the chip stacks appeared as the day began:
Roy Bhasin - 238,000
Koray Turker - 90,500
Jamie Pickering - 83,000
Anthony McNamara - 65,500
Paul Triandafillou - 59,000
James Kronos - 56,000
Abel Cabrera - 46,000
Con Tsapkounis - 40,000
Manny Rodrigues - 14,500
Short-stacked Manny Rodrigues was the day's first casualty, departing when his
couldn't hold up against Paul Triandifillou's
. Rodrigues led through the
flop and
turn, but couldn't dodge the
river, departing with $2,217 in ninth-place money. Forty minutes elapsed before Anthony McNamara followed in eighth ($2,956), exiting when he ran his
into chipleader Bhasin's
and the board rolled out
.
That hand marked Bhasin's high point, however, as the next hour featured wild action and four more knockouts in rapid succession. First to fall was Paul Triandifillou, who along with fellow short stack James Kronos both moved all in for about 30,000 in chips each, with Bhasin calling in hopes of the cheap double elimination. Triandifillou showed
, Kronos opened
, and Bhasin technically led preflop with his
. The
board gave Kronos the triple-through and temporary reprieve, sent Triandifillou to the rail and put the first small dent in Bhasin's stack.
A key moment in Jamie Pickering's surge occurred when he eliminated Abel Cabrera in sixth ($4,434). The chips went in preflop, with Pickering's
ahead of Cabrera's
and staying there when the board brought
. Pickering followed by taking a nice pot from Bhasin, and then eliminated Koray Turker in fifth for $5,912. Turker pot-bet preflop (leaving just 7,000 chips behind), with Pickering calling and the rest of the chips sure to go in on the flop. Both players made diamond flushes on the
board, but Pickering's
topped Turker's
for the knockout.
Following a hand where Con Tsapkounis doubled through Bhasin, it was Bhasin who made the walk to the payout line. Bhasin and Pickering got the chips in before the flop, with Bhasin's
squaring off against Pickering's
. Pickering all but sealed the knockout on the flop as it came
for a full house, and the
turn and
river completed the action.
The final three players – Jamie Pickering, Con Tsapkounis and James Kronos – began their three-handed matchup almost square in chips, but as with the previous eliminations, this one was over in a hurry. Tsapkounis was crippled in a big hand with Kronos, then bounced by Pickering to set the stage for heads-up play. The chips went in with Pickering's
ahead of Tsapkounis's J-J-x-x, and when the board ran out
Tsapkounis collected $10,346 in third-place money.
Kronos led as the final two dueled, but Pickering hit a turn and river runner-runner double-up to move in front. The final hand saw Kronos reduced to 90,000 in chips, the last of which went in following a
flop after calling a check-raise from Pickering. Pickering showed
for the made straight, while Kronos had
for the better flush draw and miscellaneous runner-runner outs. Pickering's good fortune held, however, as the turn and river came the
and
, sending Kronos off with $14,780 in runner-up money and giving Pickering the Event #3 title and the winner's prize of $22,170.
Get in on the action with a 888 Poker marketing code