PokerNews Cup Event #4, $550 H.O.R.S.E: Abel Cabrera Takes First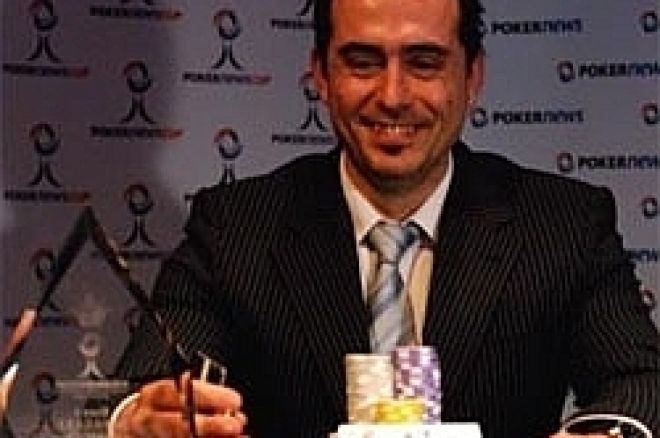 A tough lineup of eight players comprised the final table of PokerNews Cup Event #4 - $550 H.O.R.S.E. Abel Cabrera came off a final table appearance in Event #3, pot-limit Omaha, earlier in the week, while Steve Topakas won a seven-card stud event at the 2007 PokerNews Cup. Karib Karib made his second annual PokerNews Cup H.O.R.S.E. final table, and Andrew Demetriou was named Player of the Year 2007-08 by Crown Poker. Add the lengthy resume of Graeme "Kiwi G" Putt to the mix, and this was certainly a final table worth watching. Even with the tough competition, it took Abel Cabrera roughly five hours to plow through the final table and take down the $10,780 top prize as champion of Event #4.
Sean Arazi took the chip lead into the final table, as the seating assignments and chip stacks looked like this:
Seat 1: Kerry Stead - 20,000
Seat 2: Andrew Demetriou - 43,000
Seat 3: Graeme "Kiwi G" Putt - 39,500
Seat 4: Nick Georgoulas - 83,000
Seat 5: Abel Cabrera - 64,000
Seat 6: Sean Arazi - 130,500
Seat 7: Karib Karib - 39,500
Seat 8: Steve Topakas - 56,500
Abel Cabrera drew first blood when he busted Kerry Stead in eighth place ($1,731) during the first razz round. Stead was all-in by fourth street with (
)
to Cabrera's (
)
. Stead received little help from his board and made a pair of fives by the end of the hand with a board reading (
)
(
). Cabrera didn't need much to beat that, as his (
)
(
) was good for an 8-low and the win.
Graeme "Kiwi G" Putt was the next to fall to Cabrera as they got it all in on third street in stud. Putt called off the last of his short stack and picked up a board full of bricks as his hand ran out (
)
(
). Cabrera started out slightly behind but passed Putt on fourth street, with his final board reading (
)
(
). Cabrera's pair of threes were enough to bust Putt in seventh place for $2,301.
Former chip leader Sean Arazi busted in sixth place ($2,888) after being crippled in a big hand with Andrew Demetriou. All in from the small blind, Arazi could only watch as Abel Cabrera raised preflop and found one caller in Karib Karib. The live players checked down the board of
, and Cabrera showed
. Karib tabled
, and Arazi held
as Cabrera scooped the pot and Arazi headed to the payout line.
Karib Karib busted in fifth place ($3,465) during an Omaha hi/lo hand against Andrew Demetriou and Nick Georgoulas. Karib was all-in preflop following a huge loss the hand before, and when Demetriou bet out at the
flop, Georgoulas folded to leave the action heads-up. Demetriou tabled
and was up against Karib's
. Demetriou's pair of aces held up as the turn and river came out
, and Demetriou scooped to bust Karib in fifth.
Steve Topakas followed Karib to the rail almost immediately when he got all his chips in preflop against Abel Cabrera. Topakas raised preflop with
and Cabrera three-bet with
. Topakas called all-in, and the board ran out
. Cabrera made the queen-high straight on the turn, and Topakas was drawing thin to a chop. The
on the river sent him home in fourth place, with $4,235 for a consolation prize.
Andrew Demetriou busted in third place ($5,583) after a three-way hand with Cabrera and Georgoulas. Demetriou raised preflop, and both opponents called to see a flop of
. Action checked to Demetriou, who led out. Georgoulas made the call and Cabrera got out of the way. Georgoulas checked the
turn, and Demetriou led out again. Georgoulas called again and the river brought the
. Georgoulas checked, and Demetriou made the all-in bet. Georgoulas called with
for second pair, and raked in a huge pot as Demetriou tabled pocket threes.
Heads-up play lasted roughly ninety minutes before Abel Cabrera was able to overcome Georgoulas' chip lead and take down the trophy. The final confrontation came in Omaha hi/lo, as Cabrera limped in and Georgoulas raised preflop. Cabrera called, the flop came
, and Georgoulas led out. Cabrera raised, putting Georgoulas to a decision for the last of his chips. Georgoulas called with
for a pair of sixes and a low draw, while Cabrera tabled
for a pair of sixes, better kicker and nut-low draw. The
came on the turn and brought no help to anyone, and the
gave the hand to Cabrera and sent Georgoulas home in second place ($7,508).
After two days of tough mixed-game action, Abel Cabrera took down $10,780 for his win in PokerNews Cup Event #4 - $550 H.O.R.S.E.