PokerStars.net EPT London, Day 3: Tureniec, Liu Lead Final Eight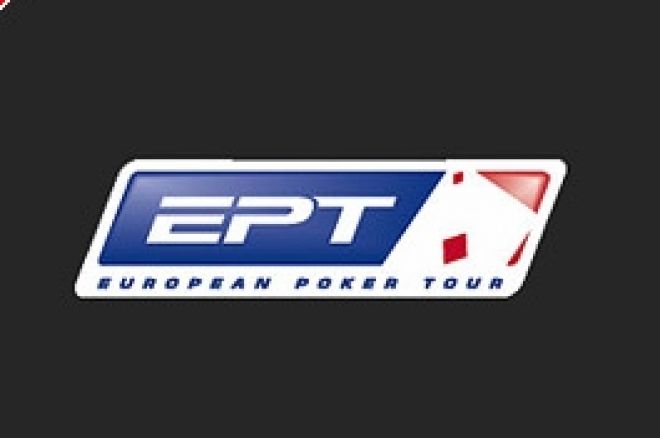 The last 32 players standing in the PokerStars.net European Poker Tour London Main Event returned to the Grosvenor Victoria Casino to play down to the eight-handed final table. Frenchman Philippe D'Auteuil started the day with the chip lead, as Antony Lellouche and Johannes Strassmann followed closely behind. Also in the field as Day 3 kicked off were world champion Scotty Nguyen and multiple WSOP bracelet winner Max Pescatori.
The short stacks made their moves early, and several big names hit the rail in the first couple of levels. Scotty Nguyen was the first to fall, busting in 32nd place (£13,052) when he shoved all in preflop with pocket sevens and was called by Frode Gjesdal with pocket queens. The board changed nothing and Nguyen was done early. Other top names eliminated in the early rounds included Beth Shak (31st) and Sorel Mizzi (27th). Mizzi moved all in from the big blind with
, and Michael Martin called with
. The flop of
didn't help Mizzi, and Martin picked up an inside straight draw. The
on the turn was irrelevant, and the
on the river sent Mizzi packing.
Ian "The Raiser" Frazer headed to the rail in 25th place (£13,052) when he moved all in with A-3. Martin, one of the biggest stacks, called with A-10 and bounced Frazer when the board came down A-7-4-8-2. Day 1b chip leader Huseyin Yilmaz headed to the rail in 21st place (£16,313) when he moved all in on consecutive hands. On the first he made trips with
and doubled up, but on the second he found resistance from Frode Gjesdal and Max Pescatori. Gjesdal moved all in on the
flop, and Pescatori got out of the way. Yilmaz tabled
, and Gjesdal showed
for an inside straight flush draw. The
on the turn gave Gjesdal a solid lead, and the
on the river sealed Yilmaz' fate.
WSOP Main Event final-table player Peter Eastgate made it all the way to 18th place, but missed securing his second major final table when Michael Martin sent him to the rail before dinner. Eastgate went for a steal, re-raising Martin with
from the small blind, but Martin quickly called with pocket queens. No help came on the
board, and Eastgate picked up £16,313 for his tournament.
Just before the dinner break, Robert Firestone called Peter Busch's preflop shove with
, and watched Busch show
for the steal attempt. Ahead preflop, Firestone was well behind after the flop came down
. The
on the turn was no help, and the
on the river sent him home in 17th (£16,313) and left the remaining 16 players to redraw for the final two tables.
Next, Max Pescatori hit a A-K-J flop hard, his pocket kings making middle set, and he led out with a significant bet. Michael Martin called, and then moved all in over the top of Pescatori's turn bet. Pescatori called, and Martin tabled one of the few hands that had Pescatori beat –
. The case king failed to show on the river, and Pescatori went home in 15th place (£19,576) after losing in a set over set confrontation.
David Benyamine ran well on Day 2, but couldn't make it all the way to the final table. He busted in 12th (£35,891) after he moved all in over the top of Michael Tureniec's flop bet. The board read
, and Tureniec thought for a while before calling with
. Benyamine's
was a virtual coin flip with Tureniec's Big Slick, but the turn and river ran out
to send Benyamine to the rail.
Peter Busch went from penthouse to outhouse in a huge hand with Antony Lellouche, then simply went out in 11th place (£35,891). Lellouche raised preflop with
, and Busch re-raised from the button. Lellouche called to see a flop of
. Lellouche bet out, and Busch moved all in with
for the flush draw. Lellouche called with his trip kings, and the
on the turn made his full house as it made Busch's flush. Busch was drawing dead on the river, which came the
, and he was crippled. Just a few moments later he moved all in with K-Q against an opponent's A-9. Busch didn't improve, and his tournament was over. When Frode Gjesdal was eliminated in 10th place (£50,574), the remaining nine players gathered around a single table for one more bustout before the eight-handed official final table was set.
It took about an hour for that last elimination to occur. When it finally happened, it was Erik Sjodin heading to the rail when he ran afoul of big stack Eric Liu. Sjodin moved all in preflop with
, and Liu quickly called with
. The board provided no drama as it ran out
, and Sjodin picked up £50,574 for his ninth-place finish. That hand cemented Liu's grip on second place in chips, behind only Michael Tureniec, as the final table's chip stacks and seating assignments were set as follows:
Seat 1: Eric Liu 1,308,000
Seat 2: Johannes Strassmann 434,000
Seat 3: Philippe D'Auteuil 476,000
Seat 4: Antony Lellouche 1,022,000
Seat 5: Michael Tureniec 1,331,000
Seat 6: Alan Smurfit 396,000
Seat 7: Marcin Horecki 309,000
Seat 8: Michael Martin 718,000
Join PokerNews at 1:30PM local time on Sunday for all the hand-by-hand action from the final table.