FTOPS X Roundup: Three Winners Crowned on Busy Day of Play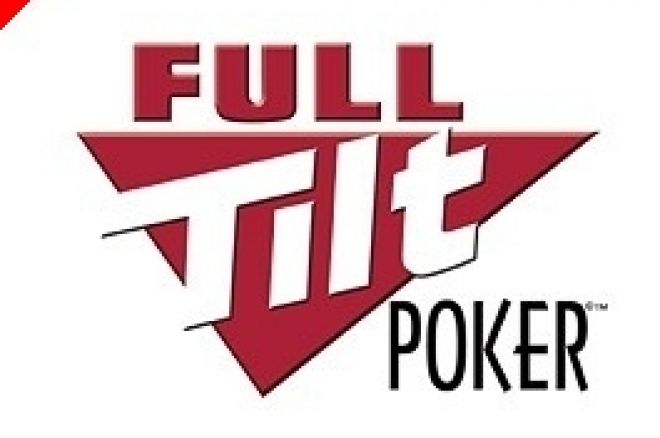 FTOPS X Event #12: $200+16 PLHE/PLO
The tenth Full Tilt Online Poker Series (FTOPS) continued on Tuesday with a tripleheader of event action. Event #12, a $200+16 "HA" (half PL Hold'em, half PL Omaha) tourney, attracted 936 entrants to create a total prize pool of $187,200. Notable finishes included fan4mizzou in ninth place ($2,902), Shane "UgottaBkiddin" Pacheco in 12th ($2,209), truesyalose in 24th ($1,030), bowser125 in 34th ($734.80) and PeachyMer in 43rd ($524.16). Chip counts to start the final table were as follows:
hmiester - 1,716,821
losebigpots - 813,539
Transeporter - 806,492
Jeff "Biggest Donkey" Banghart - 534,435
satfat - 465,329
JonStephenson - 343,384
Exiting the table first was satfat at 12,000/24,000 at PL Hold'em. On the button, losebigpots raised to 72,000 and satfat reraised to 222,898 from the small blind. Losebigpots then reraised enough to put satfat all in. After a few moments satfat called with
, but trailed losebigpots'
. The board ran out
, sending satfat home in sixth for $6,485.40. Transeporter was eliminated next at 15,000/30,000 PL Omaha. The board read
after the turn and JonStephenson bet the pot of 226,500. Transeporter shoved all in for 427,047, getting a fold from hmiester. JonStephenson called and turned up
for two pair but was against Transeporter's
for the nut straight. The river, however, was the
, making a full boat for JonStephenson. Transeporter finished fifth for $10,108.80. Jeff "Biggest Donkey" Banghart was eliminated at the same level after moving in with a short stack of 149,551 and getting called by two opponents. The pot was checked down and Banghart did not win, finishing in fourth for $14,227.20.
Finishing in third place was JonStephenson after losing a big pot to losebigpots at the 25,000/50,000 PLO level. From the small blind, JonStephenson raised to 150,000 and losebigpots called from the big blind. When the flop came
JonStephenson led out for 300,000, but was raised to 1,200,000 by losebigpots. An all-in shove from JonStephenson meant losebigpots was all in when he called. The hands were
for JonStephenson and
for losebigpots. The
hit the turn and made a wheel for losebigpots, severely denting JonStephenson's stack, who was later eliminated in third for $18,720.
These were the chip counts at the start of heads-up play:
losebigpots - 3,187,241
hmiester - 1,492,759
The battle lasted about 35 hands, but losebigpots maintained his lead and won the tournament. It ended at the 30,000/60,000 round of pot-limit hold'em. Losebigpots, holding
, bet enough to set hmiester all in, and hmiester called with
. The board ran out
and hmiester finished as the runner-up for $26,208, while losebigpots collected $39,967.20 and emerged as the winner of Event #12.
Final Results:
1. losebigpots - $39,967.20
2. hmiester - $26,208
3. JonStephenson - $18,720
4. Jeff "Biggest Donkey" Banghart - $14,227.20
5. Transeporter - $10,108.80
6. satfat - $6,458.40
FTOPS X Event #13: $500+35 H.O.R.S.E.
FTOPS Event #13 was a $500+35 H.O.R.S.E. tournament. It drew 597 players, falling just three players short of filling its $300,000 guarantee. Among the best finishers were Berry Johnston in 20th place ($2,160), Eli Elezra in 33rd place ($1,620) and Tristan "Cre8ive" Wade in 45th place ($1,440). Chip counts at the start of the final table were as follows:
POCKET FIVE - 530,729
Vortex2099 - 455,296
LaTanyaWilliams - 353,892
hmiester - 314,261
FOsubliminaLD - 231,429
HelloCity - 216,696
slumptown - 201,052
AmazingChase - 84,645
Slumptown was first to be eliminated from the final table. During razz, with stakes of 12,000/24,000 and a 2,000 ante, slumptown lost a big pot when on seventh street, LaTanyaWilliams improved to a 6-5-4-3-A low with the three, four, and five all hidden. Slumptown's 7-6-5-3-A was beaten, and slumptown fell shortly into the following stud-hi level in eighth place for $4,500. The 15,000/30,000/2,500 stud session also spelled the end for AmazingChase. With the
showing, AmazingChase completed the bet and LaTanyaWilliams called with the
. The chips were all in by fifth street, with the players showing these cards:
AmazingChase: (
)
LaTanyaWilliams: (
)
Sixth street delivered a
to AmazingChase, but the
to LaTanyaWilliams made a flush. AmazingChase earned $6,600 for seventh. FOsubliminaLD was the next out during the 20,000/40,000/3,000 stud hi-lo level. Vortex2099 made a pair of aces and a low of 6-5-3-2-A while FOsubliminaLD mucked, finishing in sixth for $8,700. Busting during the 25,000/50,000 hold'em level was hmiester, fresh off a runner-up finish in Event #12. Short-stacked and in the big blind, hmiester's final chips were in the middle with
, but he could not beat HelloCity's
as the board came
. Hmiester's impressive day ended with $12,600 for fifth place here. Vortex2099 hit the rail in fourth later in the round. On a board of
, Vortex2099 was all in with
against LaTanyaWilliams'
. The turn and river came
and
, sending Vortex2099 to the rail with $20,400.
At 30,000/60,000 in Omaha hi-lo, HelloCity said goodbye. On the button, HelloCity raised to 60,000 and POCKET FIVE called. The
flop brought a check-call from POCKET FIVE and led to the
turn. This time POCKET FIVE check-raised and HelloCity called. The
river card saw POCKET FIVE lead for the first time and HelloCity call, only to see POCKET FIVE show
for the nut straight and a good low. HelloCity fell on the next hand in third place for $31,800.
Heads-up play began with these chip counts:
LaTanyaWilliams - 1,293,195
POCKET FIVE - 1,094,805
It ended the next level, at 40,000/80,000/7,000 razz. Down to 121,805, POCKET FIVE's chips were all in with 2-3-K against LaTanyaWilliams' 8-K-2. The cards came out:
POCKET FIVE: 2-3-K-6-2-K-J — (K-J-6-3-2)
LaTanyaWilliams: 8-K-2-10-10-3-8 — (K-10-8-3-2)
LaTanyaWilliams' K-10 low just edged POCKET FIVE's K-J, with POCKET FIVE finishing as the runner-up for $45,750. The winner of Event #13 and $69,570 was LaTanyaWilliams.
Final Results:
1. LaTanyaWilliams - $69,570
2. POCKET FIVE - $45,750
3. HelloCity - $31,800
4. Vortex2099 - $20,400
5. hmiester - $12,600
6. FOsubliminaLD - $8,700
7. AmazingChase - $6,600
8. slumptown - $4,500
FTOPS X Event #14: $200+16 NLHE Turbo
FTOPS Event #14 was a $200+16 turbo NL Hold'em tournament that attracted 2,583 players for a total prize pool of $516,600. The final table had its fair share of big names, including Daniel "imabigkidnow" Kelly and Michael "SirWatts" Watson. LaTanyaWilliams, who would win of Event #13 later in the night, was there as well. Other notable finishers were Brent "Broberts85" Roberts in 41st place ($1,188.18) and Brian "bparis" Paris in 75th ($774.90).
In the end it was Daniel "imabigkidnow" Kelly who emerged victorious, collecting $104,869.80.
Final Results:
1. Daniel "imabigkidnow" Kelly - $104,869.80
2. wallstreet3 - $67,674.60
3. Michael "SirWatts" Watson - $50,110.20
4. LaTanyaWilliams - $37,711.80
5. scrubbyz - $26,346.60
6. amrasaralond - $17,564.40
7. zurc3 - $11,881.80
8. kor44 - $8,265.60
9. Dutchalicious - $6,199.20