FTOPS X Roundup: 'EndlessAmbition' and 'blackjack9' Victorious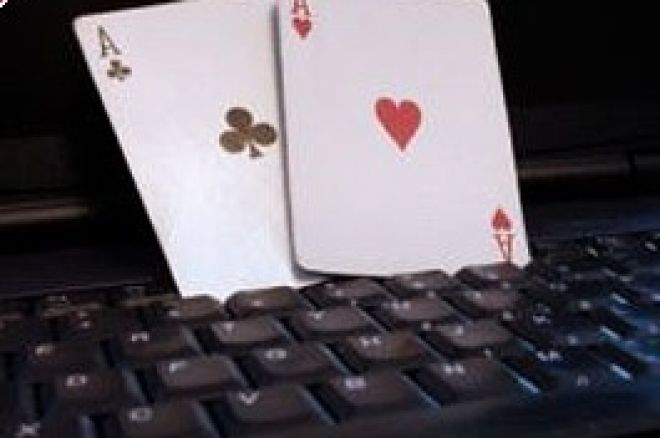 FTOPS X Event 19: $200+16 NLHE
Another pair of events highlighted Friday action in the tenth Full Tilt Online Poker Series as this weekend's big wrap to the series drew closer. FTOPS Event #19, a $200+16 NL hold'em tournament, attracted 2,526 participants to create a total prize pool of $505,200. Among the best finishers falling short of the final table were TerenzHill in 14th place ($2,526), Brian "SN8WMAN" Hawkins in 64th ($833.58), OnlyPlayRagz in 66th ($833.58), Svetlana Gromenkova in 70th ($833.58), and Dan "djk123" Kelly in 75th ($757.80). The chip counts at the start of the final table were as follows:
FantaKorn - 2,724,620
EndlessAmbition - 2,549,139
sfizzle999 - 2,011,655
jimmyforreal - 1,638,907
Matt238 - 1,145,323
ojzknife -960,501
coachJIM - 673,005
Bluechip200 - 494,795
mestre_urubu -432,055
The 25,000/50,000/6,000 level saw the first elimination. Play was folded to Matt238 on the button, who raised to 100,001. In the big blind, ojzknife moved all in for 793,501 with
and Matt238 called with
. The board came
and ojzknife was felted in ninth for $6,062.40. When the blinds and antes were raised to 30,000/60,000/7,500, Matt238 also eliminated coachJIM. From middle position, coachJIM shoved for 424,005 with
and received action from Matt238 in the small blind with
. CoachJIM found no help on the board and finished eighth for $8,083.20. Mestre_urubu was the next to hit the rail. FantaKorn opened to 150,000 under the gun and mestre_urubu moved all in for 336,555 with
. FantaKorn called with
and the board brought neither an ace nor other help. Seventh place paid mestre_urubu $11,619.60.
The next eliminations occurred at 50,000/100,000/10,000. FantaKorn raised to 250,000 on the button and Bluechip200 reraised all in for 1,182,592 with
. FantaKorn called with
and won the pot after the board came
. Bluechip200 earned $17,176.70 for sixth. A few hands later, Matt238 exited as well. On the button, Matt238 shoved for 1,070,135 with
, but found action from FantaKorn in the small blind with
. The board ran out
and Matt238 was out in fifth for $25,765.20.
At 60,000/120,000/15,000, EndlessAmbition raised to 240,000 from the cutoff and sfizzle999 moved all in for 1,307,643 with
. EndlessAmbition called and was the favorite with
. Sfizzle999 was eliminated when the board ran out
, but collected $39,879.60 for his run.Two hands later, jimmyforreal moved all in for 1,222,914 with
, but ran into FantaKorn's
. Jimmyforreal could not overcome the odds and finished third for $49,004.40.
These were the chip counts to start the heads-up match:
EndlessAmbition - 6,724,999
FantaKorn - 5,905-001
It took five hands as EndlessAmbition extended the lead and then closed the deal. At 80,000/160,000/20,000, FantaKorn opened to 400,000 and EndlessAmbition called from the big blind.EndlessAmbition check-raised FantaKorn after the
flop from 500,000 to 2,000,000. FantaKorn called all in with
, but trailed the chip leader's
. When the turn and river came
and
, FantaKorn was eliminated in second for $66,181.20. EndlessAmbition won Event #19 for a payday of $102,555.60.
Final standings:
1. EndlessAmbition - $102,555.60
2. FantaKorn - $66,181.20
3. jimmyforreal - $40,004.40
4. sfizzle999 - $39,879.60.
5. Mtt238 - $25,765.20
6. Bluechip200 - $17,176.70
7. mestre_urubu - $11,619.60
8. coachJIM - $8,083.20
9. ojzknife - $6,062.40
FTOPS X Event #20: $200+16 Stud-8
FTOPS Event #20 was the only purely stud hi-lo event of the series. It drew 512 entrants for a total prize pool $102,400. Notable finishers included thebirdman84 in 23rd place ($768), Keith Sexton in 26th ($665.60), and Roy Winston in 45th ($563.20). Chip counts to start the final table were as follows:
blackjack9 - 511,076
gr8expectations - 469,683
Surfbum4life - 395,241
Raymond "troyomac" McClure - 263,092
magicmcq - 154,112
ms12345 - 128,654
what is 7x6 - 110,020
Geoff "bigbowlster" Bowlsby - 28,122
Eliminated first at the 12,000/24,000/2,000 level was Geoff "bigbowlster" Bowlsby. He was all in for his last 26,122 with
against ms12345's
. Bowlsby ended with
, and was unable to overcome ms12345's aces and unable to make a low, finishing eighth for $1,536. Next to be eliminated was what is 7x6. After chopping a few hands despite having chances to scoop, he lost much of his stack in a hand against Raymond "troyomac" McClure. Troyomac made a eight-high straight to make both a winning high and low. What is 7x6 was eliminated in the next hand, taking home $2,252.80 for seventh.
At 15,000/30,000/2,500, ms12345 hit the rail when magicmcq's starting hand of
made a six-high straight to scoop the high and low. Sixth place paid ms12345 $2,969.60. Raymond "troyomac" McClure lost most of his stack on that same hand and could not work up his short stack of 31,092. He bit the dust soon after when his flush draw fell to blackjack9's trip fours. McClure won $4,300.80 for fifth. Surfbum4life finished in fourth place a few hands later when gr8expectations had a six-high straight and a wheel for a low to scoop the hand. A payday of $6,963.20 went Surfbum4life's way.
At 20,000/40,000/3,000, magicmcq lost a big pot and was eliminated shortly thereafter. Blackjack9's board read
while magicmcq's read
. After seventh street, magicmcq mucked when blackjack9 showed
for trip sevens and a 2-4-5-6-7 to scoop the pot. Magicmcq took $11,264 for third place. The chip counts at the of start heads up play were these:
blackjack9 - 1,197,622
gr8expectations - 850,378
The tournament ended at the 30,000/60,000/5,000 level. Blackjack9's board was
and was up again gr8expectations'
board. Gr8expectation's remaining chips went into the pot on seventh street with the hidden cards revealed to be
for a pair of aces. However, blackjack9's downcards were the
for jacks and sixes, good enough to win the tournament. Gr8expectations won $16,075.60 for finishing as the runner-up. The winner of Event #20 was blackjack9 for a total of $24,268.80.
Final Results:
1. blackjack9 - $24,268.80
2. gr8expectation - $16,076.80
3. magicmcq - $11,264
4. Surfbum4life - $6,963.20
5. Raymond "troyomac" McClure - $4,300.80
6. ms12345 - $2,969.60
7. what is 7x6 - $2,252.80
8. Geoff "bigbowlster" Bowlsby - $1,536