FTOPS X Rewind: Jeff 'GrampaJeff' Gray, 'tommy2tyme' Notch Event Titles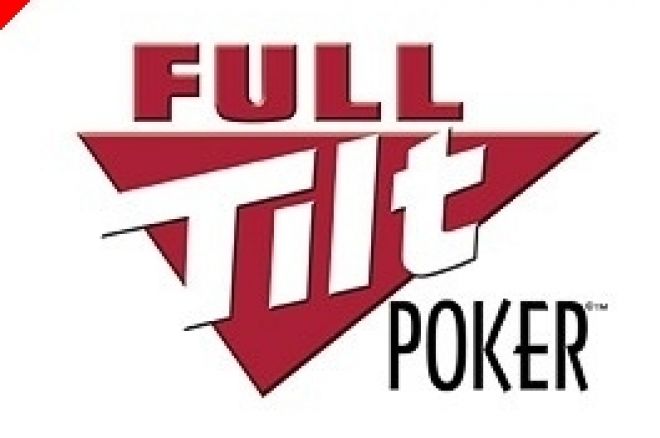 FTOPS X Event #5: $300+22 NLHE 1R/1A
FTOPS Event #4 was a $300+22 affair allowing for one rebuy and one add-on. The tournament attracted 815 entrants with 558 rebuys and 538 add-ons. When all was said and done, the prize pool fell just a bit short of its $600,000 guarantee. Notable finishers included orangeman88 in tenth place ($5,700), Carl "colson10" Olson in 17th ($3,000), Jeremiah Smith in 23rd ($2,340), Matt "GrinderMJ" Juttelstad in 25th ($2,340), Halfrek in 28th ($2,040), and insanocut in 33rd ($2,040). The chip counts to start the final table were as follows, with Full Tilt "red pro" Aaron Bartley holding a commanding lead:
Aaron Bartley - 1,541,956
mightypirate - 470,585
Darren "darrenelias" Elias - 425,902
raidalot - 393,305
mrcall912 - 355,023
dbones6 - 326,688
Jeff "GrampaJeff" Gray - 223,319
djmanga - 189,674
Shakar513 - 164,548
Eliminated first was Shakar513 at the 10,000/20,000/2,500 level. Under the gun, Shakar513 moved all in for 164,096 with
and found action from djmanga on the button with
. The board came
, sending Shakar513 home in ninth for $10,200. Eighth place was determined after raidalot moved all in under the gun with
for 167,881. Mrcall912 did just that, calling with
from middle position, but Jeff "GrampaJeff" Gray found
on the button and bet enough to set mrcall912 all in, who of course came along. The board ran out
, shipping the chips toward mrcall912 and busting raidalot for $14,040.
Next, at 12,000/24,000/3,000, Gray moved all in from middle position for 337,115 with
, but ran into Darren Elias'
, who called all in from the small blind. Unfortunately for Elias, the board ran out
and ended his tournament in seventh for $18,000. Djmanga finished in sixth after getting it in preflop with
and racing against Aaron Bartley's
. The
board was nice for Bartley and sent djmanga to the rail to collect $27,000. At 14,000/28,000/3,500, dbones6 departed next. Down to 221,200, dbones6 moved all in with
and was called by mrcall912, who showed
. No king or three showed and dbones6 was out in fifth for $37,500.
Mrcall912 was the lone casualty at the 17,000/34,000/4,000 level after moving all in from the button for 317,877 with
. Jeff "GrampaJeff" Gray called from the big blind with
and the board rolled out
, ending mrcall912's tourney in fourth for $49,500. Chip counts at the start of three-handed play were as follows:
Aaron Bartley - 1,762,966
mightypirate - 1,309,390
Jeff "GrampaJeff" Gray - 1,018,644
The chips moved around back and forth as several all-in coin flips saw the shorter stack double through repeatedly, including Aaron Bartley, who found a two-out river seven to make a set after his pocket pair was outflopped by overcards. With blinds and antes 35,000/60,000 and 7,500, Bartley finally gave way, finishing in third. Mightypirate made it 180,000 to go from the button and Bartley moved all in for 628,709 with
, but mightypirate called and turned up
. The board came
and sent the Full Tilt pro to the rail in third for $64,500. Heads-up play began with these chip counts:
Jeff "GrampaJeff" Gray - 2,073,419
mightypirate - 2,017,581
Jeff Gray extended his lead and eventually took it down. Gray raised to 160,000 and mightypirate moved all in for 730,081 with
. Gray called with
and the race was on. The board came
, busting mightypirate as runner-up for $87,000. Jeff "GrampaJeff" Gray emerged victorious at the Event #4 final table and won $138,000.
Final Results:
1. Jeff "GrampaJeff" Gray - $138,000
2. mightypirate - $87,000
3. Aaron Bartley - $64,500
4. mrcall912 - $49,500
5. dbones6 - $37,500
6. djmanga - $27,000
7. Darren "darrenelias" Elias - $18,000
8. raidalot - $14,040
9. Shakar513 - $10,200
FTOPS X Event #5, $200+16 LHE 6-Max
Event #5 for FTOPS X was a $200+16 limit hold'em six-max tourney. The $150,000 guaranteed prize pool was surpassed when 879 entrants bumped it up to $175,800. Notable players falling short of the fonal table included serefecheers in 14th place ($1,511.88). The chip counts to start the final table were as follows:
jallajalla12 - 694,860
Kometen1 - 684,451
tommy2tyme - 675,078
voguepergola - 328,612
thankstwink - 178,943
torskii - 75,056
Exiting the final table first was torskii, as the stakes reached 15,000/30,000. Kometen1 raised from the button preflop and torskii called, bringing out a flop of
. A check-call from torskii delivered the
on the turn. The betting and raising that ensued set torskii all in with
, way behind Kometen1's
. The river was the
and torskii was out in sixth for $6,065.10. Thankstwink was the next to go after being set all in preflop with
against tommy2tyme's
. The board ran out
as the flush and over cards never came, sending thankstwink home in fifth for $9,493.20.
With stakes at 25,000/50,000, jallajalla12 and tommy2tyme capped it preflop and did so again after the
flop. The
turn led to jallajalla12 being set all in by tommy2tyme, who held
. Jallajalla12's
needed a spade to fall, but the river was the
and jallajalla12 hit the rail in fourth for $13,360.80. The third-place finisher was determined at stakes of 40,000/80,000. Kometen1 and voguepergola went three bets preflop and saw the flop roll out
. Maximum betting brought out the
on the turn, as Kometen1 set voguepergola all in and showed
for a straight draw while voguepergola flipped up
for top pair. The river
made a straight for Kometen1 and eliminated voguepergola in third for $17,580.
Heads-up play began with these chip counts:
Kometen1 - 1,679,492
tommy2tyme - 957,508
It came to an end with stakes at 50,000/100,000. Tommy2tyme dominated the battle and was able to finish it off in a hand where he set Kometen1 all in preflop. It was
for tommy2tyme and
for Kometen1. The board ran out
as Kometen1 earned $23,612 for finishing runner-up. The winner of Event #5 was tommy2tyme, collecting $37,533.30.
Final Results:
1. tommy2tyme - $37,533.30
2. Kometen1 - $24,612
3. voguepergola - $17,580
4. jallajalla12 - $13,360.80
5. thankstwink - $9,493.20
6. torskii - $6,065.10