Online Poker Roundup: James 'Mig_com' Mackey Notches Big Win at Full Tilt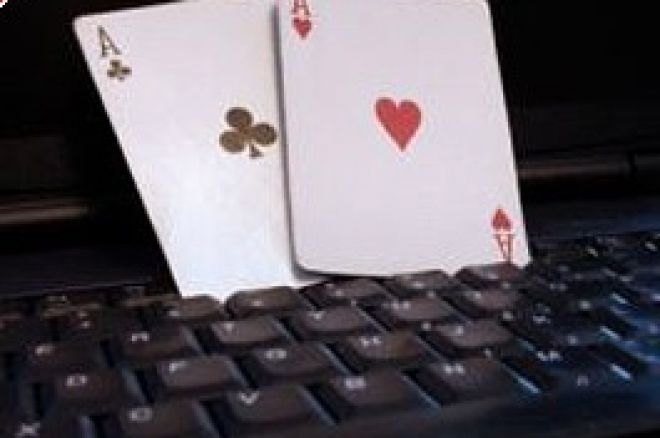 With Full Tilt's FTOPS X series on tap, the early week could have been a time for rest. However, the online scene was busy as usual on Monday and Tuesday nights. "jonrubs" and "Phoenician88" agreed to a nearly equal chop at the end of the PokerStars Super Tuesday, while James "Mig_com" Mackey routed the final table on his way to a big win in the Monday $1,000 at Full Tilt. Here's how the events unfolded:
PokerStars Super Tuesday
The PokerStars Super Tuesday drew a field of 406 for a total prize pool of $406,000. Among the best finishers falling short of the final table were Jeremiah "Believer82" Vinsant in 11th place ($5,278), Brent "usoursek" Hanks in 12th ($5,278) and Faraz "The-Toilet 0" Jaka in 13th ($4,466). The chip counts to start the final table were as follows:
jonrubs - 260,393
Ben "bfineman" Fineman - 223,574
Phoenician88 - 172,110
dk1155 - 159,254
Danny "THE__D__RY" Ryan - 151,316
Christian "charder30" Harder - 84,905
copi - 66,588
markysals11 - 54,561
Bgormez - 45,299
The first to go was copi at the 2,000/4,000/400 level. On a flop of
, copi moved all in for 16,300 with
and Bgormez called with
. The
fell on the river and eliminated copi in ninth for $6,902. Next, at blinds and antes of 3,000/6,000/600, dk1155 was eliminated by Ben "bfineman" Fineman. From the cutoff, dk1155 limped in and Fineman raised to 21,000 from the big blind. Dk1155 called and a flop of
came. Fineman led out for 23,000 and dk1155 responded with an all-in shove for 81,555. Fineman called and showed
, which led dk1155's
. The turn and river were blanks for dk1155 who finished eighth for $9,541. The next hand, Christian "charder30" Harder moved all in under the gun for 55,005 with
and got action from markysals11 on the button with
. An ace on the flop doomed Harder to a seventh-place finish for $13,601. Hitting the rail next was Bgormez. A battle of the blinds saw Bgormez raise from the small to 18,000 and jonrubs call, which brought out a
flop. Bgormez bet 18,000 and was raised all in by jonrubs. The chips went in and Bgormez showed
for middle pair, against jonrubs'
for bottom pair and straight draw. The
turn did not change the lead, but the
river clinched the hand for jonrubs and eliminated Bgormez in sixth for $17,661.
Markysals11 was the next to be felted after getting it in with
but running into jonrubs'
. The board rolled out
, sending markysals11 to the virtual cashier in fifth for $22,736. Danny "THE__D__RY" Ryan bit the dust next. At the 4,000/8,000/800 level, Ryan moved all in from the small blind for 133,951 and was called by jonrubs in the big blind. Ryan's move with
ran into jonrubs'
and was unable to beat the odds, giving him fourth place for $32,480. Ben Fineman met his end as well at this level. He opened the pot to 19,000 on the button and jonrubs reraised to 45,777 from the small blind. Phoenician88 then moved all in from the big blind for 262,137 and was called by Fineman, who showed
. However, he trailed Phoenician88's
and the board brought no help as it ran out
. Ben "bfineman" Fineman took home $42,360 for third.
Phoenecian88 and jonrubs quickly struck a deal for the remaining prize pool that guaranteed each the following:
jonrubs: $70,000
Phoenecian88: $66,213
The ending of the tournament was merely a formality, but jonrubs did notch the official victory when his
bested Phoenecian88's
.
Final Results:
*1. jonrubs - $70,000
*2. Phoenecian88 - $66,213
3. Ben "bfineman" Fineman - $42,360
4. Danny "THE__D__RY" Ryan - $32,480
5. markysals11 - $22,736
6. Bgormez - $17,661
7. Christian "charder30" Harder - $13,601
8. dk1155 0 $9,541
9. copi - $6,902
* — two-way chop for remaining prize money
Full Tilt $1,000 Monday
On Monday at Full Tilt, PokerNews Strategy instructor James "Mig_com" Mackey took care of much of the final table in the $1,000 Monday himself, surging to the victory and a payday of $90,750. The prize pool here, overall, was a healthy $363,000. It took 16 hands after the final table began until a short-stacked lukka7 and Jonathan "FatalError" Aguiar were both eliminated in a three-way poy with ChipSteela. Lukka7's
was up against ChipSteela's
and Aguiar's pocket nines, and ChipSteela won out when the
board gave him aces up with a king kicker. Next, breeth was eliminated after moving all in with
but running into Mackey's pocket nines, which ended up making a full house on the river of an eventful
board. Mackey claimed another knockout on the very next hand, when his pocket threes held up over U_2Good4_Me's
as the
flop gave Mackey a set and virtually sealed the hand.
A short-stacked solohomer busted next in fifth after his pocket fives were outraced by TheStein's
., which needed only to dodge two outs after a
flop. The turn and river blanked to trim the field to four. Once blinds jumped to the 4,000/8,000/400 level it moved to three, when uclabruinz opened, Mig_com shoved all in, and uclabruinz called all in, but found his pocket tens trailing Mackey's pocket jacks. The board rolled out
to give Mackey another knockout.
Blinds were 5000/10,000/1000 when Mackey dispatched Jeremy "ChipSteela" Menard. From the button Mig_com raised to 21,000 and ChipSteela, from the small blind, shoved for 150,000. Mig_com snap-called and was in great shape with
to ChipSteela's Ad8c. The board ran out
to bring on heads-up play. 13 hands later, Mackey took it down. With a 6:1 margin in chips, he moved all in from the button with
and TheStein called with
. The Ks7h3s flop hit both players but gave Mackey a flush draw, and while the turn
was no help for Mackey the
river filled that flush, cemeting James "Mig_com" Mackey's win.
Final Results:
1. James "Mig_com" Mackey - $90,750
2. TheStein - $58,080
3. Jeremy "ChipSteela" Menard - $43,560
4. Paul "uclabruinz" Smith - $33,577.50
5. Solohomer - $25,410
6. U_2Good4_Me - $18,150
7. Peter "breeth" Turmezey - $11,797.50
8. Jonathan "FatalError" Aguiar - $9,075
9. lukka7 - $7,260
Other Notables: NestOfSalt (10th, $4,537.50), PeachyMer (14th, $3,630), Travis "TravestyFund" Rice (20th, $1,996.50), Luke "magikstick8" Vrabel (26th, $1,996.50), Kevin "GetPWN3D" Saul (32nd, $1,633.50)