JC Tran Tops Tony G for PartyPoker Premier League III Title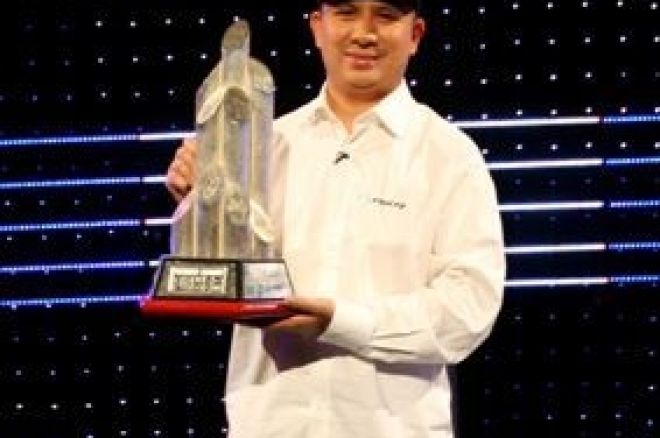 JC Tran entered the final of the PartyPoker Premier League III with the lead and ended play with another title, coming back to overtake Tony G and add $300,000 to his sensational year's efforts. The final table brought together an all-star cast of players, with the seat assignments and starting chip counts as follows:
Seat 1: Tom Dwan (United States) - 260,000
Seat 2: Juha Helppi (Finland) - 340,000
Seat 3: Tony G (Australia) - 260,000
Seat 4: Roland de Wolfe (United Kingdom) - 230,000
Seat 5: JC Tran (United States) - 450,000
Seat 6: Peter Eastgate (Denmark) - 390,000
Play began at the 5,000/10,000 level. Tony G doubled through in an early hand against Tom "durrrr" Dwan to move into strong contention, but the short-stacked Dwan outlasted two other players before finally succumbing. Instead it was Peter Eastgate who exited first after trying a re-raise steal against JC Tran, who had opened the betting in the first elimination with pocket aces. Tran called Eastgate's bet before the flop, then allowed Eastgate to move all-in on the K-high flop before calling with his overpair, which held up for the massive pot. Eastgate started the final in second spot but had to settle for a $30,000 payday.
Fifth place went to Roland de Wolfe, who started the day on a short but playable stack yet found no traction through the early levels. De Wolfe seemed poised to double through with
against Juha Helppi's
, which left Helppi with only two clean outs – as Dwan reported folding an ace. One of those aces showed on the flop, a king never showed, and de Wolfe had $40,000 to show for his tough beat on the London set.
Dwan's run ended when his last chips went into the middle in a big hand against Tony G. Tony G bet 25,000 after a
flop with
and top pair, and Dwan moved all in with
for the same top pair and an open-ended draw. The turn
blanked and the
river let Tony G's jack kicker stand up for the knockout. Tony G then ended Juha Helppi's hopes of becoming the series' first two-time winner. Helppi moved the last of his chips in with
and Tony G called with
. The flop brought a queen and the board ran out with small cards, and Helppi exited in third with $80,000.
Tony G held the lead for much of the heads-up duel but Tran surged into the lead after forcing Tony G off a pot in which both players flopped a pair but the board served up a second pair on the turn. Tran took down the win a short while later. In the final hand of the event, Tran limped in from the button with
and Tony G checked his option with
. The flop came
to give Tran top pair and a gutshot draw and Tony G an open-ended draw with two overcards. Tony G checked, Tran bet 60,000, Tony G check-raised all in and Tran called. The turn brought the
to move Tran closer to the title, and when the river brocked out with the
, Tran had the win and the $300,000 payday, becoming this year's winner of the PartyPoker Premier League, while Tony G's strong final table netted him runner-up honors and a check for $150,000.
Final Results:
1st: JC Tran - $300,000
2nd: Tony G - $150,000
3rd: Juha Helppi - $80,000
4th: Tom Dwan - $50,000
5th: Roland de Wolfe - $40,000
6th: Peter Eastgate - $30,000